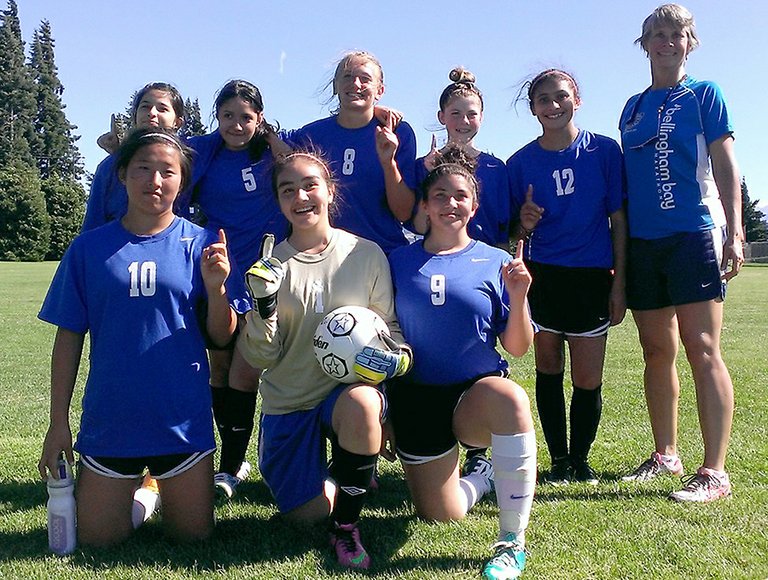 Hood River Middle School defeated The Dalles Middle School in a nail-biting league final that went to shootouts after a 4-4 tie. The game was an exciting conclusion to a new Hood River Community Education soccer program designed to give Gorge-area middle school students another outlet for the sport and an opportunity to represent their schools on the field.
The girls' season lasted about three months and included games between middle school teams from Wy'east, The Dalles, White Salmon and HRMS. A similar boys season wrapped up earlier this month, with Wy'east claiming the league title in a win over White Salmon in the finals.
"This league… is an excellent addition to this community," noted HRMS coach Angie Adkins. "It gives kids who have not had much or any opportunity to play on teams a chance to develop their skills and understanding of the game before getting to high school, so they will actually get the chance to play for their high school. It also gives kids who have experience a chance to practice and share their skills with the others during their off season."
The league is a collaborative effort between HRCE and coaching staff from the county's other soccer programs, who have lent their experience and expertise to help make the program a success. Assuming participation is high enough, players will also have the opportunity to play in a similar middle school fall league once school gets started in September.
"I was amazed at how quickly these girls improved," Adkins said. "Several didn't even know how or when to do a throw-in at our first practice. They worked hard, asked questions, listened well to me and to the more experienced players, and practiced with friends and family … I hope this program can continue (funding is a big issue) so we can continue to help kids who might not otherwise get the chance to develop their skills for high school."