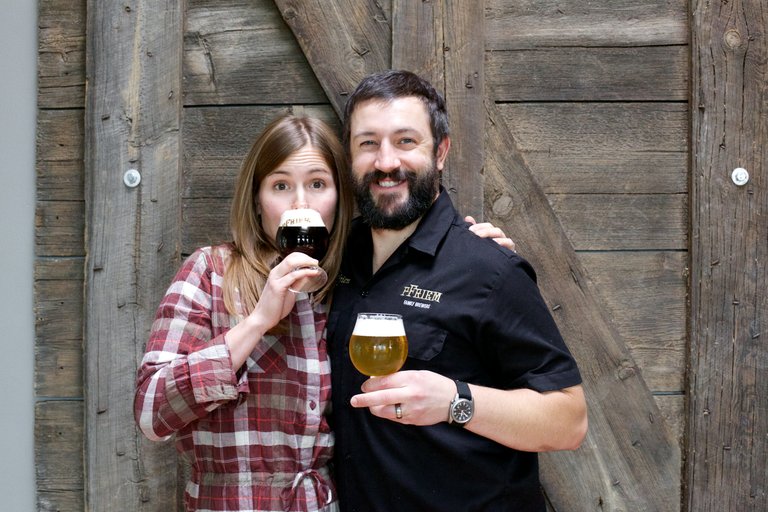 pFriem Family Brewers holds its patio grand opening as part of its second anniversary party from 2 to 10 p.m. on Aug. 2.
The patio is located just outside the tasting room and restaurant, and features an outdoor structure constructed of steel and barn wood and a central fire pit. The pFriem brew crew will be doing a special release of a Session IPA.
The second anniversary party will be a family-friendly event, featuring live music with bands including Wilderness (Bend) at 4 p.m., Water Tower (Portland) at 6 p.m., and headliner band Ages and Ages (Portland) at 8:30 p.m.
The party will take place in the parking lot to the east of the brewery with views of the Hood River waterfront and easy access to Waterfront Park. There will be a local vendor "pop-up shop" and a kid's corner in the parking lot featuring face painting for young and old by Shining Faces LLC.
The pFriem tasting room also will be open to guests during the outdoor event. The tasting room will provide their full food menu during the event. Several food options will be available in the outdoor event area including veggie burgers, brats and organic hot dogs for the kids. Minors are welcome.
First Solog Summer Fest comes to Parkdale Aug. 8
Meet the brewers from Solera Brewery and Logsdon Farmhouse Ales and sample more than a dozen seasonal and specialty beers from the upper valley in the Aug. 8 Solog Summer Fest. It all takes place at Clear Creek Station (Mt. Hood Railway terminus park) from 1 to 9 p.m. Tickets are limited and can be purchased in advance at www.farmhousebeer.com Tickets are $25 and gets you a Solera Logsdon Belgian beer glass and 10 taster tickets (additional taster tickets will be on sale at the gate).
There will be live music by Kerry Williams and the Pinetones, as well as the Liberty Bond Jug Band, and food from Apple Valley BBQ and Boda's Kitchen.

Oregon Brewers Fest runs through Sunday
Three Hood River breweries are participating in the 27th annual Oregon Brewers Festival in Portland: Full Sail Brewing Co., Logsdon Farmhouse Ales and pFriem Family Brewers.
The event runs July 23-27 at Waterfront Park in Portland. Wednesday through Saturday, taps are open from noon to 9 p.m.; on Sunday, taps are open from noon to 7 p.m. Token and glass sales close one-half hour prior to the taps shutting off. (8:30 p.m. daily, except 6:30 p.m. Sunday)
The OBF is not a ticketed event; admission into the festival grounds is free. In order to consume beer, purchase of a 2014 souvenir tasting glass is required and costs $7. Beer is purchased with wooden tokens, which cost $1 apiece. Patrons pay four tokens for a full 12.8-ounce glass of beer, or one token for a 3-ounce taste.
Glasses and tokens are pre-sold up to two weeks prior to the festival at select local locations, including Raccoon Lodge & Brew Pub, Cascade Brewing Barrel House, Belmont Station, Deschutes in the Pearl, Rogue Ales Public House and the Green Dragon. The festival is cash only, and there are eight ATMs on-site.
The Oregon Brewers Festival exists to provide an opportunity to sample and learn about a variety of craft beer styles from across the country. A total of 86 craft breweries from all parts of the nation offer more than 30 styles of handcrafted brews to 85,000 beer lovers during the five-day event.
An additional two taps are dedicated to gluten-free beer, and a tap is reserved for the Oregon Brew Crew Collaboration project.
In addition to the main taps, there is a Specialty Tent featuring uber-geek beers, cellared specialties, one-offs, and other brews you might never see again. These beers are highly prized, very expensive, and the selection is very limited in quantity (follow OBFLTDTent on Twitter).
Double Mountain strengthens its Krieks
Double Mountain Brewery has issued a limited release of its Belgian-style sour Kriek ales, which debuted in 2013. The limited release of the 2013 vintage of Devil's and Tahoma Kriek beers will be available on draft and in custom designed 375 ml (12.7-ounce) split champagne bottles for purchase at Double Mountain Brewery & Taproom in downtown Hood River on July 26 at 11 a.m. Starting July 28, a supply of bottles will be sold in specialty bottle shops throughout the Northwest.
Both vintages were brewed in June 2013.
These Belgian-style sour ales combine the tart and funky flavors of Brettanomyces wild yeast with fresh fruit picked from the resplendent orchards here in the Hood River Valley. Devil's Kriek (9 percent ABV, 9 BU, 17.6 Plato) combines dark-red Bing cherries with a Flanders Red Ale-style ale base, while Tahoma Kriek (the Native American name for Mt. Rainier — 10.3 percent ABV, 10 BU, 178.5 Plato) features the delicate Rainier cherry with a strong Belgian Blond ale. More than 5 pounds of cherries make their way into every keg. Double Mountain brews the Krieks once a year at harvest, and then lets them spend a full year in their cellars "to sweetly slumber," said brewmaster Matt Swihart.
"The 2013 growing season for cherries was difficult for most orchardists in the Hood River Valley. Mid-summer rains are disaster for cherry growers, and a series of storms blew in right at harvest time last year. The rain causes the cherries to swell with moisture and split. Being brewers, we enjoy a good challenge," Swihart said. "So again, we let the cherries ripen and split and develop more fruit intensity on the tree prior to adding them to the already fermenting the beer. The fruit was more raisin-like after it split, but was rich with sugary jammy goodness. The result drove the alcohol levels up quite a bit from prior years. The 2013 Tahoma is dry and puckery with cherry overtones with a touch of fennel smokiness from the Brett. The Devil's has more body and richness and touch of residual sweetness, and earthy black currant with a bit of almond nuttiness from the contact of the beer with the fruit pits. It is to be expected that both of these beers will continue to change with some age, the Devil's in particular is believed that it will continue to dry out and become more tart in the next few months."
State Fair Home Brew contest deadline July 31
The 149th Oregon State Fair is accepting entries for its Homebrew Beer and Amateur Wine competitions, raising a pint and a wine glass in honor of Oregon's best DIY beverage makers.

Entries are due Thursday, July 31 at 5 p.m. if submitting at one of several designated drop off locations across the state, or Friday, Aug. 1 at 5 p.m. if delivering to the Oregon State Fairgrounds. Fee is $8 per entry.
Enter your homebrewed best in 29 beer categories or the non-alcoholic soft drink category (categories details are available online).

The Homebrew Beer competition is sanctioned by the American Homebrewers Association and the Beer Judge Certification Program.

Excepting the soft drink category, all participants must be age 21 and over to enter.

Additional details, including required online registration links and category descriptions, are available online at Homebrew Beer Competition: http://oregonstatefair.org/competitions/home-brew/.