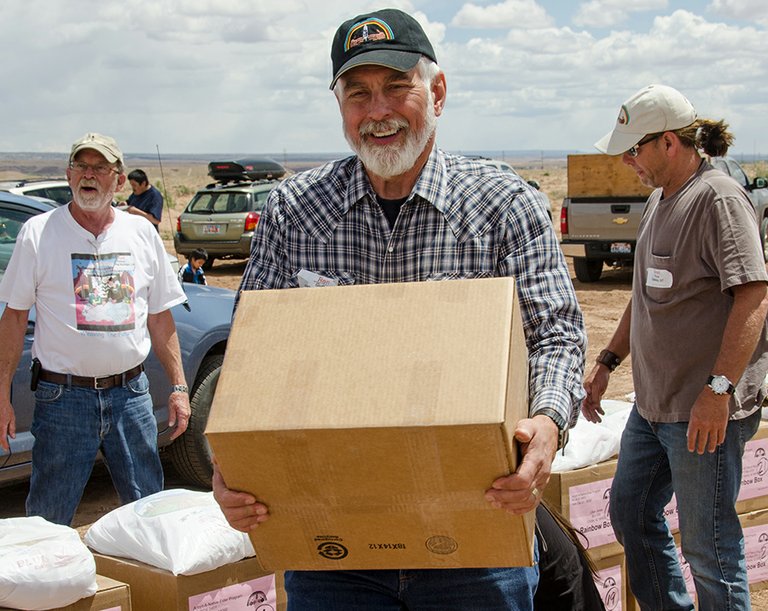 This was no simple rural delivery.
Marg and Ron Guth of Hood River went on a mission in April to serve Navajo elders in Arizona, and children of the reservation.
They had the deeply moving experience in the remote location near the famous Canyon de Chelly cultural sites, helping deliver food, house goods and many other items — and books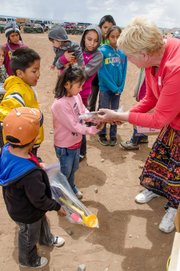 Marg was a longtime librarian at Pine Grove and Parkdale Schools, and Ron was longtime chief financial officer for Providence Hood River Memorial Hospital.
Once a librarian, always a librarian: Before they left, Marg organized a book drive in Hood River for Arizona, and took the Hood River gifts to the Navajo youngsters.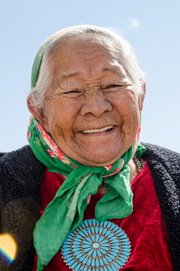 Marg said that while the program is designed to deliver supplies twice a year to the elders over the age of 75 who live in remote locations and very primitive conditions, "where there are great-grandparents there are always kids."
"I received so many responses to my letter asking for kids' books that we ended up taking 15 big boxes of books with us, and came back with none. Most of these kids have never owned a book of their own, and it was like Christmas as they politely lined up to choose a few to take home with them," she said in an email to supporters this month.
"They were so excited, and their families were very grateful for the gifts. I made sure to tell them about their friends in Hood River who had made this possible. I want the kind donors to know what a difference their donations made in the lives of these beautiful kids. Thank you for your generosity."
We asked the Guths to tell us more about the experience and, as is always the case with Marg, she wrote from the heart:
n
We have been part of the Adopt-a-Native-Elder program for some time now. It was founded by Linda Myers out of Salt Lake City 28 years ago after she visited the Navajo reservation and saw a need for basic supplies among the oldest members of the Navajo Nation, and started meeting those needs as she could.
There are now over 500 elders served, from 75 to 105 years of age, who live in remote areas of the reservation in Arizona.
Our series of food runs (deliveries to central meeting sites in the remote areas of the reservation) were based out of Chinle, Ariz., where Canyon de Chelly is locate. This is a huge series of lush canyons in the desert, where there are many cliff dwellings from the Anasazi era.
Our first morning there we participated in a sunrise ceremony at the lip of the canyon, conducted by a Navajo medicine man. As we sat in a circle around a hide decorated with eagle feathers, he said a Navajo prayer as the sun rose over the far canyon wall. Then we each scattered a sacred offering of a handful of tobacco to the four directions, our cars were smudged with sweet sage to keep us safe, and we were on our way.
Few of the elders have running water or electricity, and most cook and heat by wood. While their living conditions are primitive by modern standards, they are intelligent, meticulously groomed, good family members, and proud of their heritage and craft skills. They dress in their finest jewelry and velvet skirts for the food run get-togethers, and are overjoyed to be with friends they have not seen for months.
Most of the women are weavers of incredible rugs. They bring them to sell at the food runs, and most of the support staff come away with beautiful treasures to remember their experience.
The elders rely on their jewelry and weaving skills to support themselves. They do not qualify for welfare or Social Security, relying on a stipend of about $200 per month from the Bureau of Indian Affairs.
Although we saw rugs in tourist shops selling for many thousands of dollars, these people sell their wares for much less, based on what bills need paying at the time. They do not seem to operate by the idea of making a profit that we are so familiar with in modern society.
Most of the women spend all day long at their looms. Some had hands knotted and curled by arthritis, but even these hands produced works of art. The rugs were of many different designs, most of traditional patterns. Much of the yarn they use is supplied by Adopt-a-Native-Elder.
While most of the elders speak only Navajo, their gratitude and friendship was unmistakable as we served them lunch and distributed food boxes and small gift items of soaps, lotions, flashlights, etc. Although we could not communicate except through translators, they would gently take our hands in their gnarled, arthritic ones and embrace us as they would a member of their family.
Wherever families gather, there are always kids. When they heard that they would be receiving books from their friends in Hood River, they lined up eagerly and politely, waiting for my instructions.
Their surprise and happiness at finding they could pick several to keep were wonderful to see. Most of them have never had a book of their very own. There were many happy faces as they made their selections.
While we were glad to be able to make life a little easier for these wonderful people, we were filled up with the feeling of acceptance and friendship for which words were never necessary.
Some things that happen to you in life leave you changed forever for the better. We will never forget our experience.