June 6 was the 70th anniversary of one of the most important military actions in history: the Allied forces' landing on the Normandy beaches, the turning point in the defeat of the Nazi regime in Europe.
Hood River News asked readers to tell us personal or family stories of those connected to D-Day. We heard from two families, and gratefully present their stories:
Bob Flint of England, who helped repair the allies' portable concrete harbors, known as Mulberry harbors, deployed on the beaches. Flint, who served as a member of the Royal Engineers, turns 90 on June 18 and spoke with the Hood River News while on a visit to his daughter, Carole Schmidt, of Mosier.
Wilbur Covey, a Parkdale native born in 1921, was an Army private who died in the critical battle for the port city of Cherbourg, France. He is remembered by his sister, Tommy Elliot of Parkdale. Wilbur is shown on page A1 in a 1944 photo with his sister, Bonnie Covey Wilson of Portland.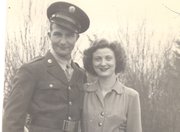 The first war experiences of Wilbur Covey were harrowing enough.
The "country kid" who worked the orchards of Parkdale in the 1930s and graduated from Parkdale High School in 1939, survived the torpedoing of his troop ship in the South Pacific in 1943, and swam to a Japanese-held island where he and hundreds of his fellow Americans survived in caves. Covey was captured by two Japanese soldiers, who were shot while severely beating him. After rescue, Covey was hospitalized for six months, then deployed to England. His Parkdale family last saw him while he was home on leave in February 1944.
On June 6, 1944, he rode a troop carrier onto Sword beach.
Eight days later, on June 14, 1944, he was shot during the fight for Cherbourg. Tommy Elliott, who visited the cemetery near Bayeux, said his grave marker was incorrectly inscribed June 24.
Initially, Wilbur was deferred due to a heart condition, and a year after first trying to enlist he found a doctor who signed off. "He wanted to go and serve. He was just a country kid and all his buddies were overseas," Elliott said.
He was assigned to the 34th Infantry, 79th Division, and initially shipped to the Pacific theater.
Wilbur's sisters and parents, Oliver and Bertha Covey, received two letters from Wilbur in Normandy, but they have since been lost. But Tommy remembers Wilbur describing his experiences in a way an upper valley family could relate to: "Imagine a bunch of troops going through an orchard." She said Wilbur also wrote that the English Channel was extremely rough, and the troops landed in a driving rain that had apparently caused some of the German sentries to retreat from their posts that morning.
Elliot has no information about the circumstances of Wilbur's death, but said the cemetery at Colleville-sur-Mer, where he is buried, it is a beautiful resting place. She went there in 1990 with her son, Larry Elliott of Hood River, and said a tree from every state in the union has been planted at Colleville, and a chapel large enough for three people bears the symbols of all the Allied armed forces.
"It's real quiet and peaceful," she said.
Their hosts at the Bayeux hotel remembered the Nazis taking over their home and killing innocent people, and the joy of the Allies landing and liberating western France. Elliott said, "They were very gracious to us, but there was also a man from Spain staying at the hotel and when he found out we were American he got on his knees and said, 'Thank you, Madame.'"
At 90, war memories remain vivid for Briton Bob Flint
The London Blitz in full flare, Bob Flint would pick up chunks of shrapnel the size of a deck of cards.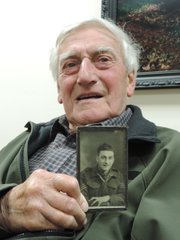 Coming home from work, the air raids would start at 4 p.m., and if you weren't near a station or shelter, "tough luck," Flint said.
"Often you used to hear the shrapnel coming down and foolishly like many others I used to pick it up. I won't say it was red-hot, but sometimes you couldn't pick it up."
Flint and his mates would ignore the air raid sirens and avoid the bomb shelters, braving the bombs to find the hot chunks of anti-aircraft metal that fell to earth during the German bombing runs
"At 17, you knew it all, so consequently I used to go out, with my friends, doing what kids used to do," said Flint, who, at age 90 retains of a tangible memory of his time in London in the early days of World War II.
"We were kids and thought we had it all figured out, that nothing would happen to us," said Flint, who now lives in Orpington, Kent. His daughter, Carole Schmidt, lives in Mosier.
It was 1941, and Flint was 17, working at refining metals in a chemistry lab, creating silver ingots. He commuted from his hometown outside of London, starting in the jewelry division of Johnson Metals, and switching to the industrial division when he learned the money was better there. Flint was called to military service in 1942.
"I was pleased when I was called up, though my parents were quite disturbed, especially my dad. My mom had a traditional Victorian view of it, but my dad was not too happy, having survived the (19)14-18 war, in Salonika (Greece) and he knew the problems and the disgusting things about war, including mustard gas.
"Looking back on it, one of the diabolical things in young age is you don't think about it."
Before entering the service he patrolled with the Home Guard, ensuring adherence to blackout regulations. "My elders were thinking of the 14-18 war, and the slaughter, and always wondered, 'Is this going to happen again?' And that was that."
Later, his work experience would get him moved from the Royal Fusiliers, an infantry division, to the Royal Engineers. "It was the difference between a regiment and a corps. What's the difference? Snobbishness," said Flint, who is in Oregon to celebrate his 90th birthday on June 18. He is here with his wife, Pat, of 67 years, and their daughter, Janice, who also lives in Kent, England.
After serving in World War II, Flint worked in business marketing and owned his own marketing and point-of-sale manufacturing company, and then as a facilities planning officer for large polytechnic institute near London. Even at 90, in Flint's boyish glint and grin, it is not hard to see the spirit of the smiling young man in uniform in his 1943 military portrait.
Once in the Royal Engineers, he became a Sapper — a jack-of-all-trades trained in logistics, construction, weaponry and use of explosives and, yes, the art of defusing bombs and other ordnance — including explosives and the retrieval and removal of mines and booby traps.
"We knew very well we would have a situation where the army would need to cross and those mines had to be cleared, and we were taught where to and how to move them," Flint said. "I was lucky, I never used (his training) in action."
For what would be known as D-Day, his unit was also trained in the maintenance and repair of some very special wartime equipment: concrete blocks the size of train cars, or caissons, designed by the Royal Engineers as artificial harbors, known as Mulberry harbors. The Mulberry harbors were built in England and towed and put into place on the French coast.
During the Normandy invasion, Flint and his unit put into place these strings of caissons and the metal bridges that connected them to ships and to shore. They joined sections of bridges while three miles out at sea, and deliver them to the beach using ducks, or amphibious craft. "I never landed," Flint said. "We were out at sea, to take them across. It was a long day, you had set targets, had to be done," he said.
He was part of two 700-man units known as the 986th and 987th Port Artisan Companies, formed in 1942; "meaning persons of many skills," he said. They trained for nearly two years for the military campaign their superiors knew was coming.
"It was to employ every training for an invasion. If we went into a port or a harbor we needed the skills of welder, riveter, electrician, or a carpenter. Whatever training, we had it," Flint said
"But the 986th and the 987th didn't know what the other was doing. We just had work and training to do. We didn't know about D-Day until it was happening. Not in the lower ranks, if you put it that way," Flint said.
"Unbeknownst to us, we went to work, training all around the UK for D-Day," he said, including stevedoring on the London docks and steam fitting in Scotland. The Port Artisan Companies were made up of men skilled in every conceivable skill. "We needed all the tools, for someone in each unit to be trained in every skill," he said. They constructed cranes in Scotland that were used to load ships that carried unsafe ordnance to disposal in deep water in the North Sea.
All this helped prepare them for the construction and deployment of the caissons, which can still be seen in Normandy, including the Sword Beach town of Arromanches, where Flint visited five years ago.
The caissons had a center part and a gun turret on top and separate compartments with a platform, and at each end there was a valve, and when these got into position, sluice wheels would be opened and sea water filled compartments so the caisson would sink.
"Consequently, you had this structure resting on an uneven bed, and sometimes it would fill up with water, and because no one knew the water level underneath, the caisson would crack, so consequently, especially off our coast, we used to repair it with pumps … but sometimes if they landed on an uneven surface, the caisson would crack and we would use a liquid 'cement fondue,' a quick filling cement. So when it was happening, you used to wait for the tide to come in either in or out, and pour in the 'fondue' because then the tide would push it into the cracks and fill the cracks."
"I have a feeling I went across (the Channel) in my shirtsleeeves. We had no arms or tin helmet. We were working," Flint said.
Flint grows emotional when he remembers fellow Sappers who died or suffered serious injuries from handling explosives, and working to repair the caissons, and the men who perished under German fire attempting to land and unload materiel on the Mulberry harbors.
On a mine removal detail near Cambridge, Flint recalled an officer repositioning him and saying, "You're a sapper, go down there.'
"You make one mistake in the Royal Engineers but you don't live to make another. Then, 'Bang,' and the chap who took my place, lost his arm. And I feel ... you just don't stand a chance, you might do the right thing … it's terrible. And we still don't do anything about that."
After the war a friend who was a junior officer during Normandy told him landing "waist-deep in water, and he was following the next series of people onto the shore, and though he was an officer and don't normally carry rifles, he said when he got into the water, the slaughter was so terrific he was pushing bodies away with the butt of his rifle to get ashore, and as they got ashore, the Germans opened up more lights, and he said he saw all his men, and some were mowed down, and some fell into the water ... terrific isn't it?"
Asked how he felt about his World War II service, Flint said, "You were young, ignorant, happy, mad, but you don't think about these things. It's only now I think about it. However … however."