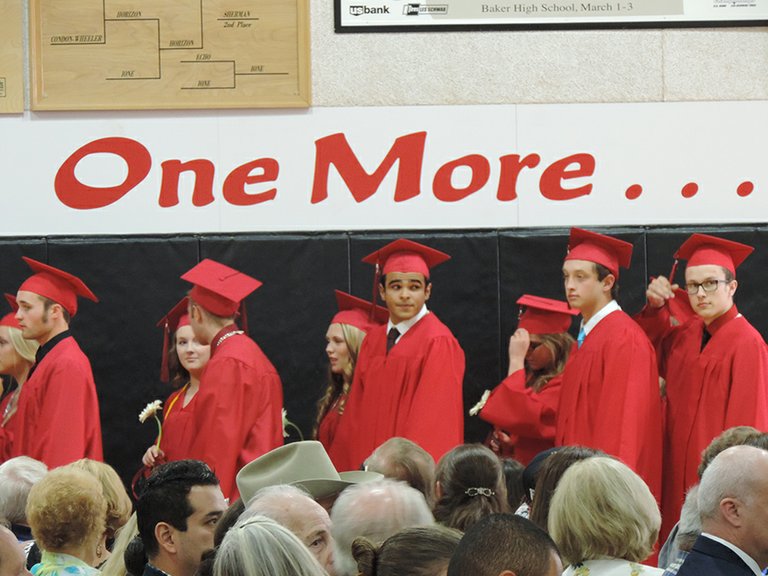 Roller-skating incidents, teachers' waistlines, and misplaced homework assignments lined up as humor fodder in Saturday's Class of 2014 commencement at Horizon Christian School.
Life lessons of remembering your friends, serving God, and keeping a sense of humor were speakers' messages that certainly played a role in the generally solemn sendoff for the private school's largest-ever graduating class: 18 students received diplomas along with the traditional Hawk hand towel — a reminder to act in Christian service — from Supt. Ken Block.
"If you want to be great, you have to be a servant. God has called you to be a servant," Block said. "If you do that, He will elevate you."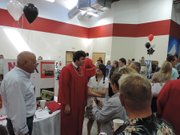 Senior Matt Totaro welcomed the grads and audience, and said, "A wise man once said, 'If you see a good fight, get in it.'"
He said a coach once told him, "I don't expect you to win every game. I do expect you to win the process.
"Everyone has goals in life, a dream they wish to fulfill and not many people are willing to go on the journey that dream requires," Totaro said. "I'm proud of you guys for sticking in the fight, and staying strong through high school.
"I speak for the other 17 grads when I say that high school has been a tough road, and when the road wasn't going in the direction we wanted to, we hung in there, we didn't quit, we never gave up," Totaro said.
Austin Requa, who like Totaro is headed for Linfield College this fall, spoke for his classmates.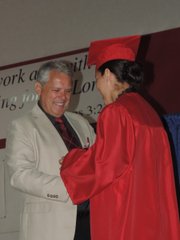 "As we transition into the next phase of our lives, we will have successes and challenges," he said. "Some of those challenges will seem so daunting, we will wonder how ever get through it. Over these past several months, my family has undergone some challenges, and through my classmates and God, I found the strength to move forward, so when challenges come your way, don't forget to draw strength from those around you, and remember, with God, all things are possible."
Requa joked about something he said "gave us an identity, a togetherness": the Horizon dress code — khaki pants, polo, and required belt. "I am not ashamed to admit I will miss that dress code. It gave us a kind of consistency," he said.
"Regardless of your experience this year or over past years, we have shaped each other, for better or worse," Requa said. "We have all worn the dress code together, becoming strong capable individuals.
"I would like to truly thank you for allowing me to speak on your behalf, but most importantly, for being the best group of friends I have made in my life," he said. "We have all now made it through high school, which is no easy task, but most importantly, we made it through together."
The day's keynote speaker, Horizon coach and parent Joe Petshow, announced several minutes into his talk that he had texted a link with a Bible computer app to each 2014 grad.
"Use it. Use that app. Temptation will be staring you in the face. It's going to continue," Petshow said.
It was one of five lessons he gave to the seniors, including, "be sincere, and use a little humor."
Petshow started with "Out there, I daresay, you gotta start all over again — and it's going to be at a faster pace, a much faster pace."
Petshow advised, "Be smart in how you react to mixed messages. Some are more subtle than others. What's important is how you react to them." He told the students, "If you want to know what God wants you to do, ask him.
"Lesson three: Get caught up in your own religious dogma. Don't get caught up in someone else's. There is nothing wrong with embracing religion on your own time," Petshow said. "You find it that way, it will be more important to you."
Invoking Dr. Martin Luther King, Petshow urged the students to be passionate.
"It was not a 'have a plan' speech," he said. "It was about having a dream. Do dream. Be passionate. Be passionate. It's okay. And talk good to yourself. I do it in the mirror; it helps, it really does help. Talk good to yourself."
Petshow said, "Don't stop learning lessons. There doesn't have to be a final lesson. Thankfully our final lesson as mortals has already been taken care. Always keep learning lessons; don't have any final lessons."