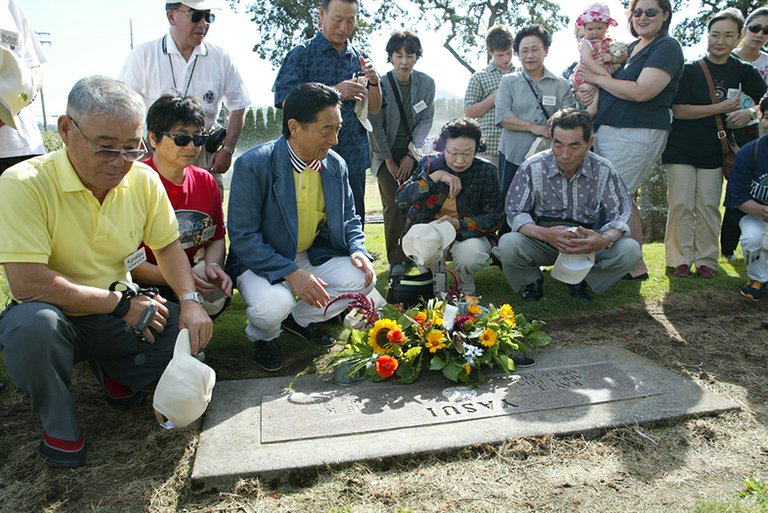 The Tsuruta-Hood River Sister city Program has seen some big celebrations in its 37 years, but none like next week's.
Mayor Kenji Nakano of Tsuruta, Japan, will lead a group of his fellow citizens to Hood River in what will be his final visit as mayor.
The community is invited to a ceremony at Children's Park on Wednesday at 10:30 a.m., where a tree will be planted in Nakano's honor in the cherry grove the Tsuruta visitors planted two years ago. Children's Park is located and Ninth and Eugene streets.
A dinner and program honoring Nakano will be Tuesday at 6:30 p.m. at Columbia Gorge Hotel. Limited tickets are available for Tuesday's dinner; RSVP by emailing: sharw@embarqmail.com.
Mayor Nakano "has dedicated a good half of his life to the sister city program, and I feel great being on the board and honoring him," said board president Niko Yasui, who remembers his first meeting with Nakano: as a young boy he gave the Tsuruta mayor his GI Joe doll after Nakano presented his mother, Maija, with a set of lacquered plates.
"He is like an uncle in our family, coming over every few years," Niko Yasui said. "He's going to stay at Mom's, and it started 37-plus years ago when he and my grandpa met, and on his first visit he stayed at their house, and it will end at a last session at my house with a potluck," on Thursday. "It's coming full circle," Yasui said.
"For decades Mayor Nakano has been synonymous with the Sister City program," Hood River Mayor Arthur Babitz said. "I know the program will continue, but it won't be quite the same without the mayor's regular visits." Nakano retires this year after 40 years leading his city, the longest such tenure in Japan's history.
The Tsuruta contingent lands Tuesday, and starts with a meeting with Gov. John Kitzhaber in Salem.
Hood River events begin Tuesday with a 5:30 p.m. no-host cocktail hour (open to all), followed by dinner, at Columbia Gorge Hotel. Mid-Valley Dancers will perform along with Kendra Wilkins, granddaughter of Maija Yasui, and great-granddaughter of program co-founder Chop Yasui.
At 10 a.m. Wednesday a plaque and bench will be unveiled in front of City Hall, honoring the three founders of the Sister City: Nakano and the late Chop Yasui and the late Chuck Beardsley, followed by the 10:30 event at Children's Park.
Nakano and his fellow Tsurutans will tour Western Antique Aeroplane and Automobile Museum and Columbia Gorge Community College on Wednesday, and on Thursday will visit Timberline and Ryan's Juice, and meet with Sister City volunteer Betty Carrithers at Parkhurst Place.
On Thursday the group will also pay respects at the gravesites of Chop Yasui at Idlewilde Cemetery and Aiko Tadakuma, another Sister City supporter, at Pine Grove Butte Cemetery. The group flies home on Friday.