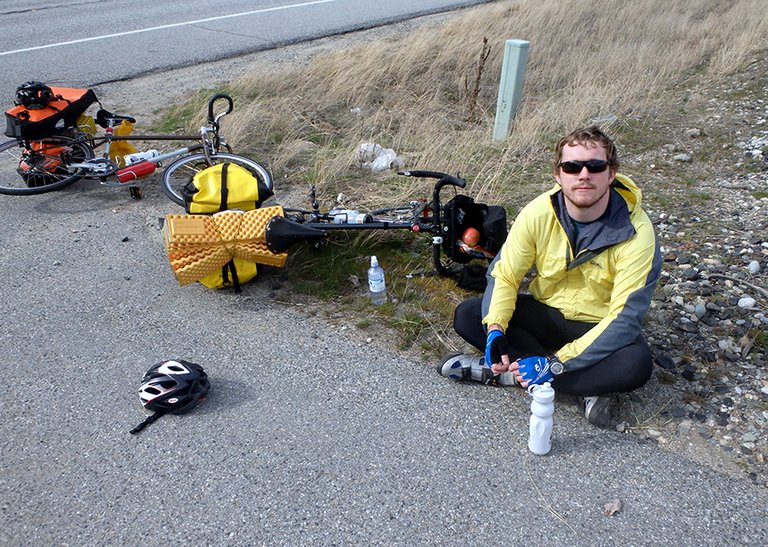 Hood River native Alex Titus is embarking on the trip of a lifetime. Titus, a 2007 Hood River Valley High School graduate, and his fiancée, Maggie McDonell, arrive in Prudhoe Bay in northern Alaska Wednesday to start what they hope will be an 18-month, 17,000-mile bike ride starting above the Arctic Circle and ending in the mountains of southern Argentina.
Although Titus has an athletic background — he even finished second in the state wrestling tournament his senior year of high school — he says this adventure will be his first real experience with distance cycling. But what he lacks in experience, he more than makes up for in a spirit of adventure and a love for the outdoors, something he says has always been a driving factor in his life.
"I'm going into this jumping into the deep end," he said this week from his Seattle home. "I've always been very tied to an outdoor pace of life. This is an opportunity to take some time away from work, slow down and appreciate life without having to work for 35 years straight. I'm interested in living and experiencing a life outside of the standard American way."
After working extra the last several months to save as much money as possible for the trip, the two quit their jobs this week — Titus as an employee of Tableau Software and McDonell as a pediactrics ICU nurse — and will soon be packing their bikes and all their outdoor gear into bags for the flight to Alaska.
Titus went to the University of Puget Sound after high school; he finished with a double major in biology and biochemistry and a minor in math and rowed on the crew team. He then moved to the Silicon Valley, where he worked in the software industry for about a year before leaving that lifestyle behind to travel South America for about a year.
"When I came back from traveling I moved to Seattle, which is where I met Maggie," he explained. "She had been planning this trip for the last few years and it sounded pretty awesome to me. She is very much into the concept of exploring the world at a slower, deliberate pace."
With no strict timeline to follow, the two plan on spending the first few weeks easing into the physical demands of riding their special touring bikes for multiple hours a day before increasing daily mileage as they progress south. Titus says the only timeline they'll have, for the first section anyway, is to be back into the Northwest by Sept. 6, when McDonell is scheduled to be a bridesmaid in her friend's wedding.
"My birthday is Sept. 15, so I'm hoping to pass through Hood River then," Titus said.
Titus says the two plan to camp and couch-surf in the North American leg of the journey, then stay in hostels and homestays in the South American section. One source they'll use for finding places to stay along the way are the online communities WarmShowers.org and CourchSurfing.org, which connect travelers with people willing to host for short periods of time; WarmShowers is specifically designed for touring cyclists.
"We really hope to be able to utilize this community as it would allow us to stink much less and meet awesome people," Titus said in his blog. "Once we get to Central America, we are hoping to use hostels and cheap hotels. Our budget should be adequate for this through Central America, but we expect it to become a bit more challenging in South America. We will probably continue to carry all of our camping gear until we get a feel for bike travel in foreign countries and the type of amenities we will have available on a regular basis."
The two will keep a detailed account of their travels on a blog, at 2w2c.com, which stands for two wheels, two continents. They'll track their progress south and will chronicle their journey for friends and family to follow. In addition, they'll carry GPS tracking devices on their bikes that will allow them to check in daily and, if needed, call for emergency assistance at the press of a button.
"Of course, neither of our mothers would even entertain the idea of letting us do this trip if we couldn't check in with them regularly," Titus conceded.