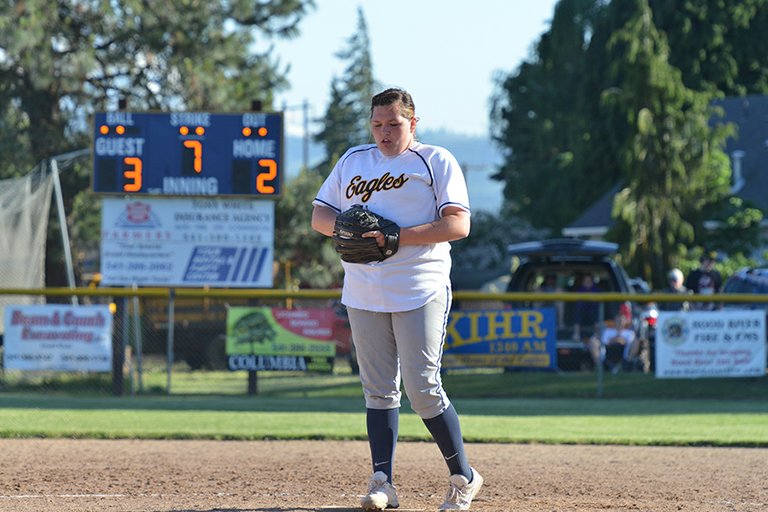 Hood River Valley High School varsity baseball and softball teams concluded praiseworthy seasons last week in the 2014 OSAA 5A state championships. Baseball finished second in the state after an 8-3 loss to Sandy in the championship game June 7, while softball made it to the final four of their state tournament before being eliminated in a 3-2 loss to the Pendleton Buckaroos, who went on to win the state title later in the week.
At the end of each season, coaches from across the state nominate and vote for All-State players to represent Oregon's most elite high school players. Representing HRV on the All-State teams are the following players:
Baseball: Ryan Ward, 1st team pitcher; Kellan Duffy (10), 2nd team infield; Alix Jimenez (12), 2nd team outfield
Softball: Kayla Byers (12), Pitcher of the Year, 1st team pitcher; Annie Veatch (12), 1st team infielder; Kelsey Wells (11), 3rd team catcher; Erika Enriquez (12), 3rd team outfielder; Jessie Karr (11), 3rd team utility
Starting with the biggest honor on the list, senior pitcher Kayla Byers was named the 5A Pitcher of the Year for her role in leading the Eagles to a 22-7 overall record, to the Columbia River Conference co-title and through the playoff tournament to the semifinals. With her speed and control, Byers was a force to be reckoned with on the mound throughout the season and was a major factor in the team's success. She tallied an impressive 269 strikeouts in 27 games, including 28 in the team's final three post season games, and held an ERA of .663 by the end of the season. Byers was also a solid hitter for the Eagles; she tallied 35 hits in 29 games and had 27 RBI and 7 home runs. Byers plans on playing for Eastern Florida State next season.
Teammate Annie Veatch picked up First Team honors as well for her impressive season at third base. Veatch, a senior headed to play for George Fox University next season, finished with a fielding percentage of .889, a batting average of .42, eight home runs and 32 RBI.
Erika Enriquez, also a senior, picked up 3rd Team honors as an outfielder and juniors Kelsey Wells and Jessie Karr were also name to the 3rd Team for their roles as catcher and utility. Enriquez will move on to play for Western Oregon next season.
HRV baseball's top honors went to right-handed junior Ryan Ward, who pitched in every game the Eagles played this season, including four complete games, one of which was a no-hitter against league rivals The Dalles Eagle-Indians. Ward ended with 106 strikeouts in 75 innings played and an ERA of 1.12. He was also solid at bat this season, with 36 total hits, 26 RBI and 19 runs scored.
Sophomore Kellan Duffy and Alix Jimenez picked up second team honors at the positions of third base and outfield. Jimenez, one of just three seniors on this year's roster, was near-perfect in the field with a .909 fielding percentage, making 40 out of 44 chances. He also finished with a solid batting average (.406) and scored 24 runs during the season.
Duffy represents the bright future of HRV baseball. The sophomore third baseman and relief pitcher finished the season with an impressive 7 home runs, 38 RBI, 27 runs scored, a batting average of .457 and a fielding percentage of .82 at the action-packed hot corner position. He also struck out 26 batters in 25 innings he pitched during the season.