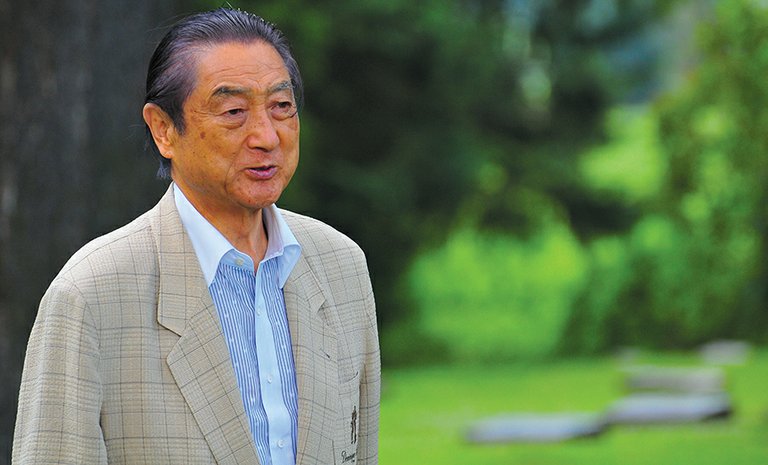 Kenji Nakano has dedicated almost half of his life to his community and townspeople, and after serving 40 years as the Mayor of Tsuruta, Japan, the 84-year-old is finally retiring.
To commemorate, Nakano (with a small delegation of Tsuruta townspeople) is in Hood River this week, where he will tour the area and be honored by the Hood River-Tsuruta Sister City Committee for his tireless efforts and dedication to create meaningful exchanges and foster lasting relationships between the two towns and their communities.
Meet the mayor
Along with a schedule of private activities, Mayor Kenji Nakano and a group of visitors will attend a public ceremony Wednesday morning. Anyone interested in meeting Nakano and paying respects can come to the ceremony: 10:30 a.m. Wednesday at the Children's park. The group will then break for lunch before visiting WAAAM at about 1 p.m., which people are also invited to attend.
Back in Japan, Nakano will exit his post as the longest-running mayor in town history. He was elected in 1974 and served 10 consecutive four-year terms, during which time he helped carry his community through many dramatic transformations of his era, while still maintaining a distinct and proud local culture the people of each small town in the region are known for.
Having experienced Nakano's leadership first-hand, I can tell you he's truly a rare public servant and is treasured by the vast majority of his constituents as more of a father (or grandfather) figure than a political leader.
I met Nakano the day after I arrived in Tsuruta for the start of a two-year term as the town's Coordinator of International Relations. I remember our first meeting well; it was both one of the most uncomfortable situations I had ever been in, while at the same time one of the most comforting.
I arrived in Japan with essentially no understanding of the language or the culture, and thus was understandably a bit overwhelmed for the first few months while I adjusted to a completely new life. Meanwhile, the stifling heat and humidity of the summer season, which I arrived in the heart of, added to my physical discomfort upon arrival. I landed in Tsuruta on a Sunday afternoon, was driven to a host family for the night and was to report to my first day of work at the Tsuruta Town Office the following day.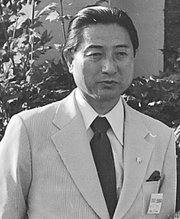 The Tsuruta Town Office is a relatively new building, but to save money air conditioning is used on only the very hottest summer days, of which my first day apparently did not qualify. I was instructed to wear a tie to work that day, specifically because of my meeting with the Mayor, and my host mom was kind enough to iron a pair of pants and the thickest long sleeve shirt I had unpacked from by luggage the evening before. So I arrived to my first day of work sweating heavily, with upset stomach from two full days of traveling, and just generally anxious about the overwhelming circumstances.
I had yet to learn the many complex cultural nuances of an official meeting with the Mayor — of which I would have many over the next two years — so I got a quick briefing on body language, procedure and posture by my immediate supervisor, about half of which I was able to understand. As we entered his office we bowed at the door, then entered, then bowed again slightly when the mayor stood up, then bowed again as he bowed to acknowledge our presence.
As we stood for official introductions, of which, again, I understood very little, I was so hot and sweating so profusely, I felt on the verge of fainting. Nakano then did something I would never forget.
He interrupted the formalities of our introductions, handed me a little fold-up fan, gestured for us to sit down, and made a telephone call asking for the air conditioning in the entire building to be turned on for the day. For him, it may have been a small gesture, but for me it was an act of human compassion that made me realize I was in a kind community, with a kind leader, and I was going to be just fine.
I saw Nakano regularly during my time in Tsuruta — often given the honorary position by his side at social functions and public events — and it quickly became apparent that the role of Mayor, at least as he had defined it, was far more than a job, a career or even a lifestyle. It was his life. He took so much pride and so much personal responsibility for the many facets of the community, from its kindergartens, elementary schools, senior community centers and care facilities to its celebrated local landmarks and many annual cultural events, that his life as his role as mayor, had become too personally invested to relinquish the post, even when age may have dictated otherwise.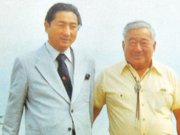 Of the many projects Nakano oversaw, the Hood River-Tsuruta Sister City relationship is something he takes exceptional pride in. He created the program (see sidebar) just a few years after becoming mayor, and over the years has brought an exposure of the outside world to his community that would have never been possible otherwise.
When you're in Tsuruta, just about everyone in the town knows about Hood River; many have been there personally, many have hosted exchange students and almost everyone has seen, met, become friends with or learned English from the Hood River residents who have lived and worked in town as part of the program. Even the town's newest shopping center, to Nakano's credit, is named the Hood River Mall (pronounced "Fooda-Riva-Marru").
Through the sister city program, Nakano has also had a significant impact on the people and community of Hood River over the years. For the many hundreds who have taken part in exchanges, either by traveling to Japan or by hosting visitors, the experience is something they'll never forget, and the friendships made along the way often last the rest of their lives.
This week's delegation of visitors will only be in town a few days before heading back to Tsuruta in time to prepare for summer festival season, the highlight of which is the annual Nebuta parade; when they're in town, like they will be this year, Hood River visitors, alongside Mayor Nakano, are always the honored guests.
"A sister city history: How it all began"
Searching
In the mid-1970s, the concept of "internationalization" began to take seed in Japan. With the coming of the 21st century, the town of Tsuruta sought to develop relationships and exchange programs with communities outside of Japan in order to expose more of the townspeople to foreign cultures and customs. However, during that time, the word "internationalization" had no solid basis of reality for the people of Tsuruta; the number of foreigners traveling to Tsuruta and the number of residents traveling abroad were very minimal.
In light of that, city leadership made the decision to seek a sister city. Tsuruta was eager to create a bond with a similar town overseas so that the people of both could connect, share each other's cultures, learn from one another and create lasting connections from across the globe. Thus, the town's search began, and the seeds for a long running and prolific exchange program were planted.
Tsuruta worked with several associations that dealt with similar projects, but finding a compatible community that met Tsuruta's fundamental conditions was harder than expected. A young Mayor Kenji Nakano had developed a set of requirements an ideal sister city would have. Among other conditions, two major ones were set: First, the sister city needed to be apple-producing; second, there should be people living there with Japanese origins. Mayor Nakano thought it would be easier for people to feel comfortable in the sister city if there were similarities in the environment and if there were people there with Japanese roots.
Months passed with little progress until a chance meeting Nakano had in Tokyo.
A perfect match
While in Tokyo, Nakano meet a man named Shoichi Yamomoto, the president of Japan's Too-oh Nippo Newspaper. During the meeting Mayor Nakano mentioned Tsuruta's difficulty finding a sister city match. Yamomoto made a suggestion that would change the fate of the program for ever. He had a friend living in a town that sounded like a great fit. His friend was Ray T. Yasui, and the town was Hood River. From what Nakano was told about Hood River, it sounded like a perfect match.
The landscape met the desired conditions: The county was a large apple and pear producer and there was a considerable population of Japanese-Americans living in the area. In addition, Mayor Nakano had the pleasant surprise of discovering that Mount Hood dominated the Hood River skyline just as Mount Iwaki does Tsuruta.
In 1976 a group of prefectural apple inspectors was sent to Hood River to research more facts about the area. Upon returning, they concluded that Hood River was a perfect place to begin a sister city relationship.
Ray T. Yasui
Yasui became the driving force behind Hood River's involvement in the program. As chairman of Diamond Fruit Growers, he was a well-respected member of the community and he was able to use his contacts and influence to help move the program forward. He also worked within the local government to move the program through the official legal channels.
In October 1976 Yasui presented the sister city program to the Hood River City Assembly. Three months later Nakano received a letter from then-Hood River Mayor, Charles Beardsley, expressing his approval of the sister city union. Final approval was given to the program by unanimous vote of the Hood River City Council in March the same year.
While making final preparations to formalize the program, Yasui made his first visit to Tsuruta. He was immediately accepted by the people of Tsuruta, and he became famous in the town for his kindness and friendly disposition.
The official signing of the sister city agreement took place in Hood River on July 27, 1977.
Exchanges erase borders
After the official signing of the sister city agreement, exchange programs between Tsuruta and Hood River developed. Tsuruta sent 22 people to Hood River in October 1978. The following June, Gen Kikuchi became the first exchange student of the program by visiting Hood River. A month later Betty Carrithers made her first trip to Tsuruta. In 1979 Tsuruta sent its first high school student to Hood River. This led to the development of the middle school exchange program in 1984, followed years later by the Tsuruta High School exchange program.
In the years that followed, adventurous students and adults helped pave the way for a program that has now brought thousands across the Pacific Ocean to experience life in two very different parts of the world.