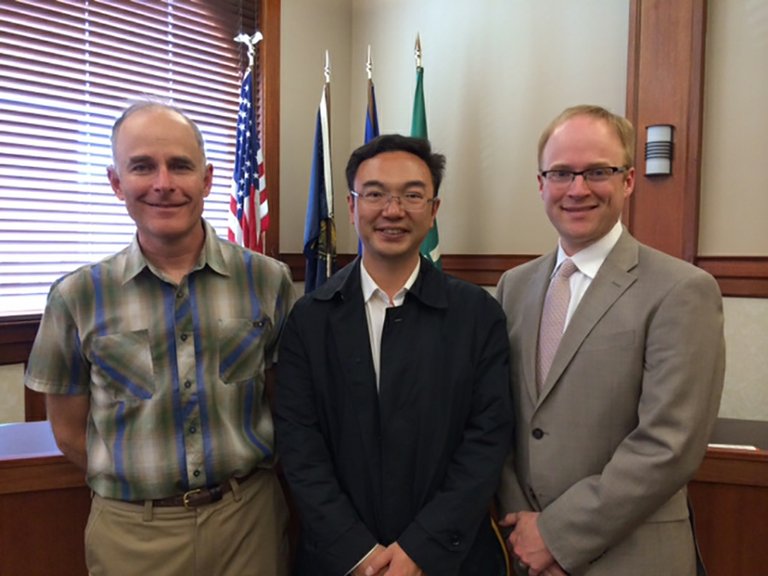 On Thursday, June 5, "Ken" Jian Huang, a Chinese government lawyer, visited Hood River and met with several local attorneys and leaders. Huang's trip to Hood River was part of a two-week cultural and legal exchange sponsored by the International Academy of Trial Lawyers.

Huang, 39, is one of 12 other Chinese delegates currently visiting the United States through the program. Huang is the only attorney in the program visiting Oregon.

Huang is a deputy director within the "Legislative Affairs" office of Guangxi, an autonomous region of southern China along its border with Vietnam. As an attorney, Huang represents the Chinese government in administrative appeals filed by Chinese citizens in condemnation and other compensation disputes in China.
Huang lives in Nanning, a city of approximately 2 million people. Huang received his law degree in 2008 from Yokohama National University in Japan.
While in Hood River, Huang was hosted by local attorney Erick Haynie. Haynie is a partner with Perkins Coie, a national law firm with offices throughout the United States and in Beijing, Shanghai and Taipei.
"The hope of this exchange, from our end, is to help the next generation of Chinese lawyers learn about democracy and the virtues of a free market," said Haynie.

On Thursday, Huang met with Judge Paul Crowley, Presiding Judge of the Seventh Judicial District for the State of Oregon. In that meeting, Crowley and Huang discussed the many differences between the Chinese and American legal systems.
Huang also met at City Hall with Mayor Arthur Babitz. In that meeting, Babitz, Haynie and Huang engaged in a detailed discussion of Oregon land use laws and how they differ dramatically from the land use decision-making process in China.
Huang also attended a Hood River Rotary Club meeting at the Columbia Gorge Hotel.
Huang also met with District Attorney John Sewell. In that meeting, the men engaged in a broad discussion of American and Chinese law and economics. According to Haynie, Huang estimated in that meeting that as much as 60 percent of China's economy is now a "free market."
Huang finished his evening in Hood River with a dinner with Haynie and Mike Thompson, a local attorney over a green salad and local fresh salmon at Celilo Restaurant. During the dinner, the attorneys discussed a wide variety of topics, including free speech, democracy, race relations, and the 25th anniversary of the Tiananmen Square massacre.