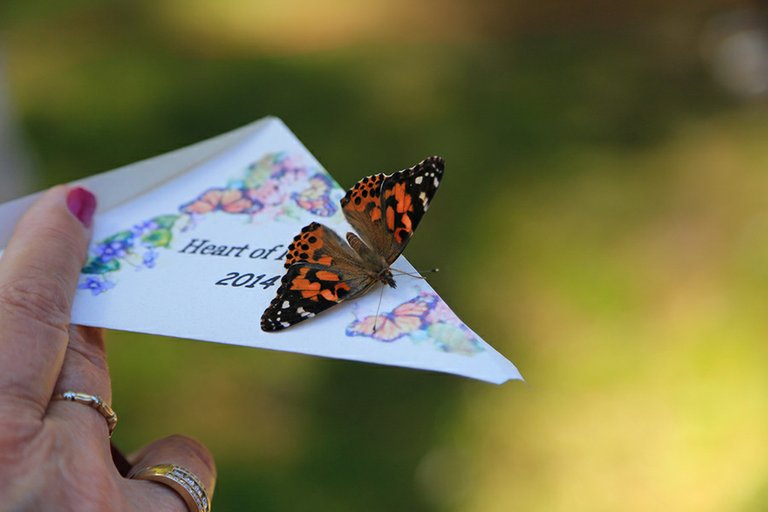 Hundreds of painted lady butterflies took to the sunny skies on Saturday, June 7, honoring the loss of loved ones for over 150 local residents who attended the sixth-annual Heart of Hospice Butterfly Release.
The collective grief in the community of Hood River was especially important to recognize this year. Heart of Hospice staff read the names of the 221 patients who passed in the Gorge this year, as well as almost 100 names of people and pets that were submitted by those in attendance.
Following the reading of the names, there was time to speak the names of loved ones out loud, allowing for healing and remembrance. Jodi Goatcher, Heart of Hospice executive director, said, "The feel and energy at the butterfly release in this community continues to amaze me. It is a real time of reconnecting and celebrating, and there is a sense of family about it. It is truly special."
Individual butterflies were given to every person, and all 150 were released at the same time — a symbolic act of communal grief and healing. Many of the butterflies decided to land on a person, and many people had a butterfly in their hand or perched on a finger. This interaction brought tears of joy and smiles, and was a unique moment that truly helps people to heal.
Seeing the families of patients at the event is always a highlight for us at Heart of Hospice, according to Goatcher. She said, "We are always amazed by the outpouring of support for our care that we see from the Hood River community."
Over the years, Heart of Hospice has served hundreds of families in Hood River and the surrounding area. Through the care of the patient, our staff creates a relationship with the family, and the butterfly release offers a true family reunion, complete with stories, laughter, hugs and tears.
"We at Heart of Hospice extend a loving thank you to the people of Hood River for the support of the butterfly release. The chances to grieve, remember and honor our loved ones that have passed together as a community are a wonderful experience for every one of us."