A Hood River man arrested in December of last year on over a dozen counts of first-degree sexual abuse is scheduled for an entry of plea Monday at 9:30 a.m. at the Hood River County Courthouse.
Kenneth Gordon Lolley, 73, is facing 14 counts of first-degree sexual abuse after allegedly touching the private parts of three girls, ages 8, 10, and 11, on multiple occasions in 2013. He is former owner of KV Pottery on Tucker Road in Hood River, where he taught pottery classes to children and adults. That business has since closed.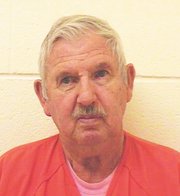 Lolley was originally held at the Northern Oregon Regional Correctional Facility in The Dalles on $300,000 bail, but his attorney, Brian Starns, of Hood River law firm Morris, Smith, Starns, Raschio & Sullivan, was able to get the bail reduced to $40,000 in February of this year despite the objections of Deputy District Attorney Carrie Rasmussen, who is prosecuting the case. Rasmussen noted at the time that Lolley had a 1989 conviction for public indecency after exposing his genitals to two young girls as they walked to school in front of his home in Hood River. Families of the alleged new victims also made impassioned requests to the court to keep Lolley in jail.
Hood River County Circuit Court Judge Paul Crowley ultimately decided to grant the bail reduction and the next day, Lolley made bail. He has since been confined to his home at 1640 16th St. in Hood River, along with an electronic monitoring device, per court order.
Lolley was originally scheduled to enter a plea in April, but Starns asked Judge John A. Olson, who presided over the case, to push back the plea date. Starns told Olson that "our investigations are continuing and we need some additional time," and also noted that he did "not believe we will be in a position to be ready rather quickly."
If convicted, Lolley could face a maximum sentence of 10 years in prison and a $250,000 fine with a minimum sentence of 75 months in jail for the first-degree sexual abuse charges, which are class B felonies.