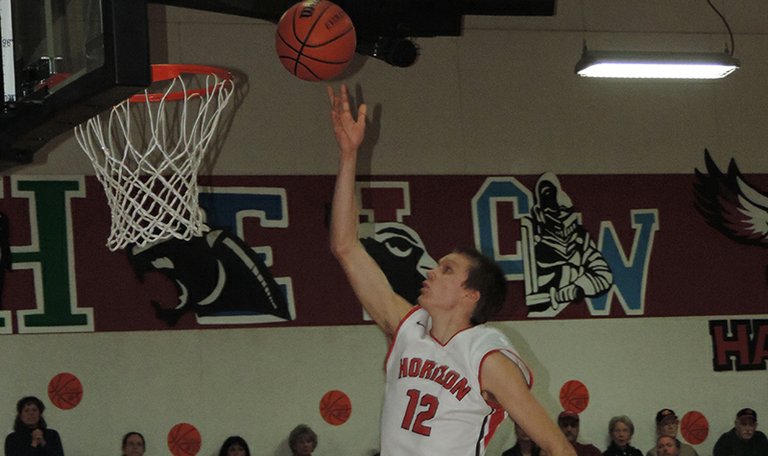 For the Horizon Christian High Hawks, participating in high school basketball's version of "March Madness" is something that they've become accustomed to in recent years, and this year is no different. The Hawks, guided by coach Darrin Lingel, advanced to the OSAA 1A state tournament quarterfinals for a fourth straight year following a 67-27 second-round home playoff win Saturday over the Crane Mustangs (14-12).
"We're excited to have another trip to Baker and it's exciting to have an opportunity to possibly win a state championship," said Lingel, who led the Hawks to a state title in 2012 and a second-place finish in 2013. "Anything can happen there and we're looking forward to the challenge."
The No. 1-ranked Hawks (23-1) face the No. 3-ranked Imbler Panthers (21-4) Thursday at 1:30 p.m. in their opening matchup of the Elite Eight tournament March 6-8 at Baker High School. If Horizon wins Thursday, it'll play the winner of a quarterfinal contest between Crosshill Christian (18-6) and Jordan Valley (22-4) in a 3:15 p.m. semifinal Friday. If Horizon loses to Imbler, it'll play in a 9 a.m. consolation round game Friday.
The championship game is scheduled for 8:30 p.m. March 8. Along with Horizon, another favorite to make the championship game is the the No. 4-ranked Columbia Christian Knights (22-5), who are the Valley 10 League Champions from Portland and have remained undefeated against all 1A opponents they've faced. Horizon is also unbeaten against 1A teams, as the Hawks' only loss (67-51) was to Class 2A Irrigon in their season opener back on Dec. 7.
"Columbia is a good team and they have two kids (6-8 Kameron Chatman and 6-8 Arkadiy Mkrtychyan) who have scholarships to NCAA Division I schools," said Lingel. "Chatman is going to Michigan and Arkadiy is going to Idaho. If we have the opportunity to face Columbia, it could be a huge challenge, but we'll have to win two other games first."
As usual, Saturday's game saw the potent and effective one-two scoring punch of junior Mason Bloomster (18 points, five rebounds, six assists) and senior Matt Totaro (19 pts., 10 rebs., two blocks) lead the Hawks to the win.
"It's my third straight year going to Baker City to play in the quarterfinals, so that's pretty exciting," said Bloomster.
Crane, guided by first-year head coach Hector Martinez and assistant Mathieu Zander, responded to Horizon's pressure well initially and even held a small lead for a couple of minutes in the second quarter.
"We're really proud of our team for making it to the Sweet 16," said Zander, whose squad traveled six hours from Eastern Oregon. "If you're going to lose in the playoffs, then it might as well be to the No. 1 team in the state. We have no reason to hang our heads. Our kids played the best they could and we just lost to a better team. I hope they (Horizon) win it all, because then we can say that we lost to the state champions and they have a really high-class group of kids."
Horizon regained an edge at 17-16 with 5:34 on the scoreboard clock, when Totaro sank an 8-foot jumper in the lane. From there, the game went the way of the Hawks, who found their rhythm and built a 33-19 halftime lead and a 55-21 lead after three.

"Our game plan is apply defensive pressure as often as we can, while utilizing our quickness advantage to get steals and convert fast-break scoring opportunities," said Engel. "We always force a lot of turnovers and that helps get our transition game working very well … I love going to Baker and it was one of our goals at the beginning of the year to win the championship and we're hoping to achieve that goal on Saturday."
All 11 players on the Hawks team competed in the playoff game, including junior Ryan Aldrich, who played in his first home game of the season after recently returning to the team. Aldrich played for the first time this season in the Big Sky Conference District Tournament, Feb. 21-22 at Hermiston High School. For seniors Totaro, Engel, Amar Mann and Austin Requa, it marked the final home game of their career at the "Hawks Nest."
"I'm really proud of all the guys for doing such a great job tonight, especially our seniors," said Lingel. "It was their last home game, so it was somewhat of an emotional day for them. They're really the core group and heart and soul of the team. They helped build a winning basketball tradition here."