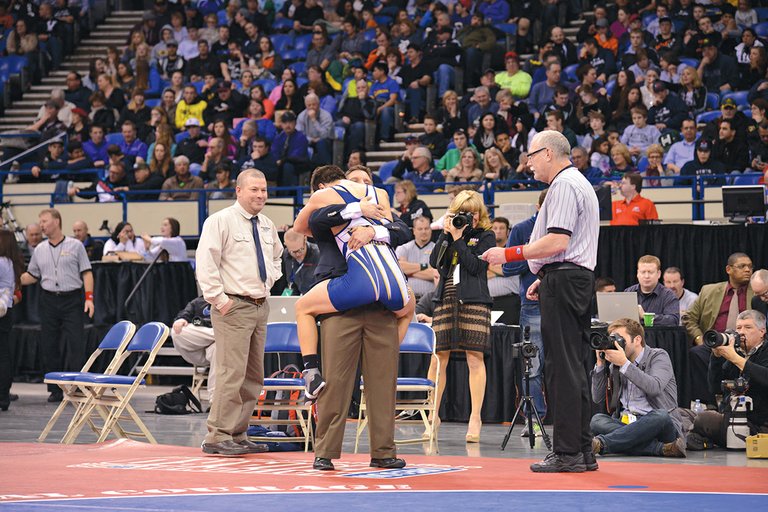 In a thrilling season finale Saturday night at the Memorial Coliseum, Hood River Valley High School wrestler Christian Marquez countered an outside single leg attempt, dug his toes into the mat and powered through the off-positioned Matt Hofenbredl of Dallas. Referees called the takedown, cueing the end of the sudden-death overtime period, and as Marquez leapt to his feet and pumped his hands in the air a considerable portion of the packed Memorial Coliseum exploded with applause.
Marquez shook Hofenbredl's hand, signed his bout sheet at the scorer's table and found the arms of coaches Trent Kroll and Scott DeHart before exiting the arena overwhelmed with emotion.
With the 4-2 win , Marquez, a junior, claimed the OSAA 5A 126-pound state title, becoming the eighth wrestler in school history to earn such a title.
"It's unreal," Marquez said. "The whole experience is just insane — of wrestling in the state finals, in that situation, in front of all those people. I think it's something you can't really understand unless you've been there."
The No. 2-seeded Marquez advanced to the finals fairly easily, with two first-round pins Friday and a 14-4 win Saturday. On the other side of the 16-person bracket, No. 1-seeded Hofenbredl advanced with a technical fall and two decisions.
While it was Marquez's first appearance in the state finals, Hofenbredl had been there twice before; as a freshman he won the 106-pound state title and he won the 113-pound title last year.
"I knew I had to just wrestle my match and not think about anything else," said Marquez, who finished third in the state last season. "I've wanted to put myself in the finals for a long time; that has been a goal of mine for a long time. I knew he (Hofenbredl) had been there before, but I also knew that if I just wrestled my match I could win."
Throughout the season, Marquez's dynamic footwork and takedown ability has been his greatest strength, which proved to be the deciding factor vs. a very talented Hofenbredl. In the first round, Marquez scored a takedown off a lateral drop at the edge of the mat to take the 2-0 lead. Hofenbredl escaped quickly, and with less than a minute in the round shot a deep, low-level single beneath a sprawling Marquez in one of several pivotal moments of the match.
"I was either going to score from there or hold on until the ref called a stalemate," Marquez said. He held onto Hofenbredl's feet to prevent him from stepping up for the takedown and got the stalemate call with eight seconds left in the period.
Hofenbredl started down in the second period and managed an escape with about 15 seconds left to tie the score 2-2. In the third Marquez started in the down position and, despite coming close several times, could not escape. In another pivotal moment of the match, he resisted a near-fatal arm bar attempt midway through the period by contorting his body out of the hold before giving up any nearfall points.
"I'm strongest on my feet," he said. "I can take down pretty much anyone in the state, so when we went into overtime I felt confident. A lot of the match is a blur, but I remember that last takedown clearly. When I came up, I didn't really understand that I had won. It hadn't sunk in yet."
By the time he walked off the mat, Marquez's eyes were glazed over with tears of joy. He jumped into the arm of his coach.

"Coach Kroll has dealt with me over the years; he has stuck with me and helped me reach my goal of being a state champion," Marquez said. "He has really helped me accomplish my goals."
Marquez joins HRVHS alumni Ken Ayers (1984, 148 pounds), Wayne Hart (1985, 155 pounds), Jim Donnelley (1995, heavyweight), Adam Lapierre (1999, 125 pounds), Sean Baker (2008, 135 pounds), Cory Miller (2008, heavyweight) and Robert Frazier (2011, 145 pounds) as the school's state collegiate wrestling champions.