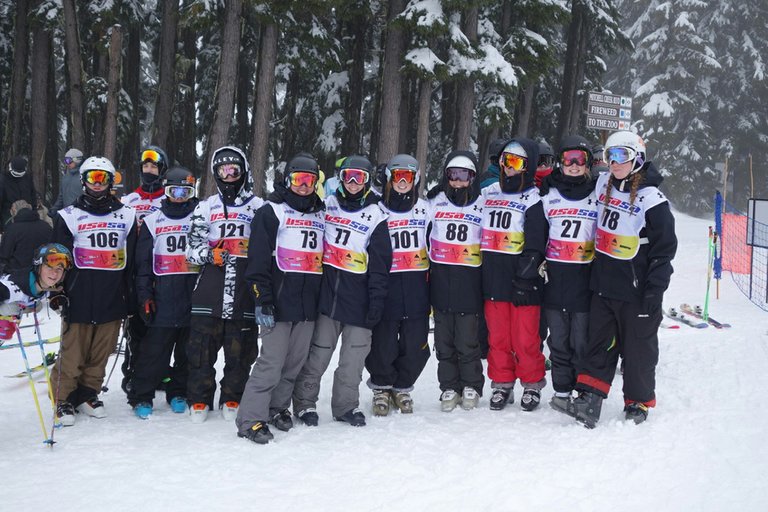 Hood River Valley High School ski team was at Mt. Hood Meadows all week for the 2104 Oregon Interscholastic Ski Racing state championships. Action started Monday and Tuesday with freestyle contests, including events in skiercross, rail jam and slopestyle. Downhill racers got a practice day Wednesday to get a feel for courses before competing in slalom and giant slalom Thursday and Friday. Coverage below is for the freestyle half of the championships; downhill results will run in the March 12 Hood River News.
Girls freestyle state highlights
Overall champion: Hannah Bergemann
Skiercross: Hannah Bergemann, 1st; Lucy McLean, 2nd; Kelli Clark, 3rd; Casey Sherrerd, 4th; Erin Mayer, 5th
Rail jam: Hannah Bergemann, 1st; Erin Mayer, 2nd; Casey Sherrerd, 3rd; Savannah Boersma, 4th; Callie Crumpacker, 5th
Slopestyle: Hannah Bergemann, 1st; Savanna Brentlinger, 2nd; Savannah Boersma, 3rd; Laura Scarborough, 4th; Erin Mayer, 5th
Combined: Hannah Bergemann, 1st; Erin Mayer, 2nd; Savannah Boersma, 3rd; Casey Sherrerd, 4th; Savanna Brentlinger, 5th
Boys freestyle state highlights
Overall champion: Tucker FitzSimons
Skiercross: Patrick Crompton, 1st; Tucker FitzSimons, 2nd; William Lamer, 5th, Charlie Sutherland, 8th
Rail jam: Tucker FitzSimons, 1st; Jackson Lebsack, 6th; Fenn Paider, 8th; Charlie Sutherland, 10th
Slopestyle: Tucker FitzSimons, 1st; Torsenn Brown, 3rd; Donald Bryce, 5th; Jackson Lebsack, 8th
As a repeat of last year's dominance, HRV boys and girls freestyle teams swept the competition, finishing first in every event to claim individual and team state titles. For the girls, the win came by default since the entire field of competitors was from Hood River. The boys were a different story, though, as tough competition from Sandy, Lincoln, Oregon Episcopal and Barlow forced HRV to rise to the occasion in order to garner top finishes.
Combined titles went to HRV skiers Hannah Bergemann for the girls and Tucker FitzSimons for the boys, as the two who netted the best combined score in all three events. Bergemann won all three to claim her title, over Erin Mayer and Savannah Boersma in second and third. FitzSimons was first in the rail jam and slopestyle events, but finished runner-up to the new state champion skiercross racer, Patrick Crompton, who went on to compete later in the week in downhill racing.
"For the girls, the contest all season has been for second place," coach Mike FitzSimons said. "Hannah has been far and away the best (freestyle) girl we have, so it wasn't really a surprise that she won."
FitzSimons said the battle, albeit amongst teammates, for the remaining top positions was a good one. In skiercross, Lucy McLean — also a crossover from the race team — was runner-up to Bergemann, followed by Kelli Clark, Casey Sherrerd and Erin Mayer for the top five. Mayer was runner up in the rail jam and fifth in slopestyle, which gave her the second-place combined finish ahead of Savannah Boersma in third (6th skiercross, 4th rail jam, 3rd slopestyle).
Coach FitzSimons said the boys' competition was a lot more interesting. "We didn't know what the competition was going to be like, but the other schools had some good competitors. From a coach's perspective, I was stoked to see that. It made our kids raise the bar in every run."
For the boys, Crompton edged FitzSimons in the four-person skiercross finals with a come-from-behind win to take the title. FitzSimons edged Sandy's Erin Carpenter in both rail jam and slopestyle events to secure the overall win.
A halfpipe contest was originally scheduled as part of the freestyle championship but had to be canceled due to snow conditions that didn't allow the resort to construct a pipe in time.