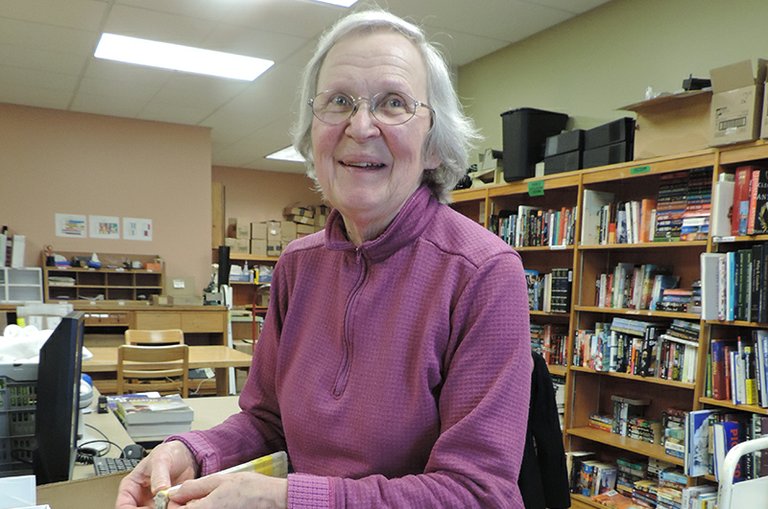 If you're headed downtown in Hood River you might pass by Mary Deaville on her way to the library. Only don't look for Mary behind the wheel of a car. She doesn't own one. For the past 25 years, Mary's transportation has been her own two feet. For most of us the idea of living without our cars is unthinkable but for Mary it was an easy decision.
"I never liked driving and finding parking was difficult so in 1989 I decided to sell my car." Suddenly car-less but buoyed by an enviably positive attitude, she set her sights ahead and never looked back.
Throughout her 21-year career as a library assistant at Hood River County Library, Mary rose early to join friends for a one-hour walk before work. Afterwards she readied for her 20-minute walk to the library, no matter the weather. In winter, Mary dressed for the part, wearing weatherproof outerwear, using the aid of a walking stick, and when the snow piled up, traction devices for the bottom of her boots.
"I bought my first pair of boot traction devices at Les Schwab. I never balk at walking in bad weather. I just know I have to do it."
Mary's car-free life led her to discover something about herself.
"I realized I really like to exercise," she said, recalling her decision to look for more ways to keep moving. A co-worker encouraged her to take part in a fitness program offered by the county. She earned points walking to and from work and by following exercise videos. As was the objective of the program, exercise became a habit. "I enjoyed it so much and had so many health benefits I've continued." Mary says.
What else does Mary do to stay fit? She does tai chi through Community Education, the Adult Center, Mount Hood Town Hall, and Tai Chi in the Park during summer months. She routinely takes stairs instead of elevators, challenges herself to work standing as much as possible, and strengthens her upper body with workout videos and an exercise ball.
"For a long time I thought exercising more than 20 minutes a day was just impossible. Now I usually do an hour. Twenty minutes is just not enough."
What's surprising about Mary's car-free life is that she is not a Millenial, a young American between the ages of 18 and 34. New car purchases by Millenials is steadily shrinking, comprising only 27 percent of all new vehicles sold in America last year. But this same demographic has dramatically increased its use of public transportation, bicycles, and foot power to get around.
Car-free is possible in urban landscapes where mass transit and mixed use neighborhoods of homes, businesses and restaurants are easily accessed. In Hood River, Mary's a woman ahead of her time.
"None of my friends thought I was crazy. At least they never said so in front of me," she smiles, her cheeks a rosy pink. "They accepted it."
Now retired, Mary still volunteers at the library twice a week, and still gets there on foot.
"I enjoy walking and all the time it gives me to meditate and think. I choose not to listen to music or books on tape while I walk." She claims walking makes her more aware of her surroundings than when she drove a car and prefers walking on asphalt roads over concrete sidewalks. "Asphalt is easier on joints."
But how does Mary approach the practical matters of shopping and travel? "Luckily I've never been one to shop much, and what I do buy is mostly local. I use my backpack to carry my groceries. Bread can be problematic. It squishes easily. Sometimes I make a special trip just for bread."
As for out-of-town trips, "I've kept them to a minimum. One could make much more use of public transportation than I do, or even hiring a taxi is not cost prohibitive in comparison to the costs of a car. Stores are often willing to deliver and I chose a doctor and dentist within walking distance of my home.
"The people of Hood River are wonderful. Many offer me rides, and when I accept them I get to visit with all types of persons. The variety of rides is one of the perks of being on foot. So many, too, have offered to take me to the store."
Mary's gentle nature and a desire to simplify is what sparked her car-free life but it's her quiet determination that has kept her car-free. But does she ever miss owning a car? "Oh, no," she laughs. "Not having a car feels perfectly comfortable. No regrets."
Susanne Wright is a Hood River writer, whose works include "Rescue Flight," juvenile fiction.