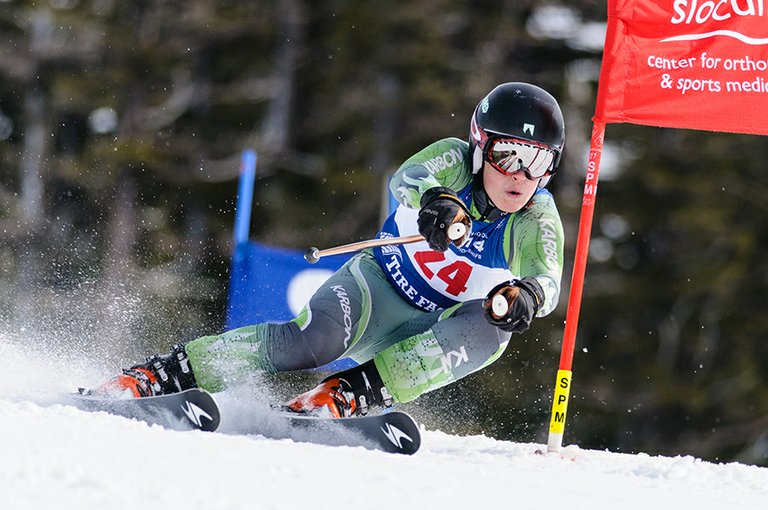 Wednesday, March 12, 2014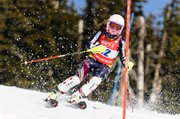 Skiers battled changing weather, high winds, low visibility and variable course conditions last week in the 2014 Oregon Interscholastic Ski Racing Association state championships at Mt. Hood Meadows.
After a monsoon-like practice day Wednesday, temperatures dropped overnight as a storm rolled in, making the courses on Meadows' Stadium Run a sheet of ice, with low visibility and pockets of blowing snow. The top girls from across the state raced giant slalom Thursday, while the boys raced slalom. They switched events on Friday, when sunny weather and blue skies provided reprieve for racers and spectators but threw a different set of challenges to racers as the snow warmed and the course softened.
HRV state highlights
Girls combined
Kelli Clarke, 8th; Sam Davies, 32nd; Hannah Bergemann, 36th;
As a team: 2nd overall
Girls GS
(1st: Jenna Jansky, Jesuit, 1:24.73)
Korey Cimock, 3rd, 1:30.20
Kelli Clark, 11th, 1:38.21
Sam Davies, 37th, 1:50.79
Hannah Bergemann, 43rd, 1:53.05
As a team: 2nd
Girls slalom
(1st: Phoebe Rogers, South Eugene, 1:28.82)
Kelli Clark, 11th, 1:41.00
Lucy McLean, 12th, 1:41.01
Sam Davies, 47th, 2:02.29
Hannah Bergemann, 50th, 2:02.80
As a team: 2nd
Boys combined
William Lamer, 3rd; Austin Keillor, 4th; Chase Lariza, 25th
As a team: 3rd overall
Boys GS
(1st: Trevor Maxwell, West Linn, 1:19.28)
Austin Keillor, 4th, 1:21.12
William Lamer, 10th, 1:23.88
Chase Lariza, 34th, 1:29.90
Charlie Sutherland, 71st, 1:41.54
As a team: 2nd
Boys slalom
(1st: Ashlay Ruddick, Lakeridge, 1:24.14)
William Lamer, 4th, 1:31.51
Austin Keillor, 8th, 1:34.73
Chase Lariza, 27th, 1:48.49
Patrick Crompton, 32nd, 1:50.27
As a team: 4th
Despite several racers getting thrown off by the difficult conditions, Hood River Valley High School ski team finished second overall out of the 10 schools represented. The HRV girls were second as a team (behind Jesuit), with second-place results in GS and slalom; the boys finished second in GS and fourth in slalom for a third-place team finish behind West Linn and Lakeridge.
Individually, top combined finishers for HRV were Kelli Clarke in eighth for the girls and William Lamer in third for the boys. Favorites going into the championship, Lucy McLean had a bad fall Thursday and was knocked out of contention for the girls, while Austin Keillor, who finished fourth overall, had a slip-up on one of his runs that gave Lamer the opportunity to race his way to a top-three finish.
"That's ski racing; it's anybody's race on any day," coach Scott Keillor said about the results. "Kelli and William both skied excellent and consistent to lead as individuals, but I couldn't be more proud of how the team as a whole stepped up to support each other. It was our depth and teamwork that made a second-place finish possible."
Thursday's racing saw Lamer and Keillor finish in the top 10 in slalom action, with Lamer putting in two solid runs to finish fourth in the field of more than 100 racers. Skiing with the No. 1 jersey for the day, Keillor, the recent Mt. Hood League overall champion, posted the second-fastest first run, but had a mishap on the second that cost him about 10 seconds and bumped him to eighth in the event. Results were reversed the following day, with Keillor posting two solid runs to finish fourth in a very competitive field of top five separated by a few tenths of a second, while Lamer was 4 seconds off the wining pace in 10th. Lamer's combined time between the two events was about a half-second faster than Keillor, which put him ahead in the final standings.

"William had an incredible race," coach Keillor said. "He brought it every run."
The HRV girls were led by Korey Cimock, the defending overall state champ, in Thursday's giant slalom action, as she finished third in the event. Clarke was next for the Eagles at 11th place, about 7 seconds behind Cimock's combined time. A favorite in the event and the recent Mount Hood League overall champion, Lucy McLean opened her state appearance with a ruinous first run that resulted in a double-eject crash into the safety fencing. She didn't take her second run that day, but came back the next — largely to help secure team points — to finish 12th in the slalom behind Clark, again in 11th. Cimock felt the sting of a controversial DNF on her first run Friday that bumped her out of contention for overall standings, but she bounced back in her second run with the fourth-fastest time of the heat to give the Eagles valuable team points.
"We had some adversity to deal with, but the team really came together to overcome it," Keillor said. "Every one of our skiers contributed, which is why we finished as well as we did. As a coach, I couldn't be happier with how well the team worked together."
Sam Davies skied consistently both days to finish as the girls team's second-highest finisher at 32nd, followed by Hannah Bergemann in 36th. Bergemann, who earlier in the week claimed overall state freestyle titles, was presented with the female Skimeister award as the girl with the highest combined results between the two disciplines. On the boys side, Chase Lariza posted four strong runs over the two days for a 25th overall standing. Patrick Crompton, fresh off a state champion skiercross result earlier in the week, opened with a mishap in his first GS run for a DNF, but followed the following day with two decent runs for 32nd place GS finish.
"We have the mission of bringing back a state title and expect that to happen if at all possible next year," Keillor said. "We will miss our seniors and their contributions, but will be returning next year with a powerhouse team."
Keillor gave special thanks and recognition to Mt. Hood Meadows for hosting the championships, which were originally scheduled to be held at Willamette Pass but were moved due to snowpack concerns. With the help of parents and volunteers, Keillor said Meadows did an outstanding job running the event, particularly with the added challenges the weather threw into the mix.