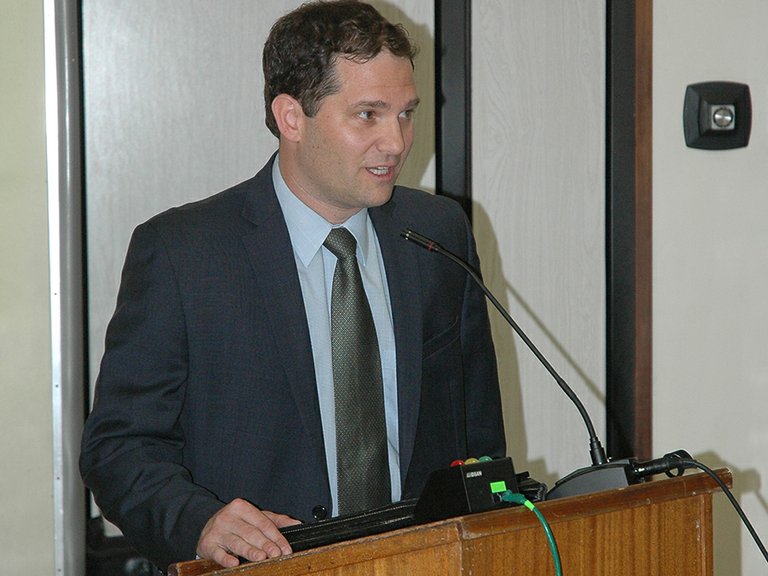 Wednesday, March 12, 2014
When Hood River County School District Board of Directors meets Wednesday, it will meet the new high school principal, and hear updates on the community-wide sports field analysis and the proposed changes in school bus runs and school starting times.
The board will also hear some bad news: The district will need to make $800,000 in cuts for the 2014-15 school year, Supt. Dan Goldman announced Monday. On Tuesday he began visiting staffs at each school to personally explain the situation.
"I think it's important people hear from me before we go into cuts," he said. "I'll let people know they can contact me and let me know what they think in terms of cuts."
The board meets at 6:30 p.m. at May Street Elementary School.
"We're really disappointed to be receiving less money from the state," board chair Liz Whitmore said Tuesday." It's been a (funding) roller coaster ride for years, and in a time we thought we were out of it, we obviously aren't. I trust our superintendent and administration will make the right decisions about how we can move forward with efficiencies and budget reductions."
The cuts to be made — a total of 2 percent of programs, according to Goldman — will need to be decided this spring starting with the district budget committee meetings, which begin May 6, 6:30 p.m. at Hood River Valley High School. The board of directors is scheduled to adopt the committee's recommended budget in its June 25 meeting.
Asked about prospective cuts, Whitmore said, "It's something our team is going to need to look at and decide how to proceed."
Goldman said the district received its State School Funding (SSF) estimate last week, and the district stands to receive a total of about $800,000 less than anticipated. SSF is the amount of general funding from the state on a per-student basis to each district, based on enrollments and students' individual instruction needs, economic status, and other economic and demographic factors. In addition, the district must make cuts to get out of the deficit spending pattern it has been for six of the past eight years, according to Goldman.
The hits to the district's SSF comes in two ways. One is the state's recalculation of how schools are allotted funding for its students who are considered living below the poverty line. Poverty is one of a series of "weights" the state uses to figure out how much to provide each student, and it adds up to extra funding per student, as much as double the $7,000 average. Based on the new poverty formula, the district will have 47 fewer students in the poverty category than the current year, for a loss of about $360,000. The second reduction affects the amount allotted to Hood River Valley High School; for reasons Goldman does not know, the district has "for many years" been given an extra funding weight as small-school, he said. That extra funding will end this year, meaning HRVHS will experience record enrollment in 2014-15, about 1,300, but receive less funding. He said he will meet with State Department of Education officials next week to learn more about the situation.
"The main issue, honestly, is that last year we got $2.8 million extra from the state; $2.1 million for charter school adjustment, and $750,000 in a facilities improvement rebate for having done bond improvements, and both were unexpected," said Goldman, who started work July 1, 2013. "Before we were getting that money, we knew we were going to have to cut, and the response at the time was, 'Yea, don't have to cut so much,' and a plan to deficit spend $1 million last year to cover the deficit."
"It's just a pattern of deficit spending, and if you would say what is the real reason we have to make adjustments, is six of eight years we have spent more than we've gotten," Goldman said. Those were last year and 2007-08.
"There's a reason for that, that you want to give kids more program than you can afford because you want kids to have a good school environment," he said. In that eight-year run, the district started with an ending fund balance of 9 percent, which is projected to be less than 1 percent next year.
"If we went through with the same level of programming next year we would have less than 1 percent in ending fund balance and contingency — everything," Goldman said. "And we can't do that, we can't have that kind of cash flow," he said. "It's really bad practice, and I believe in my heart that while people want as much program as possible, you can't be that reckless with our budget."
The district will proceed with budget committee meetings in the coming weeks, but complicating matters is that it won't be the last word on funding: in May, the state will issue its final funding forecast of 2013-14, which usually requires adjustments made to budget preparations already done.
"We can do a whole bunch of budget preparations in March, think we have it nailed and then things change in May," Goldman said.
"We will use the best information we have, and I will go to every staff in the district to next staff meeting (starting March 11).
Goldman said the good news is that the district is better oriented to respond to budget cuts, thanks to the District Strategic Plan in development this year.
The process "has put us in a good position, after staff meetings and community listening sessions, we've gotten a lot of feedback about what people want in the school district, and we have already done a lot discussion among the principals, manager, and transportation department," Goldman said, "The strategic plan draft should drive our funding; we have done a lot of work we need to do to figure out how to prioritize a budget. There will always be competing interests on money but we should be in a better spot, having those kinds of discussions."