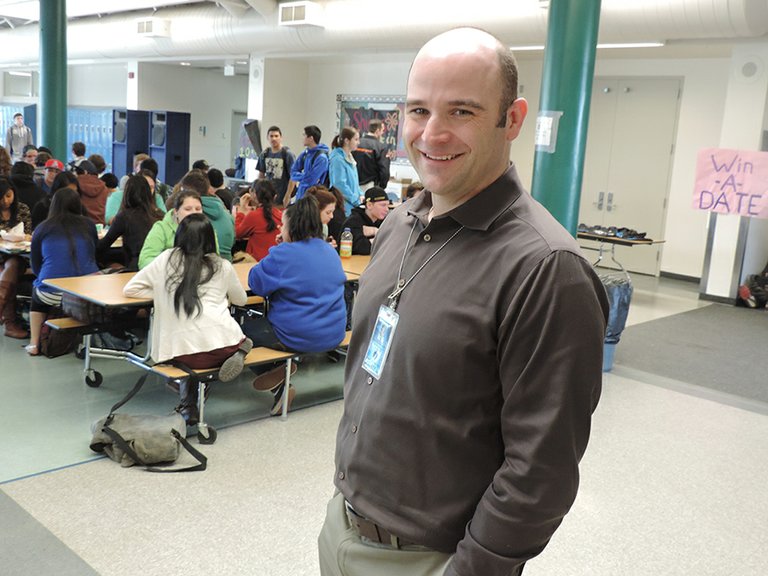 Meet the new principal: same as the old principal.
The Hood River School District made it official Wednesday: Rich Polkinghorn will be principal, and no longer the interim, at the start of the 2014-15 school year.
Polkinghorn had informed his staff earlier that day, making it the worst-kept secret in the schools when the school board met Wednesday at May Street School.
"Drumroll, it's Mr. Polkinghorn," said superintendent Dan Goldman as he introduced the principal. He told the board, "I know that HRV and our district will be in very good hands with Rich."
"I want you to know how humbled I am and honored to have this opportunity, to be part of this family," Polkinghorn told the school board. "I look forward to the challenge ahead. Hood River Valley is an amazing place. You go visit other schools and you appreciate the wonderful things we have. The students and staff are what make it great."
"I'm pretty excited, because he's a good principal and I like him," junior Jessica DeHart said Thursday.
"It's a good thing. He's like, interactive," said junior Breanna Weekly. "He doesn't see himself as a higher power."
"I think it's cool. I think he's doing a really good job being principal," said sophomore Olivia Newcomb. "I haven't had a lot of experience with him personally, but I do know that the experiences of friends who have had troubles that he's dealing with them and giving them the chance to grow and find what it is they did wrong and not have that ruin the rest of their life, and give them a chance to turn around."
Her friend, sophomore Annika Martinez, said, "He's a really good official, even though he has a really high power, he's not a condescending person, he's really nice and helpful to all the students."
Freshman Ben Van Hoose said, "He's a pretty nice guy, generally reasonable. I've never really gotten into trouble, a few little small things. He's a good guy, definitely one of the better principals I've had."
Polkinghorn moved from assistant principal to interim 10 months ago when former principal Karen Neitzel announced she would take a job in Hawaii in June. A fast-track search process last spring did not produce the right fit for the school, so Supt. Dan Goldman asked Polkinghorn to serve as interim, with a new hiring process to start in the fall.
"I expected him to say no, because he has a young family, and it was a hard time to step into the job, so it tells you a little bit of who Rich is, to do what's right for the organization. He's a selfless guy." Initially, Polkinghorn did not plan to apply for the permanent job, but he decided to do so just before the deadline.
"I realized I knew the job and I really wanted to continue doing it," he said. Twelve people applied, and Polkinghorn made it to the final two. Site visits for both candidates' schools were Tuesday, and Goldman said Polkinghorn was the unanimous choice of the interview committee, made up of staff, and students.
"It's not easy to be an interim and then win the job, I'll just tell you that," Goldman said, "because you've got to make decisions all the time that aren't going to make everyone happy. Rich has overcome a whole bunch to become principal of HRV."
"It took a lot of soul searching and reflection, but I love that school and I love this district," Polkinghorn said. "It was something to fight for and I'm glad I did."
Goldman said the predominate word he heard people use to describe Polkinghorn was "approachable."
"People feel really good about going to Rich. He's not going to fire right back on them. He's deliberate, collaborative, shows interest in all parts of the school.
"Whenever I come to the school he's never in his office," Goldman said. "He's all over the place, and very visible. He's reflective, and he puts the kids first; in every conversation I have with Rich, be it about budget, activities, schedule, it's kids, kids, kids. That is rare for a high school principal, that kind of compass, and Rich has a moral compass."
This is what three HRVHS staffers who served on the interview committee said:
Assistant principal Kyle Rosselle said the process involved some "heated discussions" but "it was very apparent that Rich is the guy to lead our school, our staff, our students and our parents. It's very exciting."
Counselor Jennifer Schlosser: "There were some great candidates, amazing people, so it says something for Rich that he was hired over some amazing people. He has great support from the staff. After going to other buildings, we realize how very lucky our school is, our staff and student body, we have a great school."
English teacher Jeff Lorenzen said he told Polkinghorn in private conversation, "You're going to have to fight for it.
"And it put Rich through a very reflective process, to consider what the transition will mean between keeping the ship going and what the new vision might be. A lot of schools' vision is to be like our school, so we don't need someone to take it some amazing different direction. He's charged now with taking a little stronger leadership role."
Polkinghorn moved from California to the Gorge in 2005-06 to become HRVHS' wrestling coach and math teacher, staying for two years, then working as math teacher at Columbia High School for two years (with a year overlap as Eagles wrestling coach) and then back to HRVHS in 2009-10. Polkinghorn and his wife, Heidi Schultz, have three children: Hannah, 10, Jessica, 7, and son, William, 4. Heidi is head volleyball coach at Columbia High School and director of education at their church.