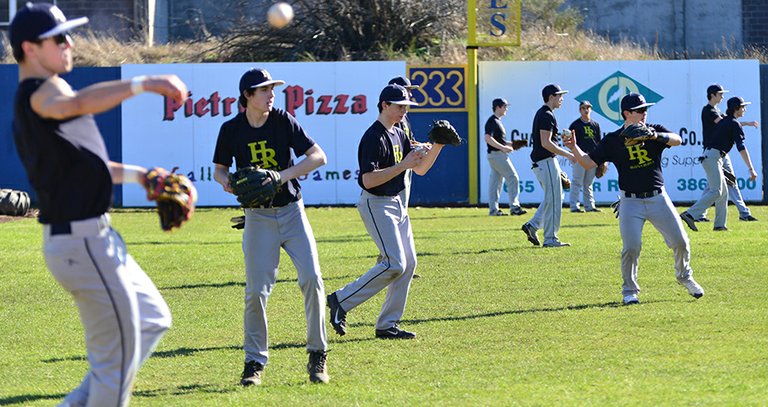 This week's gorgeous sunny weather was an appropriate signal of the start of spring sports seasons, which are already well under way, and coaches and athletes are busy working out the kinks and establishing rosters in preparation for early-season contests just a few days away.

The season starts with a bang on Monday, as Hood River Valley High School hosts three home varsity events. Boys lacrosse looks to open its season with a win against Camas at 4 p.m. at Westside School, HRV baseball opens with a 4:30 p.m. game against Gresham (softball team plays the same time at Gresham) and the girls tennis team hosts Gresham for its first match of the year (boys are away). HRV track and field competes in its first meet March 19 at Forest Grove, while girls golf gets its start March 18 and boys golf March 21, both in tournaments at The Dalles.
With the start of each new season, coaches and players get a fresh start and are generally optimistic about what the next few months will yield — whether the goal is winning a conference or state championship, qualifying for the playoffs or simply maintaining numbers and building a foundation for future success.
Often a good indication of things to come, here's a look back at how HRV's varsity spring sports teams ended last season:
Baseball: HRV baseball finished 5-7 in Columbia River Conference action last season, ending its league schedule with an exciting 6-1 win over No. 2-ranked The Dalles on senior day, which recognized the team's five graduating players. The Eagles went on to lose a tough 2-0 play-in game against South Eugene to fall just shy of a state tournament berth.
Head coach Erich Harjo returns for his fifth year to lead the team this season.
Softball: Saying goodbye to just two seniors on its senior day and the final game of the conference schedule, the HRV softball team ended the regular season 4-8 in the CRC, 14-9 overall and ranked 5A No. 6. The team defeated Bend 8-2 in an exciting first round of the state playoffs before suffering the fate of a perfect game pitched by West Albany in the quarterfinals to end HRV's season.
Eric Keller will lead the team in his fourth season as head coach.
Track and field: The Eagles finished second as a team in the Columbia River Conference and sent 14 athletes to Eugene's Hayward Field for the state meet last season, only two of whom were seniors. Jestena Mattson and Sebastian Barajas brought home state champion titles in the 200 meter and discus, respectively, while Cesar Rodriguez, Parker Irusta, Parker Kennedy, Wyatt Webber, Anna Schlosser, Sophie Grace, Patrick Crompton, Kassidy Davidson, Caitlyn Fick, Lydia Gildehaus, Georgia Orgain and Zoe Peterson all saw podium finishes in one or more event to help the team to a ninth-place team finish.
Coach Donnie Herneisen leads a slew of assistant coaches this season in his fifth year with the team.
Tennis: Returning player Scottie Ziegner highlighted HRV tennis last season with fourth-place finishes at the district level and state levels. He was the only player on the young team to advance past the district tournament.
Coach Jon Hiatt will lead the team for his eighth season, while Gretchen Newcomb joins as first-year girls head coach.
Golf: For the first time in school history, the HRV girls golf team brought home a conference title, and with just four golfers on the lineup, the feat was all the more impressive. Of the four, only one was a senior. The girls went on to finish eighth at the state tournament. The boys team had a slow season, finishing last in the conference, led by Dan Keuchmann, who was just two strokes shy of qualifying for the state tournament.
Indian Creek Golf Course staffer Mark Gradin replaces former coach Dave Waller to lead both boys and girls teams this season.
Lacrosse: Boys lacrosse started the season knowing it was going to be a building year, and despite progressing considerably, the team ended its season one win shy of a playoff berth with a 7-8 record. HRV girls lacrosse finished in a tie for third place in its league and qualified for state with a15-14 overtime win in its last game of the regular season.
The team won its opening playoff game handily (20-10 vs. West Sheldon) before falling to West Linn to end the season with a 11-10 record.
Coach John Munk returns for his third year with the boys team, while former HRV boys coach Andrew McElderry re-enters the arena in the role as girls' team head coach.