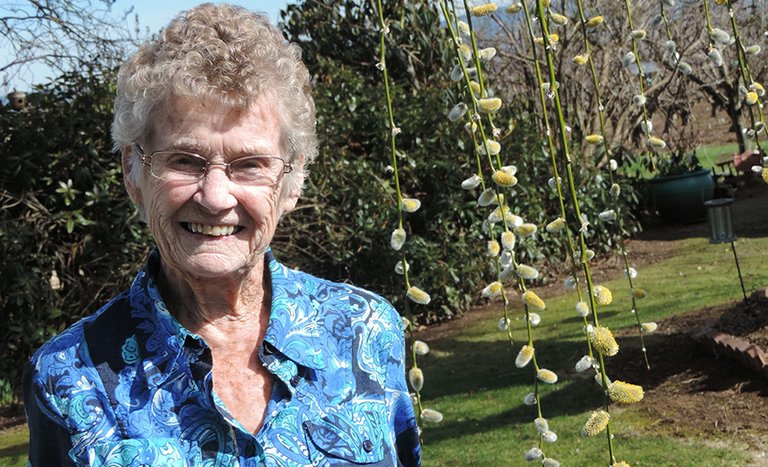 Margaret Annala has lived 98 years in this world, and she's seen most of it.
She's lost count of how many countries she and husband Arvo, now deceased, visited over the years, but a Kaleidoscope feature from Sept. 1988 put the number — then — at 100, and included highlights from trips to Mongolia, Taiwan, Mexico, Argentina, China, Japan and Rome.
"I have travel in my blood," she said. "I don't think the Annalas had a bit, but Arvo loved it because he loved people. He enjoyed visiting with everybody, whether we spoke the language or not. The joy was meeting people in foreign countries, and the landscapes."
The Annalas captured their travels on film, producing slides (Margaret) and movies (Arvo). "I have a jillion slides of the whole world," Annala estimated. "Not of the earth, because I've flown a lot on my travels, but not up high enough for that.
"We used to have lots of fun," she said. "We'd gather anybody willing to listen to our trash and show them our movies and our slides. We loved to share what we'd seen with others."
Hood River has changed a lot since Annala was born. "I was born on the west end of May Street road in 1915, and there was probably three houses all the way to Frankton," she said. "Look at it now!"
She and twin sister Maybelle were the fifth and six children born to A.B. and Maud Cooper. Her father worked in the fruit industry, but carpentry was his real calling.
"While he paid for our living working for fruit, we'd move from one old ruined house to another," she said. "He loved making over old homes."
Because the family moved a lot, she attended numerous valley schools: Coe Primary, Frankton, Pine Grove, Barrett, and Hood River High School (now May Street Elementary).
The first time she left the valley for an extended period was after graduating from high school, when she attended Oregon State University for one year. She took the next year off to work, then returned to school and graduated from a business college in Salem — she forgets the name — and moved to Portland.
And that's when this self-proclaimed country girl learned about city living.
"Portland was horrible during the war; everyone was working at the shipyards and it was so crowded," she said. "I'm a country girl and I didn't like city life."
While her peers primarily worked at the shipyards, her career path was a little different.
"The first job I interviewed for was this job with the credit unit on one of the floors in the big Montgomery Ward store in Northeast Portland," she said. "We had 90 to 100 people on one floor. Before I knew it, I was a credit head, and I had a secretary to send my notes."
Her unit was in charge of the Seattle district, and "when somebody ordered and wanted to charge, it would come to me and I'd have to do a credit check on them, and either okay it or not okay it.
"I enjoyed my work there," she said. "It was a good place to work."
This was also when she married Arvo. The pair were married in Vancouver, with Arvo's brother and sister-in-law serving as witnesses. They honeymooned in Cannon Beach before returning to Portland.
And then something happened that would bring them back to the valley for good. In 1944, Arvo was drafted, but failed his entry physical because of a bad back.
"His sister and brother-in-law immediately called and said, 'Get back up here!'" Annala said. "The valley was stripped of all able-bodied men during the war. We were only too happy to be back up here."
The Annalas moved to Arvo's family ranch in Oak Grove, into a new little rental house located "just behind that grocery store," and began working 15 acres.
"They all greeted us with, 'You cannot make a living on 15 acres,'" Annala said. "What they didn't know is that Arvo had married a hired man. I spent lots of my time out in the orchard. I loved it. I enjoyed working outside."
Annala called herself a tomboy, and said she would much rather climb a tree than work in a packing house — although she did that, too. She worked in four of the valley's five packing houses in her time, just during packing season. Otherwise, she helped with tasks such as pruning and raking.
"To celebrate the end of pruning season, we'd have a big burn pile and roast wieners," she remembered. "We'd have wieners and marshmallows. That was our party of the year."
The Annalas had two daughters: Judy, who recently moved back to Hood River from California, and Janet, who lives in Washougal, Wash. The girls attended what is now called the Mid-Columbia Adventist Christian School because of the family's Seventh-day Adventist faith.
Annala joined the Oak Grove Home Extension group shortly after moving home. Home Extension embodied "everything involved in homemaking," she explained. "The valley had groups of Home Extension all over the valley. We'd visit in each other's homes, have potlucks and things. That type of living is a thing of the past now."
The women looked forward to "showing off our canning and sewing — and for me, photography," at the fair each year, she said.
Annala has been interested in photography most of her life. She got her first camera from her sister and brother-in-law as a high school graduation gift; they had picked it up for her in Japan. She has entered numerous photos in the Hood River County Fair, and has quite a few ribbons to show for it.
"I think I did enter this year, one or two, but when you get my age, you're in a group by yourself and there's not much to it," she said. She enjoys taking nature and close-up photographs the best, and she still grabs the camera to document what she sees.
She's also an active swimmer. Three days a week, she boards a CAT bus to the Hood River Aquatic Center for water aerobics, a class she discovered 15 years ago by reading an article in the Hood River News.
"About that time, I had knee surgery and I needed to get that knee exercised, and 15 years later, here I still am. We work our mouths as much as our bodies," she said.
Annala might be on the cusp of 99, but don't expect her to slow down any time soon.
"I'm going to be 99 years old pretty soon and I think I won't be going around the world anymore — but you never know," she laughed. "The way I feel right now, I could go tomorrow, but I don't think my girls would let me."