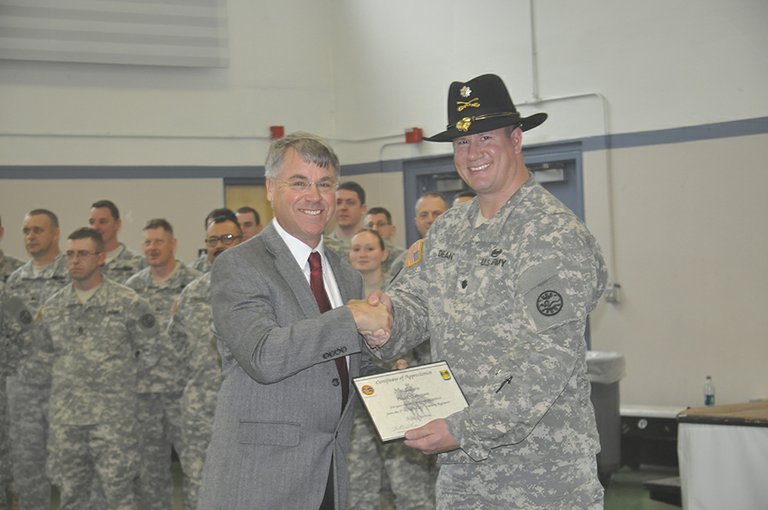 Wednesday, March 19, 2014
Community members of The Dalles and Hood River were recognized March 9 for their long-term support of the Oregon National Guard and Family Readiness Group program at an appreciation luncheon.
"We wanted to thank these folks for what they have contributed to soldiers from the 3-116 (Third Battalion, 116th Cavalry Brigade Combat Team) before, during and after their deployment," said Sergeant First Class Eric Frasier.
He oversees the Hood River Armory, where the ceremony took place that was attended by about 70 soldiers from Headquarters and Fox companies.
Janet Block of The Dalles was one of seven people who received a framed "Thank you" certificate from Lt. Col. Brian Dean and Command Sergeant Major Ronald Blocker. She is a member of the Gorge Heroes Club, a nonprofit group that provides services to military families across the Mid-Columbia region.
"It was a total shock," said Block. "I have never received anything like that before. It was a very pleasant day, everyone was so nice, and we thoroughly enjoyed it." She was joined by her husband, James.
Block said being able to climb onboard one of the new M2A3 Bradley Fighting Vehicles was the highlight of the day for James, a Navy veteran and former Guard member who is a veteran of Operation Desert Storm. Frasier and other soldiers provided the Blocks and other visitors with an opportunity to learn how Humvees and other military vehicles operated.
Invited guests from The Dalles included: Norm and Rose Chance, parents of Staff Sergeant Richard Chance, who is assigned to the Hood River unit; Les Cochenour, local representative for the Employer Support of the Guard and Reserve, and his wife, Jody. Bob Stone, owner of Bob Stone Freeway Auto Center, was unable to attend but will be given a special trophy for his $10,000 contribution in 2013 to Guard and veteran programs.
Receiving awards from Hood River were: Sen. Chuck Thomsen, Stacey Methvin, a founding member of the Heroes Club; orchardists John and Julie Benton; and Pastor Mike Murphy and his wife, Tina, of Parkdale. U.S. Rep Greg Walden was represented by Wade Ferguson, senior field representative from the Medford office, who read a letter from his boss, and Cole McClure, new veteran liaison who works out of the Bend office.
Terri Hansen, coordinator for Guard family programs in Hood River, said another 20 certificates will be given to people who were unable to be present for the ceremony but are committed to ongoing support of active-duty troops and citizen soldiers.
She said the Heroes Club took care of more than 650 guard members during their 2010-11 deployment to Iraq, including soldiers from The Dalles and Hood River armories. One hundred and forty-two of these individuals were not receiving other mail from home so the support from members of the two communities was an important part of keeping their morale high.
When the soldiers returned from their assignment as part of Operation New Dawn, Hansen said financial assistance was given to help who were unemployed and that support continues today.
"We really wanted people who have made the commitment to take care of those who are defending our country to know that their efforts are valued and appreciated," she said.
Dean assumed command of the battalion Feb. 9 and resides in La Grande. He served as an intelligence officer during a deployment to Iraq in 2004-05 and an operations officer during a second 2009-10 tour of duty, also in Iraq.