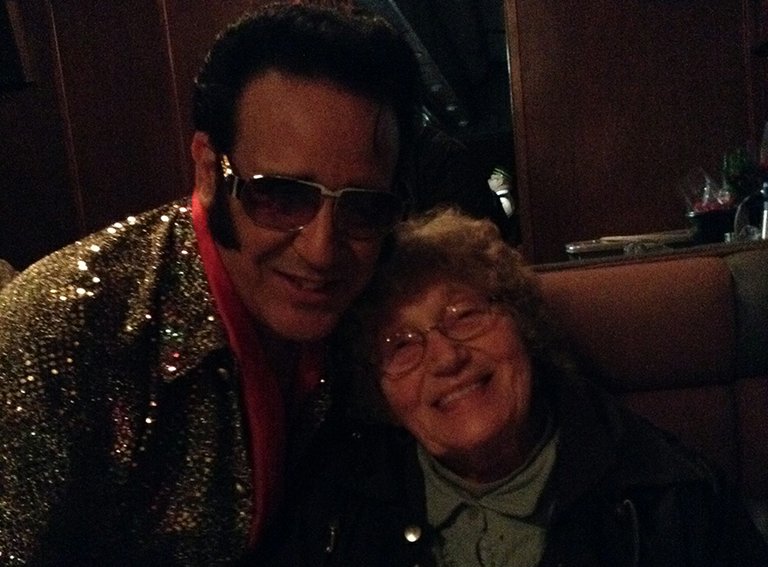 Wednesday, March 19, 2014
"I had a blast!" said Dorothy Phelps, resident of Hawks Ridge Assisted Living Community, of her recent Senior Wish activity.
Dorothy Phelps has always loved trains. Trains are a big part of her family's life. As a small child, Dorothy's father worked as a repair man for the railroad in Huntington, Ore. He took many lessons and training courses and worked his way up to engineer. Her father maintained that position for the rest of his life.
When Dorothy was chosen for Hawks Ridge's Senior Wish project for February, she knew exactly what she wanted to do: "I love trains and I have always wanted to ride the Mount Hood Railway to Parkdale and back."
After looking at Mount Hood Railroad's website, Cathy Carter, marketing director for Hawks Ridge Assisted Living, found the Feb. 15 Dinner Train with Elvis.
"I knew Dorothy loved Elvis and trains! Perfect!" Carter said.
Dorothy's son and daughter-in-law, Dave and Diane Phelps, were able to join her for a "just wonderful" night. Dorothy received special treatment from both the conductor and Elvis. Hugs, kisses, a rose and a serenade of a "lovey-dovey" Elvis song were all part of Dorothy's special Senior Wish night.
Dorothy was a high school English and drama teacher for many years before her retirement. She has been a resident at Hawks Ridge Assisted living since 2010. She enjoys her family, her grandchildren, and any educational opportunity.
Hawks Ridge created the Senior Wish Project to help residents with achieving a dream or goal.
"We try to achieve this dream in the best way we can, big or small," Carter said. "The Hood River and surrounding communities have been very philanthropic. We appreciate any donation to help fund this happiness project."
The Senior Wish program began in 2013. Hawks Ridge held a Country Fair on Aug. 16, with more than 50 business contributors and volunteers, the event drew nearly 500 visitors and raised more than $1,500 for the Senior Wish Project.
To learn more about how to donate, volunteer, be a part of the Country Fair 2014 or for more information on the Senior Wish Project, contact Cathy Carter at marketing@hawksridgeassistedliving.com or 541-387-4087.