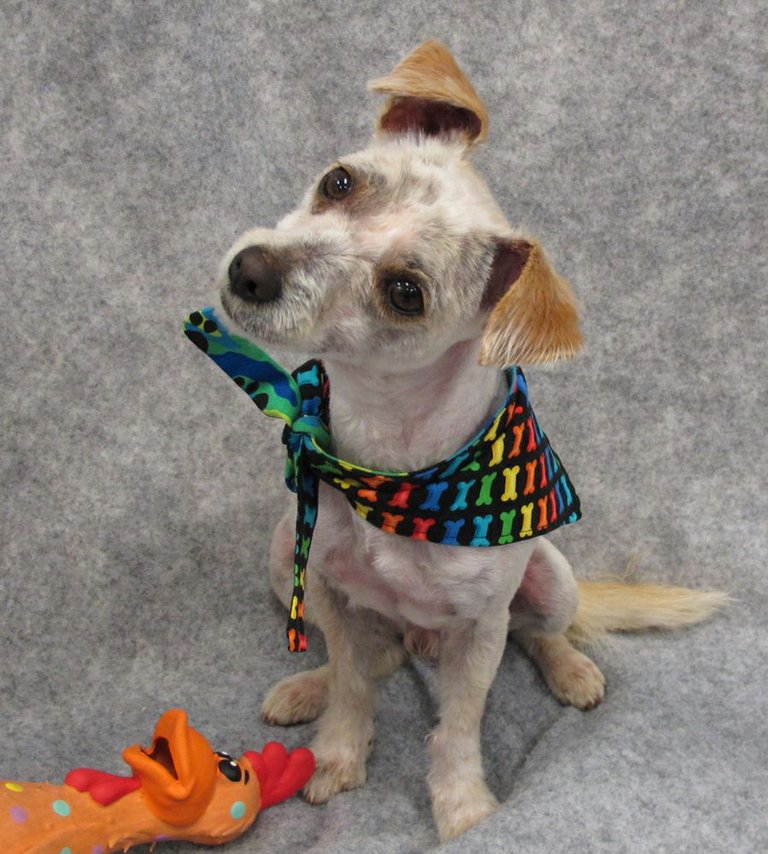 Wednesday, March 19, 2014
This week volunteers at Adopt A Dog have selected Pogo as the program's adoptable pet of the week. They describe him as follows:
"Pogo is about a year old, and 10 pounds and some kind of terrier mix. Whatever he is, he's an animated little boy!
"Pogo showed up at the shelter a pretty matted mess but Colleen over at Dirty Paws Grooming got to work on the little guy, and look how purty he is now! And he's feeling so much better, too.
"He got his name because he's a bouncy, hoppy dancer and usually heads out on leashed walks on his back two feet, leading the way proudly. He's very entertaining as he chases balls around trying to outrun them or catch them in his little mouth. He never gives up!
"And he shares with other dogs in the game, too, but mostly because he has no choice — the other dogs are bigger and faster and reach the toy first! But he doesn't mind at all; he's happy just to be included in the festivities.
"The only thing is, sometimes Pogo has too much zing in his zip for other dogs and they find that annoying! So he's learning doggie manners fast enough and can run and roust about with them all.
"He's a happy little chap with lots of energy and gusto, but also a perfect cuddle buddy. He's completely content being a lapdog, too. He's got a cute little video up on our website, so check it out."
Pogo is current on shots, microchipped and neutered. His adoption fee is $185. The fee to adopt is charged to recoup standard veterinary expenses.
Since many of AAD's dogs are in foster care, please call ahead to meet Pogo at the Hukari Animal Shelter, 3910 Heron Drive, Odell; 541-354-1083. Adoption hours are Wednesdays from 5-7 p.m. and Saturdays from 9-11 a.m. Applications may be downloaded at hoodriveradoptadog.org and faxed to 877-833-7166.