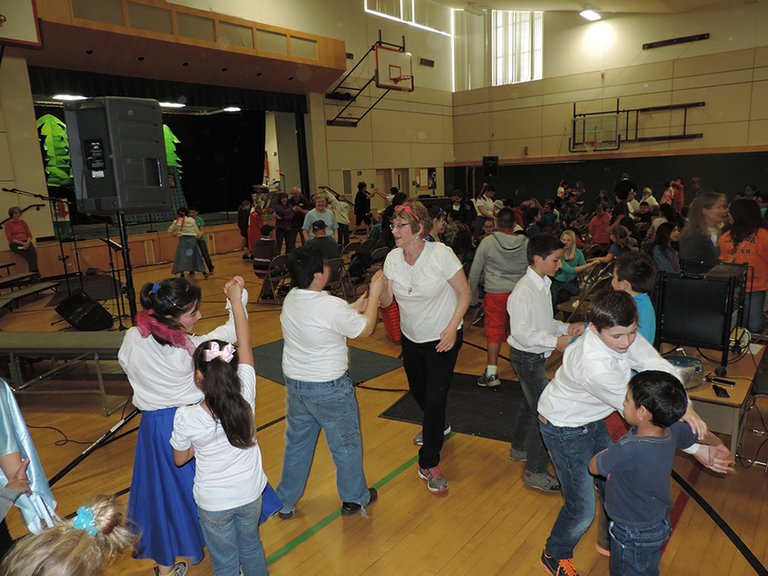 Joann Frazier was the leader of the pack Thursday, red cape and all.
The vivid hooded garment helped put a new twist on an old tradition at Mid Valley Elementary, the annual production of the musical "Little Red," involving the entire fifth-grade class.
Frazier started the project and has organized it every year since its start 18 years ago. This week was her finale, as Frazier retires in June after 41 years teaching.
Once again the students dressed up in bobby sox and blue jeans for a '50s take on the folk tale set to music including "Leader of the Pack" and other rock-n-roll standards. It all comes together after barely a week of daily practices, with a little more advanced instruction on the dance moves.
"They created something fairly masterful with not a lot time, but intense time, and they probably accomplished something they didn't know they could do," said Principal Dennis McCauley, who joined the dancing in leather jacket and sunglasses on Thursday night.
In thanks for Frazier's years of work, art teacher Peggy Dills Kelter made a satin cape for Frazier, and tied it on her after Thursday afternoon's performance.
The back of the cape read, "The One and Only Big Red."
"I'm really impressed," with the cape, Frazier said. "I'm going to have to share it." Yet she took it off a few minutes later for ease of dancing. "I am not used to a cape. I don't think I can wear it and do my big moves," Frazier said, taking it off for the post-show dance fest.
Frazier and fifth-grader Emilio Castaneda demonstrated the basic step and other moves including the girl turn, dishrag, and butterfly. They capped it with a more complicated move that ended with Frazier administering a simulated slap to Castaneda. As the audience laughed, Frazier joked, "He stepped on my foot!"
Frazier, Castaneda and the rest of cast then went into the audience and gave lessons to fellow students, teachers, and parents. Soon the gym was full of people of all ages dancing to "That'll Be the Day," "Chantilly Lace" and "Rock Around the Clock."
"The kids learn to interact with each other and appreciate each other, and it gives them a broader perspective," McCauley said. "The idea of getting out and dancing is not a common concept and that's part of what they're learning: It's okay, and it's fun."
"This is about respect, kindness, and hard work," teacher and co-producer Judie Holt-Mohar told the audience after the afternoon performance. "(The students) know the moves and do the moves. It doesn't matter who they dance with. Parents, it is quite a tribute to you and to your kids."
Featured performers included Aryn Dahlstrom as Little Red, Isis Solorzano as Granny, and Dora Plascencia as Mom, who together in this version work to tame The Wolf (Cristofer Castañeda) and teach him to share the forest, rather than rule it.
Frazier wore the cape again for the 7 p.m. show, and while the cape presentation was one surprise, she was in for another surprise that evening as about 35 past cast members who are now middle- and high school students got up and danced on stage with her. Frazier's grandchildren, from Silverdale, Wash., presented her with flowers.
The reins of "Little Red" she passes on to Holt-Mohar and teacher Mikka Irusta, but Frazier added, "They'll continue it but it is likely to look different."
Frazier and Holt-Mohar are also responsible for the Pen Pals project pairing fifth-graders with HRVHS basketball players, which combines math, literacy and publishing. But Little Red is about music, dance, and more, and it is a tradition beloved by the students.
"The big thing is to get everyone in lipstick, and the boys get their hair greased back and girls get the pony tails," Frazier said. The script was purchased 18 years ago and "we can't change it," Frazier said. "We have kids who dream of growing up to be the Wolf or Red."
Frazier and Holt-Mohar honored someone who was there at Little Red's start in 1996: pianist Rosie Dorzab played the finale tonight to celebrate Frazier's retirement, and the cast presented her with a bouquet of roses.
All that rock 'n' roll had a band to go with it: Vickie Schmidt, a former fifth-grade teacher at Mid Valley, handled piano duties Thursday, joined by her son Andy, a sophomore at HRVHS, on bass, sophomore Cameron Marquez on guitar, and senior Alan Gibson on drums.
Five years ago, Andy played the role of the Wolf.
"It's kind of fun to watch other kids do it, and look back and think, 'I did that,'" Andy said.