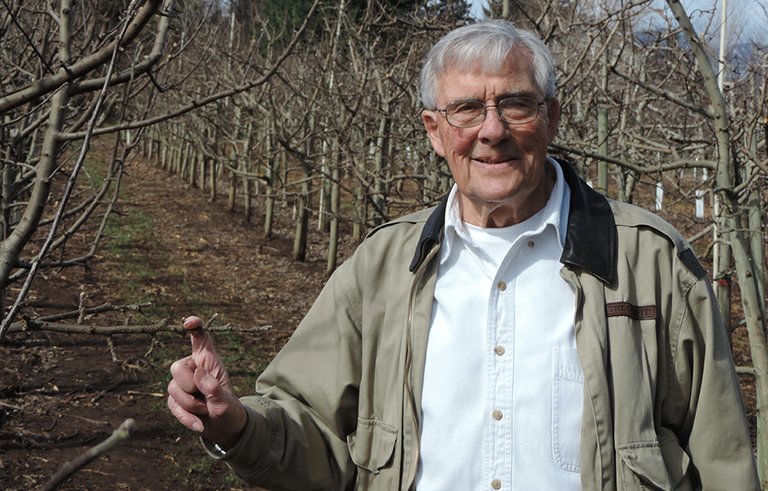 Dr. Allan Henderson has always liked horticulture — so much so that he purchased a 45-acre orchard on Belmont Drive in 1983 while practicing family medicine.
"I got asked a lot, what was I doing farming when I was supposed to be a doctor?" he said. "I liked farming because things tended to go fairly well and you had something to show for your work at the end of the year. And you didn't have to get up in the middle of the night. Usually," he added.
Dr. Henderson's family tree reads like a Who's Who of the Hood River and White Salmon farming communities: He's related to the Lages, Scobees, Kobergs and Dickeys, and can trace his Hood River roots to the 1880s.
"My great-grandfather Lage settled the Lage ranch, the Hendersons came over on a wagon train and settled in Bingen Flats, and Mom's folks came from Norway and settled north of White Salmon," he said.
With all of those farms in the family, Dr. Henderson had plenty of practice before purchasing his own orchard. He began working on various family farms while in high school — during World War II, when a shortage of workers made everybody essential.
"Everyone worked most all the time," he said. "I drove a tractor and made boxes at Diamond Fruit during the summertime before I went into the service. Everybody had to work because there weren't a lot of men around."
Dr. Henderson was born on Dec. 27, 1925, to Dr. Warner and Irene Henderson, in Portland — because "my mother was in Portland that day," he said. He grew up at the corner of Belmont and 22nd Street and attended Coe Primary, Park Street School, May Street and high school at what is now Hood River Middle School.
He was one of the earliest members of Boy Scout Troop 382, sponsored by Riverside Church, and took advantage of every recreational opportunity the valley had to offer.
"Everybody these days is all excited about what the river's done, the fishing and mountain biking and climbing," he said. "What we see now is everybody is into all these things there is to do that I did as a kid. I rode a bike everywhere, hunted, fished and hiked. The public has discovered it so it's quite a playground (now)."
When he was growing up, one of his favorite things to do was hunt and fish. "In those days, I could go out the back door with my single-shot 22-gauge and my dog, and go hunting for pheasants," he said. "There was still fish in Indian Creek. It was a delightful time."
He also enjoyed camping with neighbors Hal and Mark Puddy and John McLucas.
"For reasons that are unknown, our families would let us go camp overnight in the woods," he said of the trips the boys took when they were 12 and 13 years old. "We were Boy Scouts, so we thought we knew what to do in every emergency. We hiked around Mount Hood twice, down to the river through Wahtum Lake and Eagle Creek, back up and down the trails.
"CCC boys were interesting to have in the '30s," he said. "They built the nice trails we ran around on. Lots of them were from the South, from the Carolinas, and they came out to help with our forests."
And he has many, many fond memories of the Columbia River in its pre-dammed state.
"You can't believe how angry the river would look like, or how it looked when it was completely frozen over," he said. "The river at that time was a dynamic thing. It didn't flow gently or have whitecaps when it was windy. It was a raging thing.
"The river would go down to a slow-moving green stream lined with great big beautiful sandbars. I could spend all day on the sandbars chasing turtles. My great-uncle owned Koberg beach, so I'd go down to my dad's office in the morning and then walk down the old dirt railroad track and spend mornings and afternoons there. When I got older, 14, 15, I made kayaks and we'd sail on the river. But I never thought about boards."
In 1942, Dr. Henderson's father — a dentist — enlisted in the military and served in the 203rd General Hospital, first in England, and later in France (arriving just days after D-Day, Henderson noted). After graduating from high school in 1944, Dr. Henderson enlisted in the U.S. Air Force, training as an Army Air Force Cadet, but was never deployed.
"When they realized they were going to win the war, they put us pilots on hold," he said. "We did work on airplanes until they let us out at the end of '45."
His father had wanted him to become a dentist, too, but Henderson "knew I couldn't work in those small cubicles they used to work in," he said. "I told him I had to move around more than that." Because he liked science and medicine ("I took as much science as I could in high school"), he received a bachelor's degree in science from the University of Washington in 1949 and his medical degree from the University of Oregon in 1953.
Dr. Henderson originally thought he'd settle in La Grande after graduating from medical school ("the hunting was better," he explained), but "it didn't work out too well in general, and I had a good opportunity here. And I loved Hood River. I finally decided it was all here, the things that were most important. And then I had a great many family."
And so he came back to Hood River, opening his own office downtown in 1955 — the eighth doctor in town. Later, he and his father, along with Dr. Leonard Hoffman, built the office on the Heights that currently houses the practices of Drs. Brauer and Pennington. He served as the president of the Oregon Academy of Family Physicians in 1974 and the president of the Oregon Medical Association in 1984, but his patients were his favorite part of practicing medicine.
"I think it was the people, actually, being involved with them, with their lives, being in a position to usually do something for them, to relieve their pain or fix their problems or fractures or whatever," he said. "It was a learning situation always."
Medicine is interesting because it's always changing, he said. "We didn't know what we would have liked to know about a lot of things, still don't," he said. "It would be frustrating because you'd know you could fix a problem if you just knew more."
He quit seeing office patients in 1992, but worked in surgery with Dr. Charles Haynie until 2001. "Then I just did aviation medical exams, river pilot exams, and truck driver exams until recently," he said. Very recently — he only stopped this February.
Once he retired (or semi-retired) from his practice, he began volunteering with Northwest Medical Teams. He went on four medical missions in all, beginning with Somalia in 1992. He also traveled to Rwanda after the massacres in an attempt to re-establish a medical treatment area, and to Haiti and Moldova to set up medical clinics.
"I didn't go anywhere after 2001, but they were interesting opportunities, to see how bad things can get and how good we have it," he said. "You have to see it to believe it. It's still there, unfortunately. It's a sort of thing you just do what you can to help."
Closer to home, Dr. Henderson served as Scoutmaster of Troop 382 for three years after returning home from World War II, has been a member of Rotary since 1956 (he's the oldest active member), and spent 12 years volunteering at Columbia Center for the Arts.
He and wife Kae were married in 1948. Each brought three children to the marriage, making the house a lively place.
"The children got along really well," he noted. "They're stair-step. It was a lot of work. It wasn't all that hard, but it was a lot of work. There were a lot of evening games and coaching to do, and we took (camping) trips all the time. We were pretty active that way."
Where the Hood River of his youth was primarily an agricultural and logging community, Dr. Henderson notes that the Hood River of today is more high-tech.
"We export pears and wine and apples and blueberries, and lumber nowadays, and things like Tofurkey and drones," he said. "We have many other small manufacturers, like DaKine, the breweries and the wine industry. It's mostly based on young, very intelligent men and women who want to entrepreneur here and are dedicated to making the place better."
All in all, Hood River "is a delightful place to live," he said. "I hope they keep it that way, with the farms and open spaces.
"It's been fun to see the history and live the history."