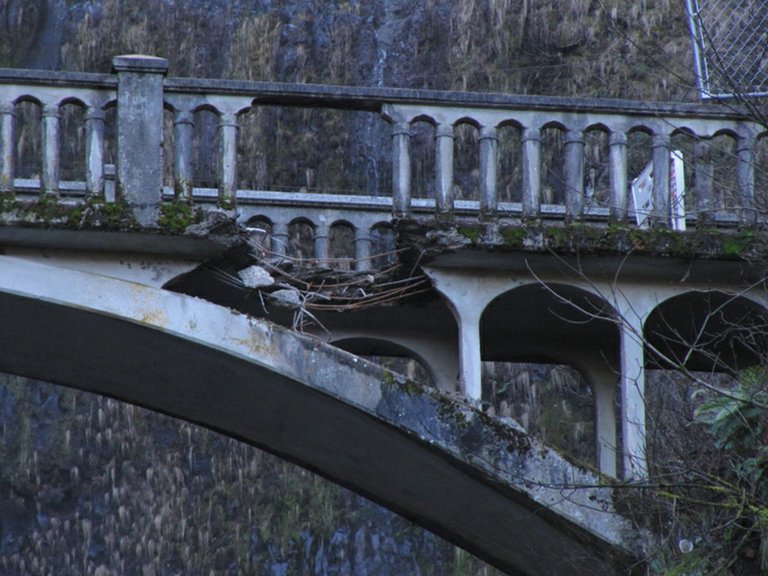 An iconic pedestrian bridge at Multnomah Falls that was damaged by a large falling rock earlier this year is expected to be restored by Memorial Day Weekend, according to the United States Forest Service.
The structure, Benson Bridge, has been closed since Jan. 9 when a large rock came tumbling down the basalt cliffs that frame Multnomah Falls and damaged a 4-foot-by-4-foot section of the bridge. The force of the rock blew a hole through the deck of the bridge and took out a section of railing before plummeting into Multnomah Creek below.
The bridge has been closed due to safety reasons since then, which has prevented some of the roughly 2 million people who visit the falls annually from crossing the creek to the popular Wahkeena to Multnomah Falls loop and the Horsetail Falls to Multnomah Falls loop trails located to the east.
Jennifer Kevil, public affairs officer for the USFS Columbia River Gorge National Scenic Area office in Hood River, said her office is "on track" to have the damage repaired by the end of May. The bridge will then close again in September for what Kevil called "deferred maintenance" that will take roughly two weeks to a month to complete.
"We chose to do [the work] in two installments so as not to affect the summer tourist season," she explained.
Physical work to repair the bridge will begin next month and will require replacing a portion of the concrete deck, the rebar that supports it, and the portion of railing that was knocked out by the rock. Kevil said the bridge, which was originally built in 1914, has to be repaired so that it will "look exactly like the current structure."
In the fall, contractors will perform long-term maintenance, including removing the old sealant and resealing the bridge. During the work, a tent will be erected around the structure so that no debris will fall into the rushing creek below.
"We can't have anything fall into the creek," Kevil explained. "It's a salmon-bearing stream."
The entire project is estimated to cost approximately $300,000, which includes design work, and the second phase should be completed sometime in October.
Like other areas in the Gorge, Multnomah Falls has seen its fair share of dislodged rocks over the years — most notably in 1996, when a boulder the size of a school bus splashed down in the creek, disrupting a wedding party that was on the bridge at the time — and Kevil said that's unlikely to change.
"There's a high probability this will happen again," she said. "There's really not that much we can do about it."