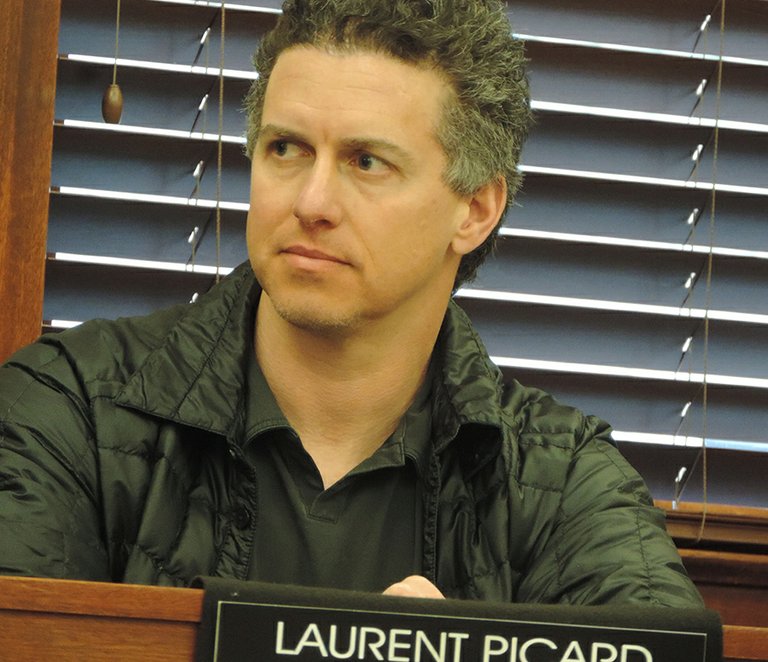 Wednesday, March 26, 2014
By 5-2 vote, Hood River City Council took a measured step Monday toward an official action on requesting a moratorium on medical marijuana dispensaries within city limits.
Council Member Laurent Picard spoke strongly against a hearing, saying medical marijuana is a needed service and the city should not impede establishment of safe and legal dispensaries.
The council will consider information, to be provided by staff, on a proposed moratorium in its next meeting, April 14. The subject of marijuana dispensaries was not on the council agenda, but a lengthy discussion ensued Monday after a request for a cooperative approach to rules and restrictions for dispensaries, by Joella Dethman, executive director of the Hood River County Commission on Children and Families.
"The two cities and the counties have some time to line their policies up. It's important to work together," Dethman said.
At issue was not simply whether one or more dispensaries would locate in the city, as state law now allows, but any potential dispensary's "time, place and manner" of operation, addressed under the new law.
Any city hearing would come after the hearing by Hood River County Board of Commissioners on a possible moratorium, scheduled last week for April 21. That timeline would still give the city time to take action on whether to enact a moratorium prior to the May 1 deadline required by the state. By that date, municipalities must vote yea or nay on whether to disallow dispensaries for a maximum period of one year. Dethman told the council, "We have the opportunity to look at regulations with medical marijuana registries, and slow this process down and see what we would do for this community." Communities should align their strategies to keep kids safe, working from the staff level to advise the policy makers, she said.
"We have a long history of consensus and I'd like our office to be involved," Dethman said, offering assistance to Interim City Manager Ross Schultz in drafting a proposed ordinance.
Council members Laurent Picard and Carrie Nelson voted against the city pursuing the matter. Ed Weathers, Mark Zanmiller, Kate McBride, Brian McNamara and Mayor Arthur Babitz all voted in favor of putting the matter on the next agenda. McBride, Weathers and Zanmiller all expressed reservations about dispensaries but said the council needs more information before making a decision.
"I'm not touching this," Picard said. "The provisions are robust," he said, referring to the new state law and requirements about the locations, operations, design, and security of medical marijuana dispensaries.
"We don't need to make it more difficult for medical marijuana patients to get their marijuana and be sure it is tested and safe. I've done a lot of research, and have friends who have had cancer, and I know about the positive effects it can have," Picard said.
Picard said of a hearing, "I wouldn't get anything out of it," but Babitz asked him he didn't see some value in debating the subject.
"I think all the information is out there," Picard said.
Babitz noted that "no one is arguing for a permanent ban" on dispensaries, but the council needs to determine the correct way to proceed in approaching the idea of a moratorium, and what steps the city would take during a moratorium.
The resolution approved by council Monday, framed by councilor Mark Zanmiller, states "that staff will present information at the next meeting regarding medical marijuana dispensaries and information on time, place and manner."
Babitz and others acknowledged that a hearing on a moratorium would probably turn into "a societal debate" on recreational as well as medical marijuana use, "and we need help on what we do about the time, place and manner." He said it is not up to the council to debate the legality of medical marijuana use, as this was approved by initiative in 1998, but he noted that it is likely a hearing could evolve into a broader debate beyond the moratorium itself.
A microcosm of that happened Monday in discussions between Dethman and members of the council. Dethman's agency provides a variety of education and outreach services to families and children, including an active coalition that works to raise awareness of prevention of abuse of alcohol, tobacco, and drugs including marijuana.
Dethman called for the city to enact restrictions, within state law, on where dispensaries are located and how they are operated, and to keep them out of prominent places. "We don't want kids walking by them on the way to schools or to go play in the parks," she said. (State law already disallows dispensaries within 1,000 feet of a school and within 1,000 feet of another dispensary.)
While Dethman framed her request in terms of what the jurisdictions should do about the where and how of marijuana dispensaries, she also spoke out against the use of the narcotic and its potential effects on youth and society as a whole.
Zanmiller asked Dethman, "You don't subscribe to 'shine a bright light on something' to ensure safety and compliance, "I'm completely behind you on stopping the kids from getting this stuff, but you don't think that the more something is regulated, the more out in the open, the better it is?"
"I want to draw a line. There are some things I don't want my kids to mess around with. There are some things I don't want in my society. That's what society is about," Dethman replied. "We set rules on what we want and don't want. We have more mental health issues, more poverty, more unrest in general in our society. If we don't take a look at what effects we have now on the next generation I think we're remiss."
The city of Cascade Locks is also considering placing a similar moratorium on medical marijuana dispensaries before the May 1 deadline.
Unlike Hood River, the topic of medical marijuana was an item on the Cascade Locks City Council's agenda for its March 24 meeting. City Manager Gordon Zimmerman said city councilors listened to testimony from Tiffany Hicks, who formerly worked in law enforcement in Hood River County and expressed concern about the medical marijuana dispensaries. County Commissioner Karen Joplin was present as well to inform the council about what direction the commission was taking on the issue; the commission is also considering an ordinance that would place a six-month moratorium on dispensaries in the unincorporated areas of the county.
Zimmerman said council members generally expressed interest in pursuing an ordinance for a moratorium. He added that Councilor Deanna Busdieker was concerned the ordinance would impede cardholder access to medical marijuana and force patients to drive somewhere else for their medicine, but still indicated support for moving forward with the moratorium process.
Zimmerman said a model ordinance drafted by the League of Oregon Cities is under review by City Attorney Ruben Cleaveland and would be presented for its first reading during the Monday, April 14 city council meeting, and its second reading for the April 28 meeting. There will be no public hearing on the matter, although Zimmerman noted that "the public can always come and speak to [the ordinance]."
If approved, the ordinance would last until May 1, 2015. Zimmerman said if the moratorium is approved, the city is planning on conferring with the city of Hood River as well as the county as to best practices for the additional "time, place, and manner" restrictions that could potentially be placed by the governing bodies on the dispensaries.
Zimmerman said a push for the legalization of marijuana in the state of Oregon might even render dispensary moratoriums obsolete before they have a chance to expire.
"Who knows what's going to happen with marijuana initiatives in the next year?" Zimmerman said.