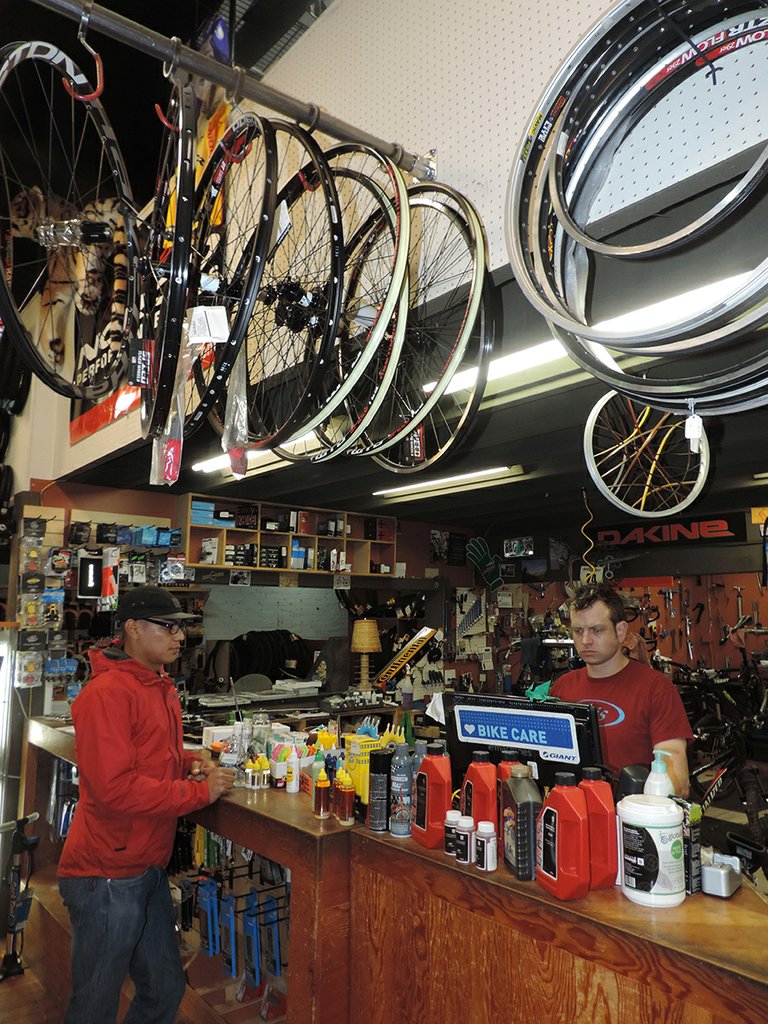 City officials pledged to take steps to respond to merchants' complaints that the Urban Renewal Project in downtown Hood River is hurting business.
Taking steps
"What can we do to get your businesses back up?" Ross Schultz asked late in Wednesday's meeting.
Here is a summary of the steps that the interim city manager and the contractor agreed to take to improve access and decrease impacts on businesses:
n Improve signage for parking
n Plan to finish in-street work before noon
n Schedule summer curb/sidewalk work for minimal disruption
n Limit contractor parking downtown
n Communicate updates via liaisons
The forum was a 75-minute meeting at City Hall on Wednesday in which officials from the city and contractor Crestline Construction heard some vehement criticism of the way things have gone downtown on State between Front and Sixth streets this year.
Kurt Buddendeck, owner of Discover Bicycles, said his business is in the first quarter of 2014 was one-fifth of what it was in the same period in 2013. The shop is located at Third and State, the centerpoint of the project; the street in front of the store has been torn up, and Third Street almost continually blocked, since November.
"For a lot of people they think it's not worth their trouble to shop downtown, and seeing barricades on Oak saying 'street closed' does not encourage them," Buddendeck said. "It's that perception that our business is closed," he said.
Merchants also complained that shoppers usually have no way of knowing when parking is available on those portions of State that have typically been closed, and that available spaces throughout downtown are often taken up by contractors and city employees, depriving customers of places to park.
"I'm a regular, but it does take longer to get down here, because of the street closures, so I can see how it might deter people from coming down," Isidro Bello said Thursday as he bought some parts and had his bike, muddy from a Post Canyon outing, checked out by Buddendeck.
The $5 million Urban Renewal project has resulted in closed and excavated streets, reduced parking, and increased traffic delays, dust, and noise. Crestline has been excavating to install new water, stormwater and sewer lines, along with conduit for "dry" utilities including telecommunications.
"We need some relief in terms of access, including visual: so that people can say, 'yes, we can go up there'," said Randy Orzeck, who with his wife, owns Horsefeathers/Big Horse Brewery, Second and State. The Orzecks said they are seeing one-quarter the business of last year, and four long-term employees had to find jobs in other communities.
Better signage about street closures and available parking will be one measure the city will take. Another was a renewed pledge by project manager Bill Ketchum and interim city manager Ross Schultz to respond quickly to concerns about construction disruption.
"We want to hear from you. We have our job to do but we do not want to make life difficult for you," Ketchum told the group on Wednesday.
However, city project manager Gary Lindemyer said the city will need to do some sidewalk work during the summer. No streets will be closed from June 1 to Sept. 2, except briefly in isolated locations, and most on-street parking should be available all summer, in addition to the city lot at First and State, according to Lindemyer. The lot is currently a staging point for large equipment and pipes, but after May it won't be needed for that.
Paving on the east end of the project will be done by June 1 while on the west end, installation of curbs and gutters will dominate the scene. The first layer of asphalt, and much of the sidewalk work, will be done by June 1 from Third Street east to Front, and on Front and Oak Street. Paving on the west end will have to wait until after Labor Day, and in most areas of the project pedestrians can expect to see gravel sidewalks until after Labor Day.
Meanwhile, project designer Dev Bell said Wednesday that plans are being finalized on the new public restrooms to be built, at Third and Cascade, for $220,000 out of Urban Renewal funds, probably in August.
Regarding the post-Labor Day work increase, Susan Orzeck told the officials that September is one of the busiest months for their business and others.
"Summer is our busiest time, and for most businesses, to keep in mind what you are doing this summer has an impact," said Buzzy Nielsen, Library director and one of three community liaisons on the project.
Some business owners complained about poor communication from the city and Crestline Construction, and inconsistent and confusing street closures and traffic changes. The biggest complaint was that customers were discouraged from visiting State Street at times when State was closed to vehicles yet pedestrian access was open. Placement of barricades on or near Oak Street will read "road closure ahead," referring to State Street, though the side streets themselves remained open, albeit not to through traffic, and pedestrian access was still allowed.
Jane and Jake Singer, visiting from Los Angeles, said they didn't mind the work being done downtown. The had gone to lunch Thursday at Big Horse, where for most of the afternoon, heavy equipment passed back and forth, first digging at Second and State and then spreading and compacting gravel mix around utility valve heads in front of Overlook Memorial Park. The back-and-forth of dump trucks and front loaders made it impossible to cross directly, but the Singers made their way from Big Horse north across Second by walking a short distance east and then crossing, after first putting up their umbrella against an afternoon squall.
"The workers seemed really careful, and friendly," Jake said.
"It wasn't blocked when we went in for lunch, so it was no problem. Coming out, we just came back the way we went in," Jane said. They were on a spring break visit to the Gorge, coming to Hood River from their base at McMenamin Edgefield in Troutdale, and said they have enjoyed the restaurants and scenery of Hood River. "We're from L.A., so it actually feels good to have a little rain," Jane said.