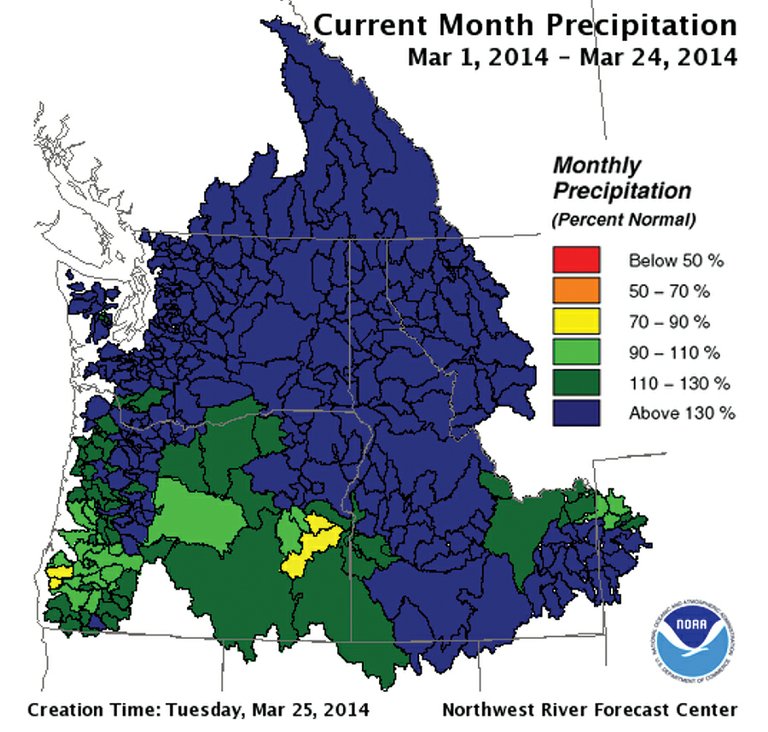 Even as some areas in southern Oregon continue to endure drought conditions, normal to above normal precipitation in the form of rain and snow in northern Oregon, Washington and British Columbia are good news for river flow along the Columbia River — and that means good news for fish, farmers, forests, firefighters, irrigation districts and everyone else who relies on a good water supply through the summer and fall months.
February and March precipitation levels in parts of Oregon and much of Washington were above 130 percent of normal. As a result, authorities at the National Oceanic and Atmospheric Administration are predicting at or above-normal precipitation levels from April to September.
That's a big change from the preceding three months, when precipitation amounts were below half of normal for many areas of the region.
"It's a considerable improvement over where we were over a month ago," said John Buckley of the East Fork Irrigation District in Hood River County. He said Mount Hood's snowpack looks to be at 70 to 80 percent of normal, which could be a concern in the first two weeks of August when growers pull larger volumes of water from the system in that critical pear development time.
"I don't know how packed that snow is," Buckley said of the fresh dose from early this week. "Usually when we get it like that in December it packs with layers of ice and snow, but all the snow and rain (Friday) and the freezing level above 5,500 feet helps," Buckley said. "If it was at 10,000 feet, you'd see a lot of runoff, but at 5,500 it's still an awful lot of snow being put on top of the mountain where we need it."