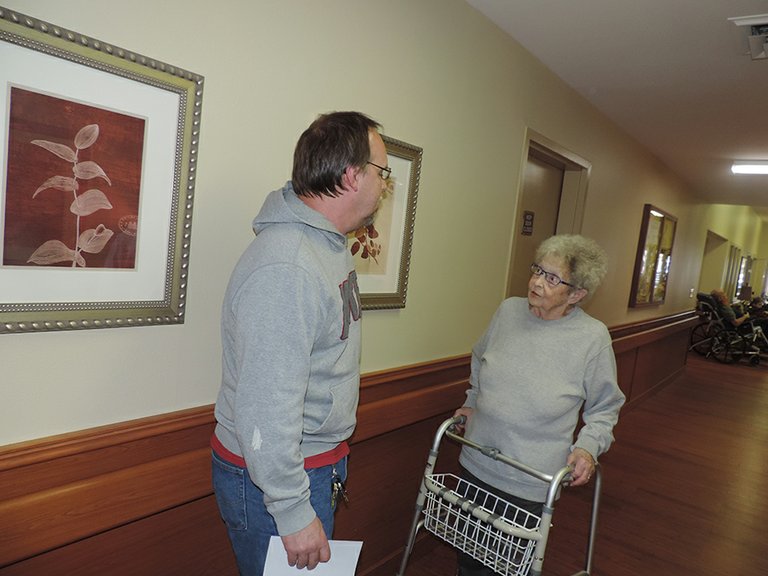 Betty Dean has helped a lot of people in her time.
The 83-year-old knew she wanted a career in nursing by the time she was three. "I'd be outside and I'd find a bug that had been stepped on or something, and I'd try to make it better," she said.
As she grew older, that call was strengthened by helping her grandmother — who was a nurse — at her house ("My grandmother said, 'God put you here to be a nurse and you're doing the right thing,'"), and later, at the age of 16, when she began working at a Portland-area hospital.
"I truly love taking care of people and helping them feel happy," she said. "I thank God for the talents he gave me. When I talk to God at night, I tell him 'thank you' for letting me do what he put me here to do. I'm grateful for that."
Dean was born in Portland in 1930, the middle of three girls. She remembers playing and having fun in the acreage surrounding their house. She went to Catholic school, where she learned "to try to take care of the people around us and not be hurting them," she said. "I think that's so valuable."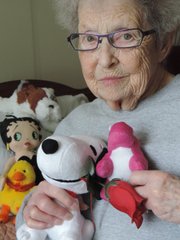 Her Catholic schooling goes deeper than attending classes. She and her older sister "were given to God" at the age of 12, placed at St. Mary of the Valley in Beaverton. At 16, she became a postulate, but left the convent about a year and a half later. Her sister also left the convent, but waited 27 years to get a papal dispensation. Dean did not wait for the pope; she "got tired of waiting, so I just left." She was 18 years old.
"My mother and grandma were very strong Catholics," she explained. Leaving the convent "really hurt her (mother). And then to have my older sister leave too, that just broke her up. But we survived, and so did they.
"I always think of it as a special education, because I learned a lot about the Bible, and I also learned a lot about trying to get along with a lot of people," she said. "I don't hate my background. I'm grateful for it."
She began nursing school after leaving St. Mary of the Valley, but only had enough funds to attend for a year and a half. Though she was not able to continue with her schooling, she still found a way to answer the call to nurse, becoming a nurse's assistant at (then) Hood River Memorial Hospital, and later at the offices of Dr. Wade and Dr. Hamada. She "just worked everywhere" on the job, whether that was filling out paperwork or helping patients.
Dean has helped a lot of people in a lot of different situations, from taking care of mothers after childbirth to bandaging wounds.
And she has spent many hours helping those who cannot afford care. After retiring from Dr. Hamada's office, she became a home health nurse, where she did everything from basic healthcare to cleaning house. When she's out, it's not uncommon for someone to approach her and thank her for the help she'd given them in the past.
"They'll come up and say, 'Remember, Betty? If it wasn't for you I wouldn't be here,'" she said. "I thank God for letting me know they're all right."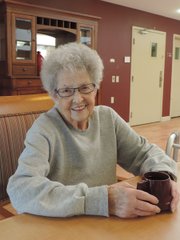 Her goal, first and foremost, when helping patients was "to get them so they could go home and feel that they were themselves, and not somebody bothersome that somebody had to help," she said. To help an ailing person keep their dignity is important, especially when they face financial challenges.
"It's really important to take care of people without making them feel like they can't do anything for themselves. People have no idea how it is with no money, just barely keeping a place over their head," she said. "They go into the store and they have to be very careful. A lot of people are made fun of and it's sad."
A physical reminder of the care she's given can be found in the vast menagerie of stuffed toys she keeps, given to her by former patients. One is a rather indescribable pink stuffed bear that was given to her by a little boy she'd nursed — he saved his money to buy her a little plant and the bear, she said. She also regularly gets drawings from a woman who was feeling at loose ends — Dean told her that she would eventually find something in herself, and that bit of wisdom lead to the woman's discovering an artistic talent.
She appreciates the thoughts behind the gifts, but she likes hugs just as well. "The nicest thing about it is that I get to have families that really like me and no matter where I go in Hood River, somebody will come up and say, 'Betty!' and hug me," she said.
Besides the recognition she receives from the care she's given, she's also often recognized as "the woman with the canes" who walked 5 to 9 miles around the Heights every day except Sunday — "That's God's day" — for many years. Even when her hip started bothering her, she was able to put in a daily mile and a half.
"I got up and got my walks in, and everybody saw me all over the valley, and they were just surprised," she said.
Dean currently resides in a Hood River care facility, where she's recuperating from a fall, but she's not slowing down any. She still gets her walks in — it's part of her daily schedule.
"I do the aisles here, up and down, up and down, with my walker," she said.
Just because she's in a care center doesn't mean she's stopped caring for others. She's still helping where she can.
"There's things that I can do and they let me do," she said. "I can help feed some of the people who need to be fed, and I can help deliver trays as long as I don't have to go very far.
"My gift that God gave me is that I want to continue to help take care of the elderly, and people."
When Dean looks back at her life, she is the most proud of being of use to so many people.
"God gave me a nursing gift, and so it doesn't matter how many books I read, people just feel good when I come in and try to make them feel better," she said. "I don't know what it is that I do or say, they just tell me, 'Thank goodness you came in, I needed somebody like you.' I'm grateful to God that I have that talent to help people when they're down in the dumps, when they're sick, when their lives are ending."
And she has no regrets about the path her life has taken. She has a son, Leslie Chisman, who lives in Colorado, and she's philosophical about her early years in the convent. She's attended a lot of different churches — including the Catholic Church — but currently attends St. Mark's Episcopal in Hood River (she's looking forward to attending again once she's well). She appreciates when the people she's helped give her hugs when they see her around town, and she's thankful that she is still able to help so many.
"I'm grateful that I did get to start nursing school even though I ran out of money," she said. "There's just a lot of things that I get to do that brings me a really good feeling in my heart. And if you've ever had one of those feelings, you'll know how precious they are.
"I'm still able to do the things to help and that's my goal in life," she said.