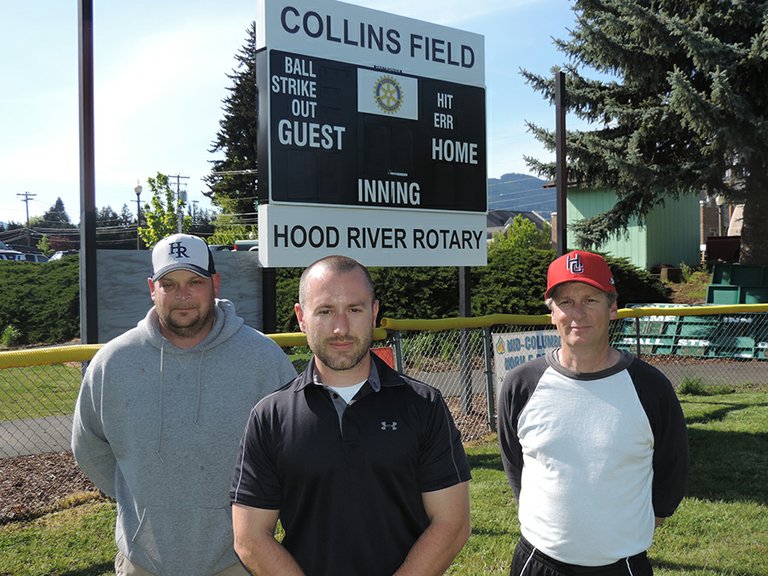 Collins Memorial Field is a scenic ballpark, between views of Mount Adams to the north, Jackson Park to the east, Tsuruta Tennis Courts to the west, the historic Hood River Middle School across May Street, and the green ball field itself.
Now, there's a new sight to behold: the score of the ballgame, thanks to a donation by Hood River Rotary.
This spring the club purchased a new scoreboard, at a cost of $6,500, to replace the former scoreboard. The new board's bright red lights show up well where the older white ones were hard to read from the stands — when there were lights at all. The old scoreboard had not functioned since the 2011 baseball season, according to Horizon Christian School's head coach, Todd Bofferding, who back then was coach of the JBO program.
Rotary saw the need, and worked with Horizon AD Oscar Stenberg and Bofferding and Junior Baseball of Oregon coach Rob Leiblein to install the new unit.
"Each year the Rotary president gets to choose a capital project that meets a community need, and given the amount of use this field gets, I thought this would be a good one to do this year," Rotary president Ben Sheppard said.
"It's really nice to know what the score is and the pitch count. It helps everyone enjoy the experience of watching baseball," Bofferding said.
Bofferding said the old scoreboard was acquired as a demo unit, and when the bulbs burned out the manufacturer didn't have replacements.
"There were actually some panels which we found a couple of years ago, with the manufacturer, at a supply house in Wisconsin. They hadn't touched them for years," he said.
"We replaced the panels and they lasted a couple of years. They were covered with dust when we got them and they lasted a couple of years and it's been dark ever since."