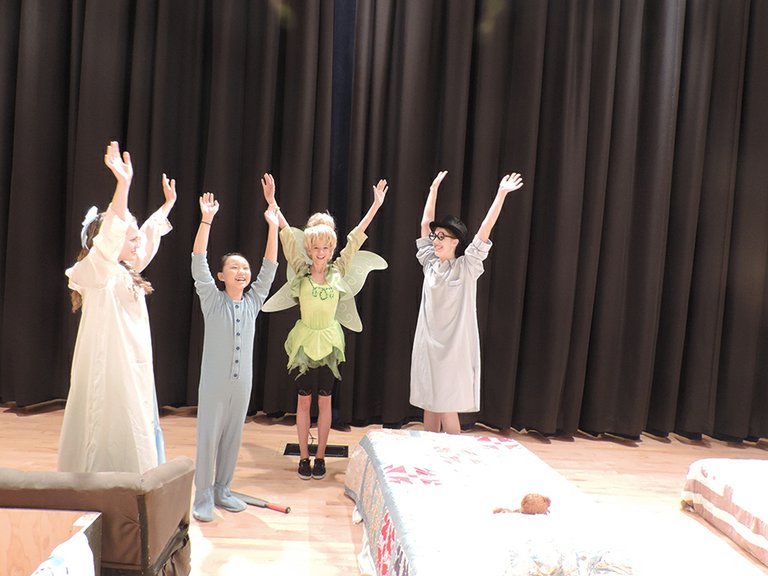 You can't script what happens backstage — but you can use it as a teaching moment.
Intense eagerness, the joy of friendship, and the anticipation of opening night filled the music room at Wy'east Middle School Performing Arts Center Thursday as Wy'east students premiered "Peter Pan, Jr."
The school's largest drama production in years continues with performances May 9 and 10 at 7 p.m.; and 2 p.m. matinees on May 10 and 11, at Wy'east Performing Arts Center on the Odell campus. Admission is $5 for adults and $3 for students.
Pan, Hook, Tink, Wendy and the Lost Boys take audiences on a comic romp in the classic J.M. Barrie tale, with music, dance, and elaborate costumes — including some big wigs — under the direction of Jennifer Graves.
Graves patiently waited for her 60 energetic cast members to settle down for a pre-curtain circle gathering in which she told them, "This is the most important part of the whole show. This is where we all come together and see we're here for each other."
Taking the lead roles are Lauren Church and Kendra Wilkins as Wendy, Alexandra Buckles as John, Khloe Systma as Michael, Gabby Wilson and Aarya Bradley as Tinker Bell, JoJo Summersett as Captain Hook, and Kelsey Stewart and Lily Galvez as Peter Pan.
"I really like it," eighth-grader Lily Galvez said as she got ready on opening night. "I like being up on stage and doing what I want almost, being Peter Pan, making the weirdest facial expressions. And I don't really get nervous. I'm just having fun."
"She's so much fun," Wilson said of playing the part of the spiteful sprite. "She's really sweet and funny and then she all of a sudden gets really mad. I'm kind of like Tinker Bell."
"It's fun playing a big fat pirate," said Freya Chase, who plays the pirate Jukes or takes the featured part of the captain's right-hook man, the comical Smee. Asked how she gets on with Summersett as Hook, she said, "We kind of get on each other and tease each other backstage, just like Smee and Hook."
"Opening night was wonderful," Graves said in a Friday email. "We had almost a full house and lots of parent support. It is amazing the level of performance these middle school students are showing. I am continually impressed by their level of ability and work ethic."
On Thursday, Graves called the cast and crew into a circle, a tradition she has maintained in 18 years directing school drama. (Graves previously taught at Henkle Middle School in White Salmon, and the circle included her daughter, Morgan, an HRVHS freshman who did the choreography and makeup.) She then had the students join hands and introduced them to what she called "the heart of drama."
Said Graves, "You've put a ton of work into this show. So many people have worked hard.
"This is a very important piece of this, because we will never be together again like this in this type of situation. That's what makes drama so special. It brings together all different people," she said.
"In drama it brings all different people together. People who sing, people who do tech, people who dance, people who like to act, people who like to get on stage together and have fun. It brings all kinds of ethnicities and different backgrounds together. So this is the drama heart. This is for good luck. This is what connects us."
She looked around the wide circle and said, "Without talking I am going to squeeze the hand to my right, and send a beat around, like we all represent a part of a heart.
"And without the beat the show will not be the same; if we have one piece missing," Graves said, listing the actors, set crew, those who run sound and light boards, and others including Lacy and Derek Gries. (Lacy is a special education teacher at Wy'east and Derek is a musician and a frequent substitute teacher at Wy'east and in the district. )
"If we had not spent almost every Saturday for the past 10 weeks here, it would not be the same," she said.

"Above all, enjoy it; be there for each other on stage; show the audience you are having fun. We will never again be here doing 'Pan' together."
"When you feel the squeeze on your hand, you're going to pass it on to the next person."
For the next 40 seconds the room was silent, except for a couple of nervous giggles.
On Graves' cue, the students threw up their arms and shouted, "BREAK A LEG!"
And then it was down to business.
"We are on in five minutes. Check your props, check your costumes if you have a quick costume change, and keep it quiet backstage."