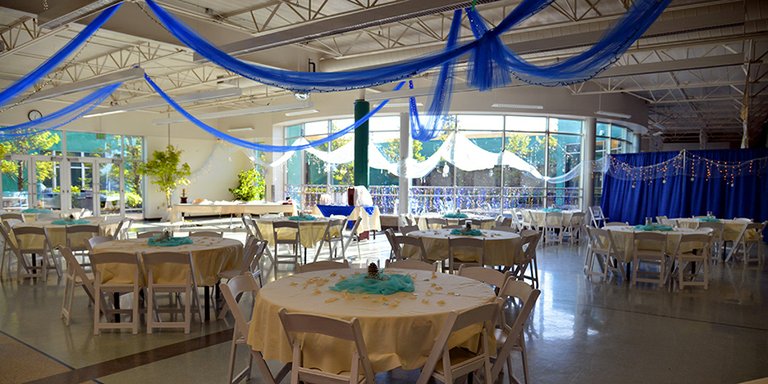 Hood River Valley High School students made the best of a bad weather situation on Saturday when prom was moved from Timberline Lodge to the school's cafeteria and commons areas.
It was not an easy decision, but a necessary one made by HRVHS Principal Rich Polkinghorn and the parents assembled at Timberline that day.
Polkinghorn visited Timberline Lodge the morning of prom to assess travel conditions, and found the roads to be "too much of a mess even with the weather forecast looking better in the afternoon," he said. Though there were tears and frustration from students, Polkinghorn and the group of parents felt that safety trumped all other concerns.
"We had to separate the emotion from the practicality and make that decision," he said.
Once the decision was made, the staff at Timberline Lodge jumped into action to help get the event moved to the school. Polkinghorn, students and parents were set up in an office to work out the logistics of getting the word out while Lodge employees packed up not only the food purchased by the high school for the event, but serving trays, cups and linens as well.
"We owe them a really big thanks. They were so gracious and helpful," he said.
Meanwhile, the school put out updates on the prom's change of location on its Twitter feed, homepage and various Facebook pages, as well as an announcement that aired on KIHR radio. Word of mouth helped spread the word, too.
"(The kids) got the word out fast, before I even got off the phone with my boss," Polkinghorn said.
Back at the school, the Prom Committee took over, completely transforming the cafeteria and commons for the dance. They were aided by a number of parents, staff members, and businesses, who donated everything from lights and fog machines to tables and chairs.
"For us, it turned out to be quite a night for the kids," he said. "Every kid I talk to had a great time." He also received positive feedback from parents who applauded the decision to err on the side of caution.
In all, all but 10 of the 440 students who registered attended prom, with another 20-25 chaperones.
"This is another example of how great the community is, to step up when needed," Polkinghorn said. "People rallied around the kids to put on an event in every way completely spectacular."