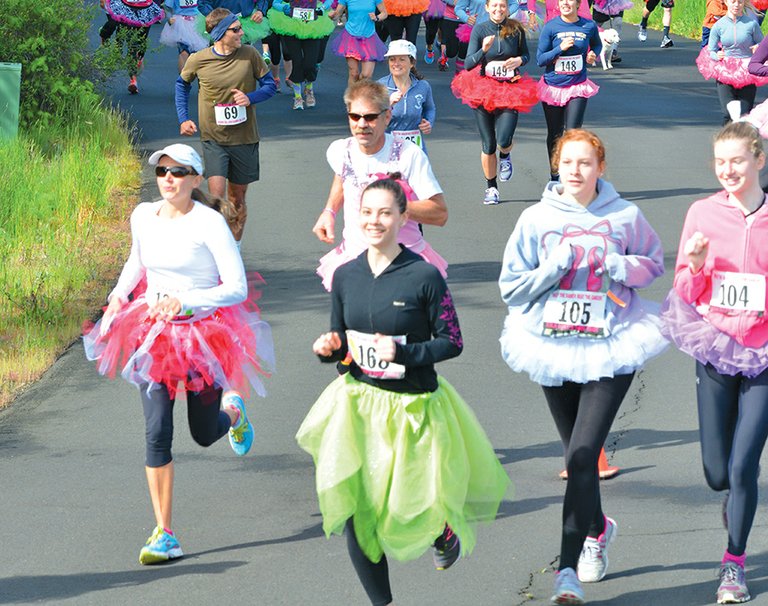 There's something oddly heartwarming about watching a crowd of grown men prance around in pink tutus. In many cases entire families, dogs included, waited patiently, and proudly, for the start of Saturday's Lila May Tutu Trot, wreathed in flamboyancy usually reserved for 6-and-under ballerinas or Halloween costumes.
The colorful display of community casting aside insecurities in support of one of its own youngsters was overwhelming, and humbling, say organizers of the event, who were also literally overwhelmed by the nearly 400 participants who joined 3-year-old Lila May Schow in the fundraiser run/walk.
Photo Gallery
Tutu trot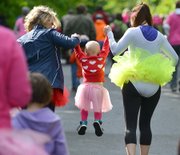 Fundraiser run draws nearly 400, raises $10k for Lila May
"We're experiencing a problem; and what a great problem it is," an announcer said about half an hour after the scheduled start time for the 3K/5K/10K run/walk at the Hood River side of the Mosier Twin Tunnels.
Once volunteers could process the happily delayed crowd, the start featured a quick kids' race — a mad-dash to the white fence and back that included just a few tutu-trip-ups and was highlighted by Lila May finishing to the cheering of the crowd before being hoisted in the air by her stepfather, Blake. Lila and her mother, Heidi Hall, then cued the impressive mass start of the runners and walkers, who overtook the black pavement like an army of fluorescent fire ants.
"We are humbled and overwhelmed by the generosity, support, and love shown by this community," said organizer Jenny Lorenzen, who noted the event raised roughly $10,000.
The money will help fund travel and medical expenses for treatment Lila May will receive this summer in New York. Since being diagnosed with neuroblastoma about a year and a half ago, Lila May has undergone radiation, chemotherapy and brain surgery to fight the disease. She was recently accepted into a special antibody therapy program at Memorial Sloan Kettering Hospital, which she will undergo once she recovers from another round of chemotherapy, which she will start shortly at Doernbecher Children's Hospital.
Updates on her condition, treatments and how to donate can be found on her Facebook page at facebook.com/angelsforlilamay.
"Today was one of the best days of my life," Heidi commented after the event. "There really aren't enough words to describe how grateful, thankful and humbled I am to see so much love and support from so many. Today I saw that my daughter is loved by more people than I could have ever imagined. Thank you doesn't seem like enough, but thank you."
Lorenzen noted the following sponsors of the event: Rosauers, UPS Store, Gorge Dog, Doppio, Double Mountain, Judy Richardson, Laurel Oaks, Nancy Clement, Dave Mackintosh, Breakaway Promotions, Dana's Extreme Burgers, Hood River News, State Street Bear, Hood River Valley High School Fight Club and Steve and Nan Noteboom.