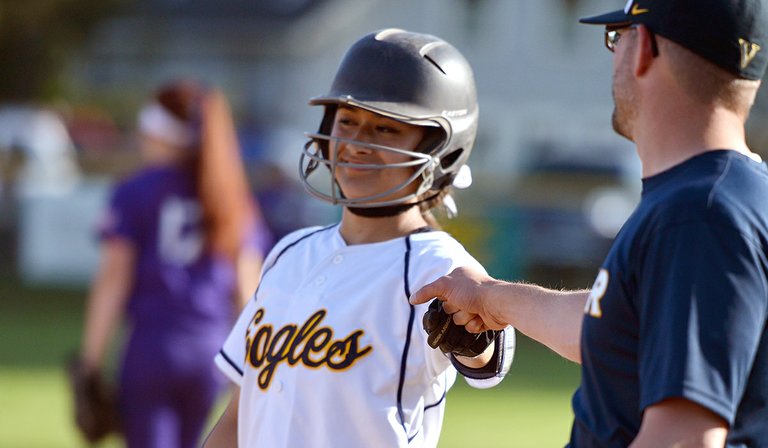 Erika Enriquez saved the day Tuesday with a fifth-inning RBI single to drive in the only run of the game in the Hood River Valley Eagles' narrow 1-0 home victory over Hermiston. The win was vital for the Eagles, who share the Columbia River Conference's top position with Pendleton and needed to win their next two games to keep that standing and maintain the state's 5A No. 2 ranking. The team traveled to The Dalles Friday in the final league game of the season (results unavailable as of press time) in what should pencil-out as an easy victory for the 19-5 Eagles.
Enriquez's hit – the only of the day for HRV – drove in Jesse Karr, who got on base with a walk, reached second from a ground-out by Breanna Weekly and then sprinted home to beat the throw from Hermiston's right fielder. Other than that brief run of excitement, the game was largely a pitchers dual, with Hood River's notorious fast-baller Kayla Byers racking-up 14 strikeouts in seven innings while keeping Hermiston to two hits.
HRV's low offensive numbers in the outing wasn't for a lack of trying; the team only had six strikeouts in the game. The problem seemed to be hitting accuracy, and, to Hermiston's credit, solid fielding by the opposition. The Eagles grounded-out eight times and flied-out four, meaning their issue wasn't connecting with the ball, it was putting in the right place.

As a good lesson to never take a game for granted, Hermiston, currently at the bottom of the CRC with a 6-17 record and 5A No. 26 ranking, gave the Eagles a seventh-inning scare as they were looking to close out the game. With one out in the final frame, Kylee Andreason smashed a center field triple for the Bulldogs. The next two batters came out swinging; the first hit to center field, where Sidney McHale made the play in time to keep Andreason at third. The final out of the game came from Enriquez, who, to the great relief of Coach Erich Keller, caught a left field fly ball to seal the win.

At the same time HRV played in The Dalles Friday, Pendleton was at Hermiston for those two team's final league game of the season (again, results not available as of presstime). Keller and the Eagles were rooting for Hermiston in that matchup; if the Bulldogs can pull off an upset it would give HRV the outright CRC title, assuming they win in The Dalles.
Hood river has a non-league game next week, Wednesday, at Hermiston against McLoughlin, but results of that won't affect 5A rankings, which freeze on Monday. A play-in round for teams ranked 9-24 will be May 23, followed by the first round of the state tournament May 28, which Hood River is almost certain to play at home.