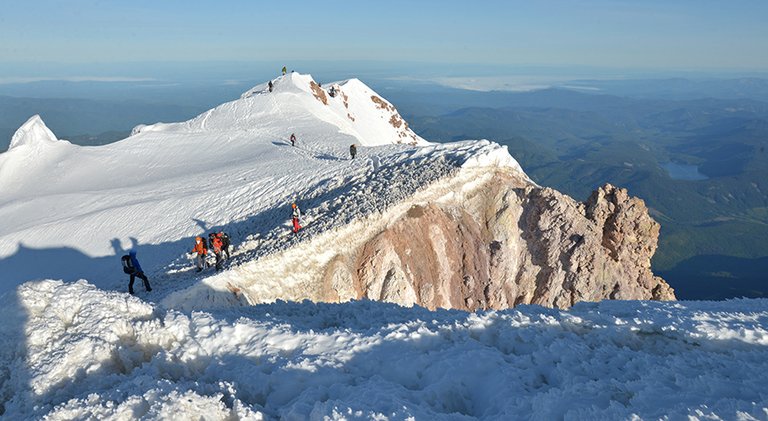 The body of a man who died while climbing Mount Hood on Tuesday has been identified, but recovering the man's body has so far proven too dangerous for local rescuers to attempt.
The man was identified as Robert J. Cormier, 57, of Jersey City, N.J., where he was a Catholic priest. According to the Hood River County Sheriff's Office, Cormier left Timberline Lodge at 1:45 a.m. Tuesday with two other men, intending to summit Mount Hood. Near the summit, one of the men turned back due to a leg cramp while Cormier continued up the mountain.
According to Sheriff Matt English, Cormier summited, whereupon he was seen by a member of a different climbing group below, falling through an ice cornice at top of the mountain and down the north face of the mountain for a distance of what was initially reported as 1,000 feet. An ice cornice is a ledge of snow and ice that may appear solid from the top, but in actuality has nothing underneath it and can break away if stepped onto.
Body of Polish soldier still on Mount Hood
Robert Cormier's body isn't the only one that remains on Mount Hood. The body of Polish soldier Sebastian Kinasiewicz, who died in August 2013 after attempting a solo climb of Mount Hood, still lies in the area of Climber's Left Chute, approximately 9,100 feet up on the north face of the mountain.
English said Kinasiewicz' body is in a particularly precarious area that is plagued by "much instability and rock fall." According to English, HRCSO flew around the mountain throughout the summer and into the fall and winter to check on the location of Kinasiewicz' body, which had not changed.
Kinasiewicz was in the United States to attend a training hosted by Insitu, and English said he has continually been in contact with the Pentagon, the Polish military, as well as the father of the soldier — whom English said he spoke to just this week via email — about the return of the body.
A recovery attempt during the winter was planned, but English said it never materialized due to uncooperative weather conditions on the mountain. It's unknown when a recovery effort to retrieve the body of Kinasiewicz will be attempted.
HRCSO received the report of the fallen climber just after 8 a.m. and went up in the department's search plane to locate Cormier, and found him approximately 700 feet below the summit on the north face at an elevation of about 10,500 feet. However, HRCSO was not able to assess the condition of Cormier and requested the aid of the Oregon Army National Guard Charlie Company, 7-158 Aviation from Salem, which sent a UH-60 Blackhawk helicopter and a crew to assist.
English said the Blackhawk was outfitted with cameras that zoom lenses "so powerful you could pick out the labels on [Cormier's] clothing." The images were used to identify Cormier and also determine that he had sustained severe injuries and did not survive the fall.
According to a May 10 post on his Facebook page, Cormier told his followers, who affectionately refer to him as "Father Bob" in posts on the page, expected his trip to Mt. Hood to "likely be my last attempt to climb a big mountain."
"We have been at this kind of thing for 40 years and are very much hoping to finish with a victory," Cormier wrote. "I will report to you next Saturday."
HRCSO is looking to return Cormier's body to his family, but conditions have been too dangerous for HRCSO and the Crag Rats, a local mountain rescue organization, to retrieve the remains.
"We haven't made a recovery attempt because there are extreme avalanche dangers," he explained, adding the Crag Rats had advised any recovery attempt now would be "reckless" due to the unseasonably high temperatures the Gorge has been experiencing lately, which can make for unstable snow. Adding to the difficulty is the location of Cormier's body, which English noted was positioned "right on a crevasse."
English said his office would be watching the weather forecast and hoping for cold and clear conditions, noting a recovery effort would almost certainly have to occur at night for optimal temperatures. He added that is unknown whether a ground or air recovery or a combination of the two would be used to retrieve Cormier's body.