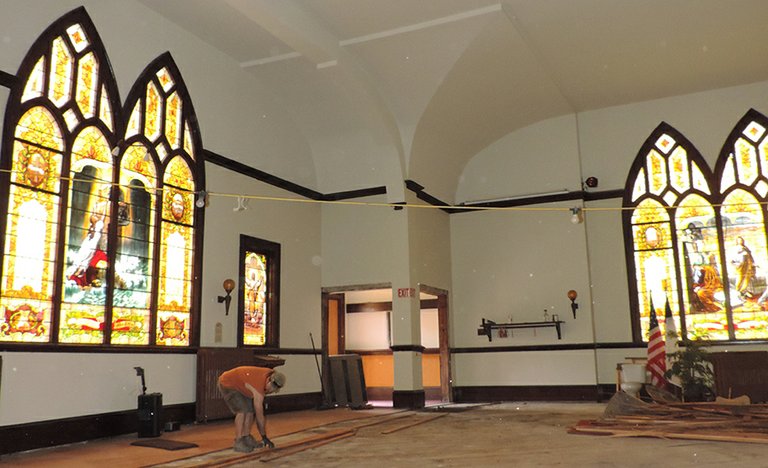 A well-preserved felt banner, reading "Asbury, Hood River," lies folded on the floor of what was once a Sunday school room of the 100-year-old Methodist Church, left behind 15 months ago when the church closed its doors.
"I need to get that back to them," said Claudia von Flotow, the building's new owner, who began interior demolition in April. No tenants have yet been lined up but von Flotow hopes to rent out the sanctuary and north room spaces as early as this fall.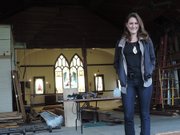 Behold the 1950s bead board
Changes done in the 1950s are going away, and something that was covered in the 1950s is coming back.
The warren of offices and classrooms will become office and restroom space in the north section, and the old folding room divider, while salvaged, will be replaced with glass walls.
Most importantly, the false ceiling over the office area is gone, exposing the dark wood bead board, a vaulted ceiling that Claudia von Flotow calls "stunning."
"It needs a little bit of work, but not a whole lot."
She said the building will need more roof insulation and some structural reinforcement.
"There are a lot of structural problems but nothing that's not worth saving. There is craftsmanship in every corner of this place. As anyone would say who appreciates craftsmanship and history, you gotta preserve it."
She will install a mezzanine partway over the north room, offering a closer view of the bead board, as well as views of the Columbia River through new north-facing windows.
The existing mid-century glass windows are of minimal historical interest, and they will be replaced; but the existing frames will be kept.
Outside, the stucco from the 1970s will removed, new glass coverings placed on the stained glass, and the brick cleaned up. The Gothic arcs will be restored to natural wood, and the rest of the trim will once again be white.
Von Flotow is coordinating her entrance and sidewalk plans with Crestline Construction, general contractor on the State Street Urban Development project.
— Kirby Neumann-Rea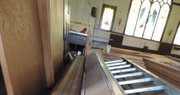 Von Flotow is "cleaning up an old building" at this point but looking forward to returning the former church to some role as a place for the community to gather.
Some church relics will remain — notably, the organ and chimes, and the grand sets of stained glass windows on the east, south and west faces of the former sanctuary.
And the familiar basement activity — Bright Beginnings Pre-School — also remains. Now in its 21st year, Bright Beginnings has a new 10-year lease and von Flotow plans to make ground floor improvements to that area.
The church held its last services in December 2012, was decommissioned in March 2013 after purchase by von Flotow, a 2007 graduate of Hood River Valley High School who has found a new calling in restoring the church. Her father, Andy von Flotow, purchased the church in 2012 and she is purchasing it from him.
For now she has set aside a career in interfluvial geology, for which she earned a master's degree from University of British Columbia in 2013.
As a child, von Flotow performed in musical recitals at Asbury, so she has a sense of connection to the building.
"When I found out (her father) was interested, I sent him a three-word message in all-caps: 'I WANT IT.'
"It got me into this whole other career of doing other development projects, and it's been a huge change in the past year, but it's great," she said.
Remnants of the historic congregation remain, but the building is currently transforming under the guidance of von Flotow and Sean Palmieri and the crew of SMP Construction.
"This project has been my baby," von Flotow said. "There are so many unique things about this building and so many things that are unique to the history of Hood River that I would love to maintain.
"I grew up here; it reflects my appreciation for the community and it reflects everyone else's appreciation for historic structures, and structures that have stories, whether its drama with Japanese Methodists who were banished or whether it's your great-grandparents got married in the 1896 sanctuary, or President Roosevelt visiting the church."
(In the 1920s, a Japanese-American congregation used Asbury for its services, and most of those local citizens were deported and incarcerated during World War II.)
"It's a real landmark," von Flotow said, "and every stained-glass square has a story to it. It's sort of this magical place, and that leaves me with turning it into something that will continue to be enjoyed by hundreds of people very day, by community members, maybe non-community members. It seems to me to be something that's still wide open, for people to enjoy it."
Von Flotow has plans to divide it into the "sanctuary" space on the south as meeting or creative space and "north building" for offices. The sanctuary floor will be leveled to State Street sidewalk grade, so the old flooring has been removed and will be repurposed on a new mezzanine that will connect the two sections.
Gone is the elevated choir seating, and roll-up wall that separated the sanctuary from the north area. The offices and classrooms on the northwest corner have been removed, and that space will be part of the north offices and be turned into restrooms.
Von Flotow did some preliminary remodeling plans using the 3-D Sketchup program, and is working with architect Mark Vanderzanden to refine the drawing.
"My dad helped me in the past few years about drafting and I've learned from him what's beautiful architecturally; this building is one that only needs minor architectural changes. It already has grandiose arcs and shapes. Somebody put a lot of thought into the way this Methodist church should look, and it should look like a Methodist church."
One of the most distinctive church elements, the pews, are also gone. They had to be moved out in order to pull up the floors. Von Flotow has the pews in storage and plans to use them in her July 2015 wedding to Jon Munk, a fellow HRVHS grad.
"They're beautiful — hand-carved out of pine. They'll be retrofit so they can be stable. It's kind of fun, pews in middle of the grass, a sort of bringing the church outside, and they have become a source of desire; everyone wants them," she said.
Munk, a 1999 graduate, and von Flotow met a few years ago at a wedding of friends in Hood River. By chance they were both living in Vancouver, von Flotow as a student and Munk as a professional lacrosse player. (He is currently the HRVHS head coach.)
"I'd never met him before that — I knew his brothers; the Munks are a little older than von Flotows; there's also four of them but we were really not in the same circles; but I knew a lot of his friends."
It was friends and neighbors who helped her pull out the plywood and other demolition efforts in April. Von Flotow said architect Joe Sager, her sixth-grade boyfriend, and his girlfriend, Kylie Staughton, both HRVHS pals, will oversee building the mezzanine stairs.
"It's fun the way a lot of people have gotten involved and helped me with this project. It's kind of a family thing now."