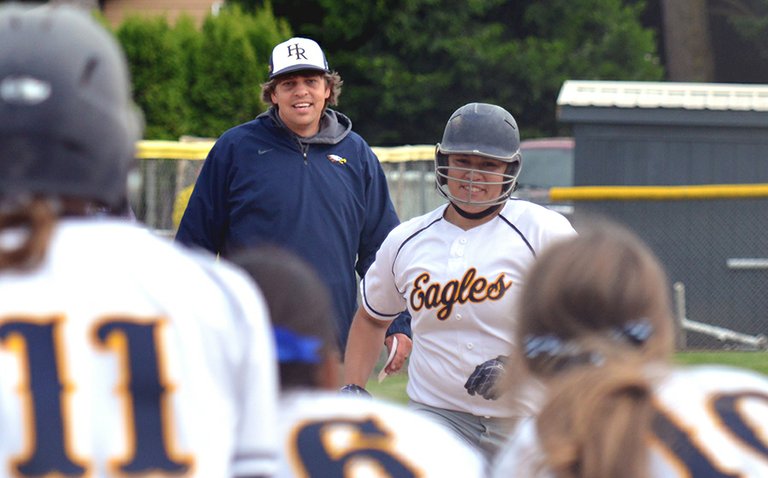 The Hood River Valley Eagles (21-6) have the momentum of a locomotive after their 8-0 win over the Sherwood Bowmen (9-17) in a Class 5A first-round state playoff contest Wednesday at Westside Elementary School.
The No. 2-ranked Eagles seemed poised to continue their standout season all the way to Oregon State University, where the state finals will be held next weekend.
Guided by coach Eric Keller, HRV is in the state tournament for the third time in the last four years. Tuesday's win advanced the Columbia River Conference co-champions (with Pendleton) to a quarterfinal matchup against No. 11-ranked Willamette Wolverines (16-8) Friday in Hood River (results unavailable as of press time). The winner of that contest advances to the June 3 semifinals, which would be in Hood River assuming HRV beats Willamette.
"We knew that if we played well we would be successful today," said Keller, whose squad is ranked second behind the defending state champion Sandy Pioneers (20-7). "We have lots of confidence in our ability, but it's always tough just getting through the pressure and tense atmosphere of the state playoffs. It's exciting for us perform well under that kind of high intensity level that is common in the playoffs."
Hood River senior hurler Kayla Byers threw a one-hitter and had 10 strikeouts to help lead the Eagles to their 11th win in their last 12 games. Senior third baseman Annie Veatch (2-for-3, three RBI), junior first baseman Breanna Weekly (2-for-3, home run, three RBI) and senior outfielder Erika Enriquez (2-for-4, two singles) led a nine-hit Eagle offensive attack.
"When you're in the playoff round of 16, every team is a talented ball club," said Keller. "Rankings don't mean anything in the playoffs, other than determining who the home team is and who the visiting team is. We knew that Sherwood would come out and play with all their heart and give us a tough game. We knew that we would have to execute to the best of our ability and the girls did that today. Kayla Byers (2-for-3) played very well in the pitching circle and she executed very well at the plate too, as well to help lead us offensively."
Hood River's solid defense (2.0 runs per game allowed), led by Byers and junior catcher Kelsey Wells (1-for-2, single, RBI, reached on error), was also a key to the Eagle victory, which marked their 12th shutout of the year. Hood River is now in the quarterfinals for a second consecutive year.
"Everyone on our team has a very positive attitude and it's really exciting to be in the quarterfinals again," said Wells. "We all felt very confident prior to the game and we knew that if we played up to our potential, that we would probably get a win. If we continue to work hard, keep our confidence level up and play together as a team, I think we can go all the way. It was nice playing at home and having lots of fans here cheering us on today."
The Eagles jumped ahead early to take a first inning advantage. Senior center fielder Sydney McHale ignited a rally when she reached base on a Bowmen error. Byers followed with a single when she drilled a ball to a center field gap. Veatch then smashed a ball to center for a two run triple as McHale and Jessica DeHart — running for Byers — both sprinted home to score. A Wells RBI single drove in Veatch to give HRV a 3-0 lead. After a scoreless second, the Eagles extended the margin with a four run third. RBI doubles by Veatch, junior designated player Jessie Karr (1-for-2) and Weekly's two run homer gave Hood River a 7-0 advantage.
"We've pushed ourselves all year and prepared ourselves for the playoffs and now we've reached one of our goals, which is very exciting," said Karr, whose twin sister JoJo, also plays for the Eagles. "Now we just have to focus on continuing to play good softball again on Friday. We have even bigger goals to attain, of course, but we just have to take this one game at a time. Anything can happen in the playoffs, but I think we have the ability and potential to advance to the championship game in Corvallis."
The Eagles added a final run in the fifth. Wells reached base on an error and two batters later she scored on Weekly's RBI single with a grounder up the middle, making it 8-0. The more experienced (six senior starters) and talented Eagles were just too much of a challenge to overcome for first-year head coach Jodi Moore and her young Bowmen squad, who had just one senior starter in first baseman Hannah Zweig.
"I'm extremely proud of these kids, because they just have a great attitude," said Moore, whose squad included three freshman starters. "They've worked so hard all season and it was a good accomplishment for them to reach the state playoffs. They all came out and gave a strong effort and nobody ever gave up, despite being down 8-0."
Sophomore right fielder Emily Carlson (1-for-3, double) had the only hit for Sherwood, the fifth-place team from the Northwest Oregon Conference, which was making its first state playoff appearance since 2010.