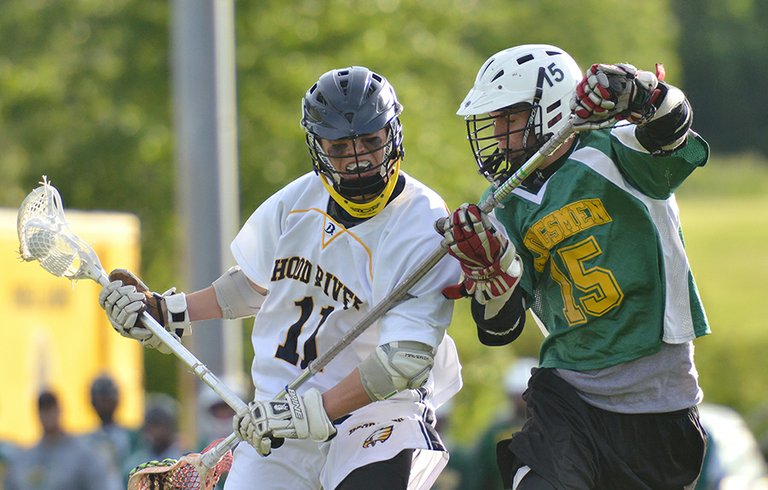 Hood River Valley varsity boys lacrosse extended its season at least through the weekend with a commanding 19-0 win at home Wednesday night against Rex Putnam in the inaugural Cascade Cup tournament. The win advanced the team to a Saturday night game at Canby in the 16-team bracket's quarterfinal round.
The Cascade Cup was introduced this year as a way to give the top team that didn't make the Oregon High School Lacrosse Association state championships an opportunity to play in a secondary post-season tournament. The top 16 teams that didn't make the OHSLA championship tournament got slots in the Cascade Cup bracket; HRV entered at the fifth seed after finishing the season with a No. 28 ranking out of the state's 52 teams.

"There's such a big disparity in the state for high school lacrosse," HRV coach Jon Munk explained. "There are no divisions for sizes of schools, so basically the same teams move on to the playoffs every year. The league put this tournament together to give the rest of the teams a chance to get some playoff experience that they wouldn't normally get."
Munk says Wednesday's blowout win came in part because of the mismatch in skill levels and in part because his players were on the money. Highlighting the offensive fireworks display were four-goal performances by James Tickner and Kiel Sorensen, three goals by Torsenn Brown and two by Henry Barton.
"I don't think we've looked quite that good all season," Munk said. The Eagles had a middle-of-the-road season, finishing 8-7 overall and 2-4 in the Columbia Conference. "If we played like that all season, I think we would have ended up in the other bracket. But I guess we'll see about that; if we keep playing this way and win the Cup or not."
n OHSLA recently announced its 2014 Columbia All-Conference lineup. Among the list, four HRV players made the cut: Taylor Cramer, 1st team, midfield; James Tickner, honorable mention, attack; Bruce Ostler, honorable mention, midfielder; Dallen Olmstead, honorable mention, goalie.