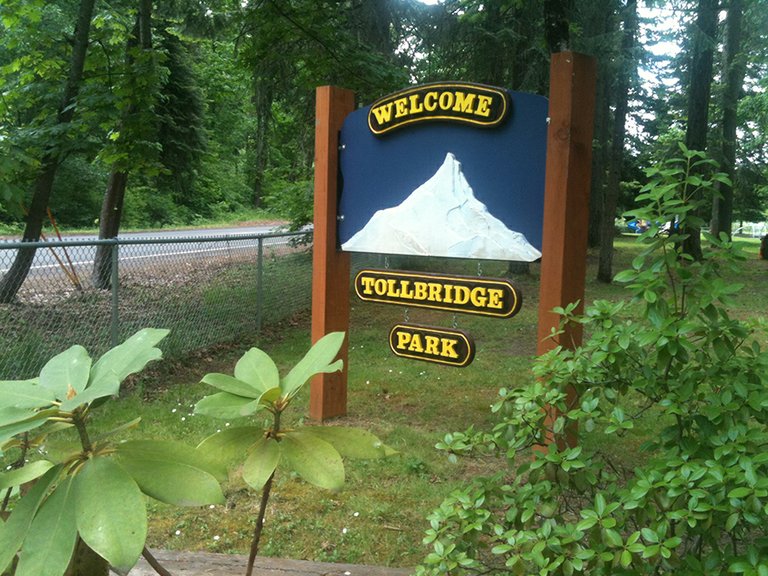 The care and keeping of Toll Bridge Park and Campground, located in Parkdale, falls to two Jims.
Jim Schrankel and Jim Sathe (rhymes with "Cathy") each have a section in their care, but share similar responsibilities, like grooming campsites, selling firewood and patrolling the area.
Schrankel and his wife, Linda, are responsible for the east and west loops, dedicated to RVs, and Sathe and his wife, Rosie, greet campers, run the reservation board (but do not make reservations) and maintain the tent loop and RV loop units. Together, they keep the campground open and ready for guests.
This summer will be Schrankel's fifth as camp host and Sathe's first — the Sathes began their position in August last year to finish out the 2013 season.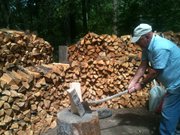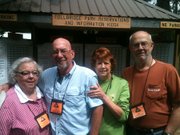 Actually, Schrankel is the one who referred the Sathes to Toll Bridge. The two met at a campground in Arizona during the winter of 2012-13, where they talked about the concept of camp hosting. Later, when the Toll Bridge Campground host position opened up, Schrankel got word to Sathe.
"We sent an application in (to Cory Van Sickle, Hood River County Parks technician), they sent us an okay and we set a date and here we are," said Sathe.
The Schrankels found their way to Hood River when their son Mike, Hood River County GIS, reserved Toll Bridge Park's covered area for Jim's 60th birthday.
"We had a big fifth wheel and had a great time," he remembered. "I fell in love with the park, and then after a while we heard there was an opening for camp host, so we came back after we retired and took that on."
The position is unpaid, but they do receive a full-hookup RV site for their trouble.
"We're just looking for a cheap place to stay," joked Schrankel.
They are only required to put in a two-hour work day, but Schrankel typically works eight-hour days — to stay in shape, he said, as well as to stay busy. "It's hard to go from working eight hours a day five days a week to a complete stop," he said. "I eased into (retirement) working as a camp host."
Recently, Schrankel got the all the season's firewood split, equaling several cords. "That's good exercise," he said.
Schrankel's days begin with a ride around the park in a golf cart to make sure everything is in order. Next he goes to the bathrooms to clean up any messes from the night before ("I don't have to scrub them; just make sure things are up off the floor," he said) and restocks paper goods. Throughout the day, he greets campers and directs them to their sites, as well as sells firewood at $5 a bundle.
"This past weekend, we did almost $700 in firewood," he said.
Firewood bundles are delivered until dusk; he also patrols the area and enforces the campground's 10 p.m. quiet time rule "so all campers are getting a good experience," he said.
Sathe has a similar routine. The county maintains the bathrooms, but he checks them first thing in the morning to clean up any garbage on the floor and to empty trash cans. He also uses that time to make note of anything the county may need to fix, such as plumbing leaks. Next, he checks the day use area in the park, and, as campers leave, he and Rosie check fire pits and make sure sites are ready for the next round of visitors.
"Most campers leave the site as clean as they got it," he noted, "but there are those who leave lots of stuff."
In the afternoon, he helps new visitors find their campsites. Rosie makes a firewood run at 4 p.m., "and we try to go to bed around 10 and hope nobody knocks on the door."
Both believe Toll Bridge is a special park. "I live in a place where people come from all over the world just to spend a few days," Schrankel said, "and I get to stay here from March 15 to October 31. I'm in heaven here. This is a great place."
Last year, the Schrankels left Toll Bridge early to be camp hosts at Riverside State Park near Spokane, Wash. (and also near family), and the winter months acting as park security. Toll Bridge "has more return business" than most campgrounds, which tend to be transient in nature, he said. "They come in and spend a night and you never see them again."
Toll Bridge "is probably the nicest, visually attractive campground we've ever seen, and we've camped at literally hundreds of campgrounds," Sathe said, noting that he and Rosie have been RV-ing since 2003, and living full-time in their camper since 2012. "We've been everywhere, from all Western states and the Pacific Northwest through British Columbia and Alberta, Canada, to Alaska."
Toll Bridge Campground attracts many guests, who come from a variety of places. Schrankel noted that Toll Bridge draws a lot of families — often the same families, year after year — and enjoys local popularity in addition to its growing reputation abroad.
"We get all kinds of Europeans here," said Sathe. "This campground is listed in European camping and tenting guides." He said many rent RVs and go "traipsing around for six weeks, and stop here."
While Toll Bridge campground always has room for drop-ins, Schrankel said some choice spots by the river are reserved as much as a year in advance. "Word is getting out that Toll Bridge is the place," he said. "We've always got a place for the drop-ins, but if you have a favorite site, reservations are recommended."
Schrankel grew up in Illinois, in a suburb outside of Chicago. He joined the military when he was 17 and was "shipped out to Montana. That's where I met my wife," he said. He was later sent to Vietnam, returning back to Montana a year later. He worked 30 years in retail, first in Montana, and then in Spokane. He found his calling, however, when he and Linda moved to Olympia, Wash., where he got into property management.
"I just loved it," he said. "I didn't have to wear a tie, and there was a real feeling of accomplishment." While being a maintenance man is not a glorious-sounding title, "it was the best job I ever had," he said. "Somebody's gotta plunge that toilet."
Sathe grew up in South Dakota and graduated from Glendale Community College in Glendale, Calif. He met Rosie (who was born in East Germany and came to the United States as a teenager) in Los Angeles, where they lived for 25 years before moving to Denver, Colo.
Next came Idaho Falls, Idaho — and the decision to sell their house and move into their RV full-time. He's a "retired safety professional," he said — he worked on the prevention side of insurance sales, helping businesses stay safe.
The Sathes spend their winters in Santa Paula, Calif., located near the ocean and their three children, who all live in Southern California.