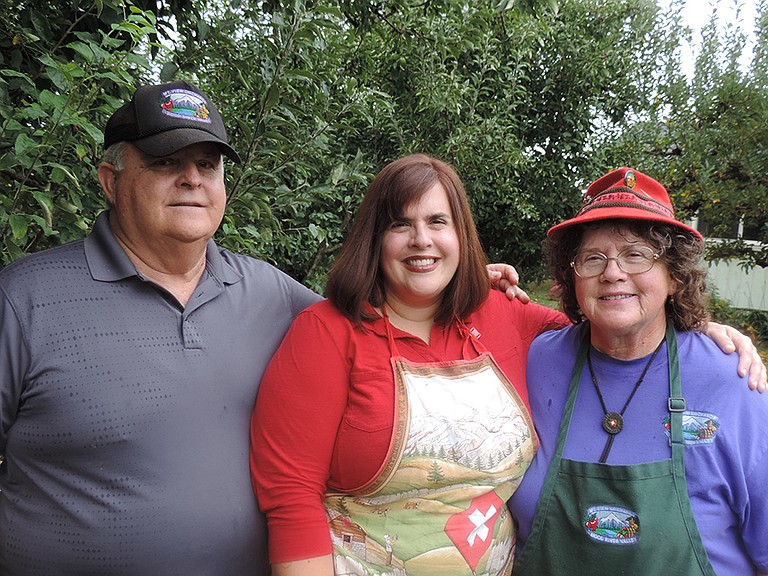 Saturday, November 1, 2014
Parkdale resident Katrina McAlexander — or Trina, as she is commonly known — is in the process of purchasing Mt. View Orchards, and she couldn't be happier.
"I am thrilled to become a third generation female farmer in Parkdale," she said. "Mt. View Orchards is a family legacy and treasure, and it is a total dream come true to become its next owner."
The farm is owned by her parents, Lyle and Ruthie McAlexander, and is where she grew up with older sister Elise and younger brothers Tim and Ryan. She learned to love "the art of farming" from her mother at a very young age. She remembers pruning and thinning trees, changing pipes, picking apples and pears and working at the family fruit stand with her mother from middle school on.
"It feels like an honor, or a treasure, to keep the farm going," she said. "Not everyone has that opportunity."
McAlexander had been living in Northeast Portland, where she worked for the public health department and Multnomah County jails, mostly serving homeless people with mental illnesses, as a Psychiatric Mental Health Nurse Practitioner (PMHNP).
She decided to move home after her parents approached her about taking over the farm. They "are 70 years-old and want to slow things down, so they asked me to pray about carrying on the legacy and saving the family farm from being sold to a large corporation," she explained. "They want our small family farm to remain in the family. Small family farms are on the severe decline, and the next generation isn't always wanting to be a part of the family business. And it is even rarer for the next generation to be a daughter versus a son."
Only 5 percent of farming operations in the country are run by women, what McAlexander calls a "severe minority."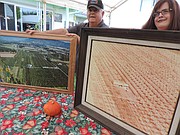 "It's not very typical that women are in the primary operator role," she said.
She had a "full circle moment" this past summer at the Hood River County Fair, when she purchased two animals from two girls participating in the 4-H and FFA programs — just as she did before graduating from Hood River Valley High in 1995.
"I told them my story, that I used my money to go to college, buy land and be in the farming game," she said. "I'm grateful for those who bought my animals," she added.
These days, she's pursuing both nursing and farming, and while the two might seem unrelated, McAlexander disagrees; she's naturally a nurturer, she said, be that of people or of fruit trees.
"I always knew I wanted to be a nurse and always envisioned getting into the farming gig," she said. "I enjoyed farming and growing my own food; all that seemed really attractive."
McAlexander moved home on Father's Day this year "and started the nightly tradition of walking the exterior of the orchard after dinner and getting to know the land and the trees, and praying a blessing over the upcoming harvest," she said.
"Farming is a profession of hope and requires so much faith to do it well," she said. "Farmers are at the mercy of so many things that are out of their control, so instead allowing all these things to cause me stress or cause me to lose sleep at night, I am trying to lean into the vulnerability of farming and be a grateful farmer. Thankfulness swallows up my fears and downs all my doubts."
Her days begin at 5 a.m. with journaling and a psalm "to start my day out in a thankful place," she said. After checking in with her parents ("my mentors and biggest cheerleaders") about what is happening that day, she meets with farm foreman Javier Macias, who has been with the family for the past 20 years.
"He is the treasure of Mt. View Orchards," she said of Macias. "I cannot imagine doing this work without him and I am forever indebted to his good and loyal service of our small family farm."
Next, she drives to Hood River, where she works part time as a PMHNP at Mid-Columbia Center for Living Monday through Thursday. There, she "prescribes medication for our patients with various mental illnesses in our community and patients who are in NORCOR," she said. Sometimes, her job involves helping people find housing — or a pair of tennis shoes.
"We're helping people meet their basic needs," she said.
In the afternoons, McAlexander is back at Mt. View to "help complete many of the tasks that were started that day," she said. "My parents are the primary operators currently, and I am learning all that I can from them until I am in charge. I am green in my new role and they have been so very helpful to me in this unfamiliar place."
And having grown up on the farm, McAlexander has a keen interest in sustainable farming and environmentally sound practices.
"'From our farm to your table' is our philosophy, and we grow fruit with our community in mind," she said. "Our farm is your farm. We love being farmers and love opening our farm like a large living room and inviting the community to come and enjoy our farm as well."
That "living room" was open this past weekend, with Mt. View's annual Edelweiss Day celebration. "This lovely Swiss tradition was started by my grandparents when I was a child and my parents have carried it forward to promote our fruit on our farm. Swiss day was a little rainy this year, but I confess that it felt more intimate with less crowds made for better connections with family and friends. It was such a fun day and I am grateful for my Swiss heritage."
McAlexander is happy to be back in the upper valley. "I am hometown proud and grateful to be home," she said. The people of Parkdale "really rally for one another and come together often to help the community and its community members. Everyone waves to me when I am exercising on Trout Creed Ridge Road — this is a vast difference from my life in Northeast Portland and I love it; I always count 12 or more waves and about five rooster crows when I jog or walk in the morning before work. The warmest of warm people live in my neighborhood and I feel so loved here."
To read more about McAlexander's experiences with farming, visit her blog, The Grateful Farmer, at thegratefulfarmer.com.