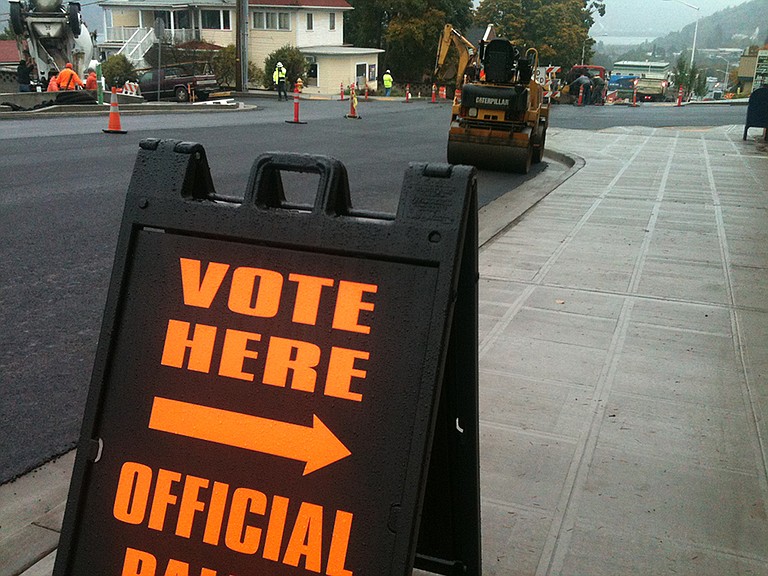 Saturday, November 1, 2014
Remember to vote by 8 p.m. Tuesday.
At this point it is too late to put postage on your ballot envelope and send it in. Indeed, postmarks do not count. It must be hand-delivered.
The trend has turned, fortunately, from calling it a "mail-in" ballot, in part because of general acceptance of submitting them by hand and also because, for Oregonians, there is no such thing as a polling place anymore, unless you studiously decide to walk your ballot to the county building or Cascade Locks City Hall on the day of the election. This is neither advisable nor widespread; the elections workers and volunteers appreciate the early balloting, so that more of the critical sheets of paper can be staged and ready for counting ahead of Election Day itself.
If you have not yet voted, please do so soon. Bring it to Sixth and State and drop it off, or to Cascade Locks City Hall.
It is essential to remember this: Each voter must sign the ballot envelope, and sign only the ballot envelope for their own ballot, using their voter registration name. Don't sign for anyone else, because each signature is examined and any discrepancy either slows down the process or results in a nullified ballot.
The election is just a few days away, and it's not being cynical to acknowledge that when it is over, most people will breathe a sigh of relief. It's an intense process, made more so by modern factors such as big money and spin doctoring, but if we didn't want intense we would avoid action movies, hoppy IPAs, and Thanksgiving visits with relatives. Voting is what we do as a Democratic society and in this one, most people want to do some good: Voting is the most basic form of volunteering.
The writer David Foster Wallace said, "There is no such thing as not voting; you either vote by voting or you vote by staying home and tacitly doubling the value of some Diehard's vote."