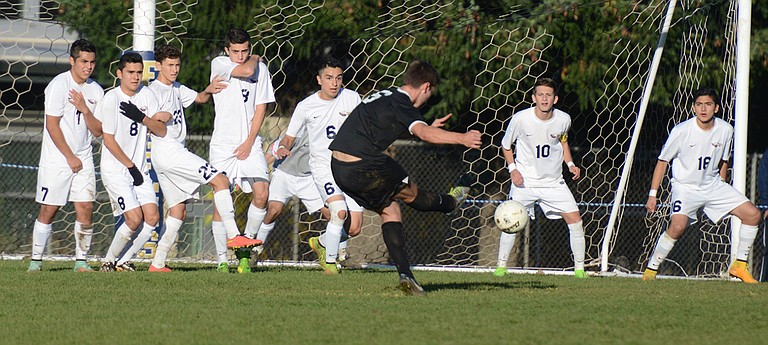 Monday, November 10, 2014
The Hood River Valley Eagles hammered the Mountain View Cougars quickly into submission Saturday afternoon at Henderson Community Stadium, sending a clear statement to the remaining teams in the 5A bracket that they're intent on earning the school's first-ever state boys soccer title.
The 7-1 quarterfinal win advanced the No. 2 seeded Eagles to the semifinals Tuesday night (6 p.m. at Henderson Community Stadium) against No. 3 Wilsonville Wildcats.
The winner advances to Saturday's final and will take on the winner of Tuesday's No. 1 Summit vs. No. 4 Woodburn game.
After the Eagles' 2-0 victory over Central earlier in the week – the undefeated team's lowest-scoring game all season -- Saturday's one-sided win was a return to normality for HRV, but not necessarily a welcome one, said coach Jaime Rivera.

"It was nice to win, but not in that fashion," Rivera said. "At this point in the season a 7-1 win isn't what we're looking for; it's not what is going to benefit us the most. It's good that we came out strong and ready to go, but we were expecting more of a challenge. A blowout win isn't really going to do much to prepare us for the next game."
That said, Rivera gives his lineup, both starting and backup, credit for playing a brand of impressive and well-orchestrated soccer that has thus far been unbeatable.

Junior forward Andres Baeza struck first three minutes into the game (nicely assist by Alex Gutierrez) and again a few minutes later to give the Eagles an early lead and set Mountain View on a deflated, defensive course they would maintain the remainder of the game. Following Baeza, the team's leading scorer with 19 goals, Alex Gutierrez scored his ninth goal of the season before halftime and his tenth in the first 90 seconds of the second half to give the Eagles a 4-0 lead.
Mountain View got on the board with a goal off a thread-the-needle free kick after senior defensive captain Uriel Torres was given a yellow card for a foul just outside the penalty box. Torres watched the rest of the game from the sidelines.
"We've had a team policy all season that, if you get a yellow card, you're going to sit out the rest of the game," Rivera said. "We don't want to take the risk of losing a player or having someone sit out the next game (which is the rule if a player gets a second yellow card)."
Noe Magana, then Gio Magana, then Aldo Muro scored to close out the game in impressive fashion, from a fan's perspective anyway.
"We just have to forget that game and get ready for Wilsonville," Rivera said. "We know they're going to be a much closer match-up for us and we need to be mentally prepared for that."
Rivera said he scouted Wilsonville Saturday night in their 2-1 quarterfinal win vs. Hillsboro.
"They have a lot of fight in them," he said of the Wildcats. "They haven't lost all season and they came from behind to beat Hillsboro. They've got a couple really good players at midfield and one really good forward who we're going to have to watch out for. If we can stymie those players, I think they're going to have a hard time competing against us."
On the reverse, Rivera said he expects Wilsonville to know HRV's strengths – in particular key players like junior midfielder Gio Magana, recently named the Columbia River Conference player of the year and last year's 5A state player of the year.
"If they try to stymie Gio, he's going to do what he does," Rivera said. In addition to 15 goals this season (2nd highest for HRV), Magana has a team-leading 12 assists – the result of teams trying to shut him down but losing focus HRV's other, equally-threatening players.
HRV's top five goal scorers are Baeza with 19, Magana with 15, Gutierrez with 10 and Jaime Frias with 7, while the brother duo of Gio and Noe (Magana) lead the team in assists with 12 and 8 respectively.
Anchoring an all-around solid defensive effort Tuesday was starting goalie Marco Cuevas, who had three saves, adding to his season total of 40. Backup goalie Travis Running played the final five minutes but saw little action on his end of the field.