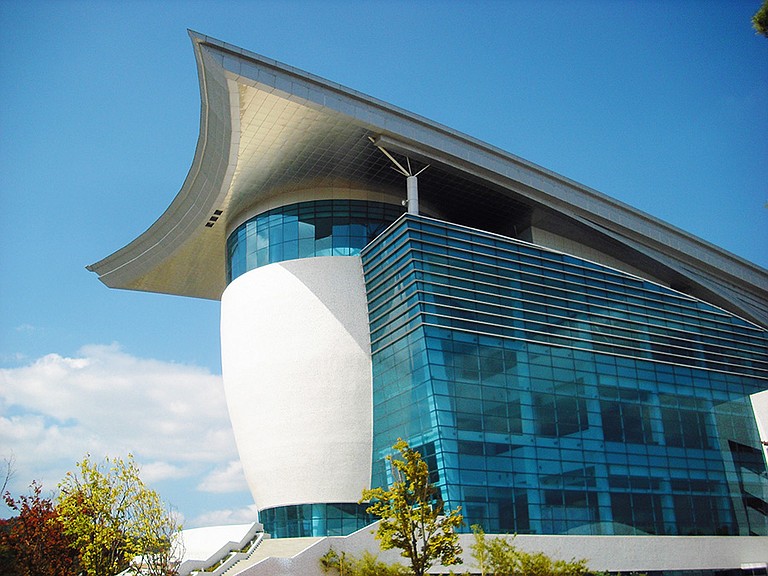 Wednesday, November 12, 2014
"In the End the Elements Win."
The poignant caption on a work by Debora Lorang is at home in Gyeongju, Korea, where Lorang and fellow Gorge artist Gayle Weisfield spent a week in October on an inaugural artists' exchange.
Lorang created the work "Elements" from found objects in Gyeongiu and her hometown of Cascade Locks. She created it in a park amongst historic ruins. Lorang and her husband, Brad, own Lorang Art Studio on WaNaPa Street. Westfield, from Lyle, has displayed her work and taught classes in the Gorge for many years.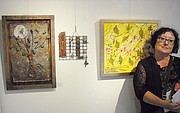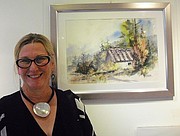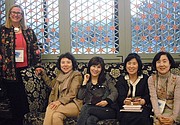 Both artists were nominated by Grace Lim of Portland (www.artbygracelim.com), who is part of International Woman's Exhibition Group that works internationally to put on shows in different host countries. This year, the woman's exhibition in Korea was part of something bigger: the 2014 Cultural Sensibilities event.
"Gyeongju is a city rich with history and the dignitaries of the area are very proud of that," noted Lorang. The city of 250,000 is located on the southeast coast of the Asian nation, on the Sea of Japan.
"They put together this year-long exhibition with international artists as a means of sharing art and culture, not only so that in the end there would be an exhibit, but also so that the artists would take the experiences back and share with their own counties the things they saw and did," Lorang said.
Kim Gwangyong, Governor of North Gyeonsang Providence, told the group, "I wish people will rediscover the cultural value and attractions of Gyeongju through the original works of artists from Korea, the USA and Russia. I think this event is very important; it will be a chance not only that 1,000 years of ancient capitol Gyeongju can reinterpret afresh, but that artists can strengthen their international solidarity."
The Americans, along with 10 Russian and 16 Korean artists, all participated in a weeklong tour of Gyeongju and the Gyeongsangbuk-do Province. In ancient times, Gyeongju was the capital of the unified Silla Kingdom, which was ruled by a powerful dynasty for 1,000 years. Weisfield and Lorang were two of 10 American artists representing the US at the "2014 Cultural Sensibilities and International Network" event. This inaugural event came at the heels of the Istanbul-Gyeongju World Cultural Expo of 2013. These events are part of an ongoing effort, as the region tries to establish itself as an internationally known art and cultural hub, according to Lorang.
Both artists said they were honored to be a part of the international experience, as they made new friends who will be visiting the Columbia Gorge for ongoing cultural exchanges in the future.
The artists toured many world cultural and heritage sites, which are registered with the UNESCO (United Nations Educational Scientific and Cultural Organization). The city of Gyeongju has been called "the outdoor museum." The artists visited Daereungwon, a park strewn with royal burial mounds, Cheonmado, a three-story stone pagoda, The Bell of King Seongdeok, a sacred 18-ton bronze bell, the ancient Bulgusksa Temple, Cheomseongdae, the oldest observatory in Asia, and the ancient inhabited village of Yangdong, along with many other sites. Sightseeing in Korea is very easy as most sites have English descriptions as well.
During the week of touring, the artists were given time for Plein-air painting and other interactions with the local artists.
"Our Korean hosts were very gracious and accommodating," Lorang said. "We all shared in the rich Korean culture, especially during meals at authentic Korean restaurants. Each meal was an event within itself. Korean food is very healthy and consists of lots of greens, legumes, mushrooms, sprouts and seafood. Shopping in traditional open-air markets was also an opportunity that some artists had not experienced before.
"One of the most memorable things about our trip was the gleeful school children who would constantly approach us hoping to practice their English," she said.
The landscape of Korea is very much like that of Oregon, with dense forest growing on craggy hills.
"Many of the trees and flowers were familiar, but what we don't see in Oregon is rice fields; they were planted on any plot of land bigger than a city lot," Lorang said.
"The fields were very colorful, ranging from shades of green to orange. Lush vegetable gardens wrapped around most homes. Fruit trees were everywhere — pear, citrus and persimmon trees — seem to grow wild."
Lorang explained that after spending the day looking at historical 12-foot paintings of the bloody "Unification War," the group went to an ancient king's garden to paint.
At the end of the week of touring, painting and sharing, the artists participated in an official presentation ceremony where the beautiful art that was created in Korea, along with other works of art that the artists had brought, were given to the City of Gyeongju. The art show will be on display at the Gyeongju city hall for one year.