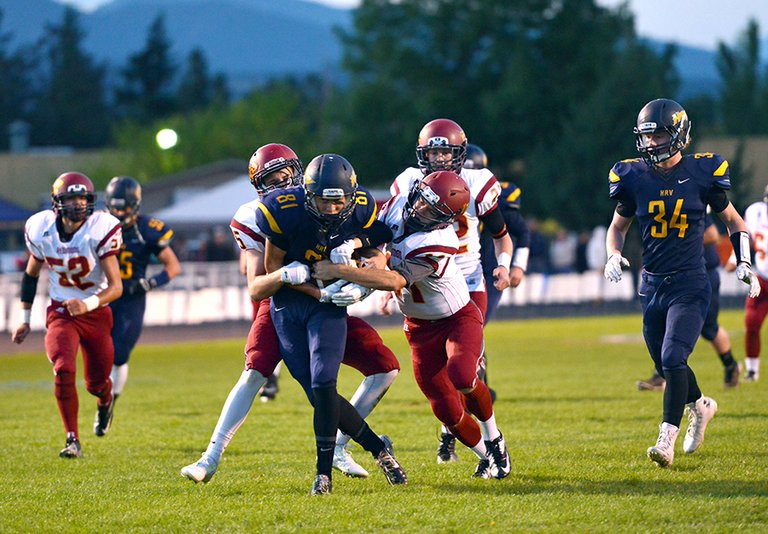 Wednesday, October 1, 2014
Hood River Valley High School varsity football got off to an exciting start Friday night in a non-league matchup against the Redmond Panthers. After jumping out to an early lead, however, the Eagles lost momentum to a powerful and undefeated Panthers lineup that dished the home team a 49-27 loss. The Eagles (1-3) will look to bounce back from the result this Friday as they host the struggling North Eugene Highlanders (0-4) for their annual Homecoming game at 7 p.m.
HRV scored on its first possession against the Panthers — a 69-yard, eight-play drive highlighted by a 22-yard pass from senior quarterback Riley Van Hoose (11 for 29 passing, 133 yards) to junior receiver Tyrone Stintzi. A one-yard scamper by Van Hoose, followed by the PAT by Manny Valdovinos, put HRV up 7-0 with six minutes, 50 seconds left in the first quarter.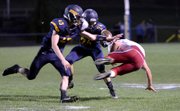 The Eagles then had a golden opportunity to double the margin as junior defensive back Parker Irusta recovered a Redmond fumble at the 32-yard line. The Eagles then proceeded into Panther territory at Redmond's 44 on a 19-yard pass from Dallas Buckley to Stintzi (four receptions, 63 yards). On the next play, though, Redmond's Nick Aamodt intercepted a Van Hoose pass and returned it 61 yards for a touchdown. A two-point Redmond conversion put the Panthers up 8-7 to end the first quarter.
"We were up 7-0 and driving again and then a ball is deflected off of a receiver and it's intercepted by Redmond," said Coach Caleb Sperry. "So we were moving the ball really well and we did a lot of good things on defense too. They (Redmond) have a real good offense and they have a really good running back (Derek Brown). We knew that they would probably make some key plays, but we continued to battle and stay in the game."
On their ensuing possession, the Eagles managed to go just 11 yards and were forced to punt to the Panthers, who scored on a 45-yard drive to go up 15-7 with 11:21 left in the second quarter. The Panthers scored again less than two minutes later, taking advantage of another Eagle turnover and getting a quick touchdown for a 22-7 lead with 9:41 on the scoreboard clock.
The Eagles trimmed the margin when Irusta recovered a Panther fumble and sprinted 90 yards downfield for a touchdown, making it 22-13 with 2:24 left until halftime. Redmond quickly responded to HRV's momentum swing and scored just 52 seconds later on a 63-yard run by junior Derek Brown (22 carries, 299 yards rushing) to build a 28-13 advantage at halftime.
Redmond took control of the contest by outscoring HRV 15-0 in the third quarter to build an insurmountable 43-13 lead going into the fourth quarter. The Eagles fought back with a late rally, slicing the deficit on two touchdown runs by senior running back Patrick Crompton (11 carries, 37 yards rushing) in a span of less than two minutes.
"Obviously, there were some things that we should've done better," said Sperry. "But for the most part, I thought that the kids played hard and it turned out to be a pretty good game."
Crompton capped a 13-play, 61-yard drive with a three-yard run with 7:15 left in the game. On Redmond's ensuing possession, the Eagles recovered a Panther fumble at the Eagle 48. The Eagles then drove 52-yards in six-plays, culminating in a 10-yard Crompton TD run and his two point conversion run made it 43-27 with 5:16 left in the game. Redmond answered with a scoring drive to go up 49-27 with 2:26 remaining for the final margin.
"I was proud of the kids for the strong effort they made and we still have lot to play for this season," said Sperry. "We'll keep battling and we will continue to get better. There's still a lot of things that we are hoping to accomplish this year. The loss will bother them a little bit, but it will also help to motivate them to play better next week."