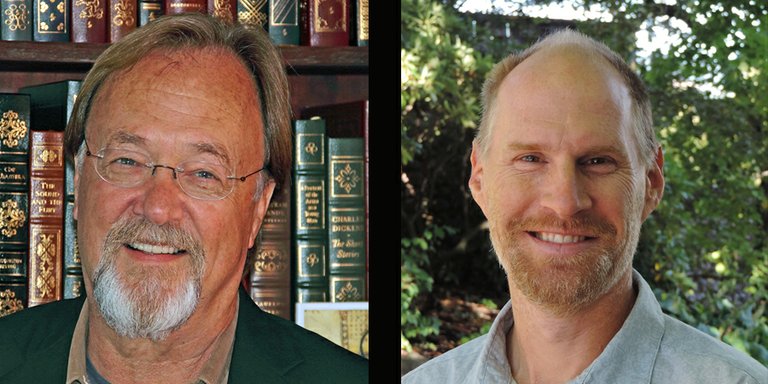 Originally published October 15, 2014 at midnight, updated October 15, 2014 at 9:31 a.m.
Mayor candidates Greg Colt and Paul Blackburn were mailed nine questions from the Hood River News. Their answers are below.
Blackburn, a Hood River resident since 2000, is a former Council member. Colt, a Hood River resident since 2002, owns Colt Listing Service. This is his first run for public office.
Update 10/15/14: This story has been updated to fix the answer formatting.
What are your top three goals?
Name the biggest challenge facing the city in the next three years and how you would approach it.
My first act as mayor will be:
The role of the mayor is:
My vision for Hood River in the year 2025 is:
Describe your leadership qualities.
What are your views on how the city can best provide services to its citizens?
How do you see the city's relationships with other local agencies?
City leadership will have significantly changed in January 2015, with a new mayor and three new council members, along with a city manager on board for less than a year. How do you see this affecting the business ahead?
The Oct. 18 edition will feature responses from the seven candidates for Hood River council candidates.
Greg Colt
My top three goals: a) Keeping our parking lots and common areas weed free and properly maintained. This would include making sure that private property owners properly maintain the tree wells and planting strips in front of their property. We have a great deal of people visiting our little town and we need to show that we care. b) Once and for all we need to stop talking about the traffic and lack of parking in our Central Business District and just do something about it. Good grief! I have definite ideas on how to resolve this issue and will work diligently to see my ideas come to fruition. c) Definitely in my top three goals would be to maintain the current budget levels. Thanks to the efforts of past council members, the budget committee and wonderful past finance director our city budget is in very good shape. I want to help assure that it stays that way.
The biggest issue ahead of us is growth. Just because I am not anti-growth doesn't make me pro-growth. I like what has been developed down at the "Waterfront District" and commend The Port, The City and the private developers whom have made that area the beautiful and accessible place that it has become. I feel that it is now time to pause, reassess our resources and move forward cautiously and conscientiously. I understand that one of The Port's mandates is job creation but I would like to know where all these people with these new jobs are going to live before we start breaking ground on more commercial development.
My first act as Mayor will be to assure the department heads that the City Manager will be running the City and that my only contact with them, in an official capacity, will be through him. I will also state publically what the role of Mayor actually is and remind everyone that the position controls only one vote out of seven.
From the Municipal Code. "The Mayor shall appoint the committees provided by the rules of the Council. The officers of the city shall be appointed by the Mayor and may be removed by the Mayor, with consent of the Council. The Mayor shall sign all approved documents and records of proceedings of the Council. The Mayor shall have no veto power and shall sign all ordinances passed by the Council within a reasonable time after their passage." This seems pretty clear to me and I also understand that I will preside over the Council meetings, maintain order during those meetings and that I will have only one vote. It is not the Mayor's role to run the city… that is the City Manager's role. However, although it is not in the City Charter or the Municipal Code, I realize that a key role of the Mayor is to be a good ambassador for the city and to be personable, friendly and open to all points of view.
I envision a 2025 Hood River to look very much like it does today. I hope that we do not get too big for our britches, too big so that the quality of life that we have come to cherish is threatened. I imagine that families will be enjoying a walk/bike trail along the waterfront, we will have resolved parking and traffic issues which currently plague our downtown in the summer months and that there will be new affordable living options to the service people who work here. I like Hood River the way it is and believe that there are enough of us that feel strongly enough that we will be able to keep it livable, affordable and friendly. And there will be a dog park.
I am a democratic leader. I believe that all who have something at stake in the matter should have a voice in the decision. Once a decision has been made then it is the role of a good leader to assure that said decision is adhered to. When I ran a three-office real estate firm, all 34 of my real estate agents had a say in the structure and policy of my company. We discussed issues in an open forum and came to a group decision. Most of the time the decision made by the group was followed. When it wasn't I was the friendly enforcer. I do not take the position of leadership lightly but am open to different points of view.
In some cases city services can be contracted out to private companies saving the City certain expenditures. For example, the public works department is understaffed and cannot keep up with maintaining the landscaping in our parking lots and common areas. Rather than hiring more employees and paying out more salaries and health insurance and PERS, I think that we can put out a RFP to local landscape contractors and have the maintenance done by one of them. This is a service the city deserves and this may be the least expensive way to provide it. In order to properly serve the citizens of Hood River and provide the services they want, we must keep an eye out and an ear open to what the community actually wants and needs. In an effort to stay abreast of these wants and needs I would like to see a representative of the Downtown Business Association, a representative of the Heights Business Association and a representative of the Hispanic community come quarterly to City Council and give a presentation. It is important that Council hears all voices before making policy decisions and I want to assure that there is a venue available for those voices.
I founded EDWOG (Economic Development Working Group) several years ago when I was on the Board of Directors of the Hood River County Chamber of Commerce. The members of EDWOG are the City Managers of both Cascade Locks and Hood River, the Hood River County Administrator, the Port Directors of both Cascade Locks and Hood River, the Executive Director of the Hood River County Chamber of Commerce, The Superintendent of the Hood River County School District and a representative from the Columbia Gorge Community College. I set up and attended these meetings for a couple of years as the representative of the Chamber. Since, the name has changed to EDGE (Economic Development Group) and it is held together by MCEDD (Mid-Columbia Economic Development District). These monthly meetings are very important and they keep the lines of communications open and friendly between the agencies involved. It is amazing how much can get accomplished when all the various pieces to the puzzle join in to put themselves together. I think that as long as we can keep EDGE healthy that we can keep our relationship healthy with all its members.
The City already has a very good staff and none of the candidates running for office is an idiot so I think we will be fine. I believe that the City was very fortunate to find a Manager with the experience and abilities of Steve Wheeler and I am not the least bit worried that we are not in good hands. I think that the city is ready for a new Mayor and three new Councilors. We will certainly benefit greatly from the veteran Councilors but it is time to hear some new thoughts and new solutions. We need a new Council with less political agenda and more common sense solutions. It is time for less talk and more action.
Paul Blackburn
a) Creating and maintaining an environment of civil and trusted leadership. Working together with a positive tone is the best way to achieve good results, and I look forward to collaborating with councilors and citizens to nurture this. b) Guiding the process for the Waterfront build-out. The Port and private landowners want to move forward with development down there; it will look very different in four years. Let's make sure we get the outcome that is best for all concerned. The city council can plan for development that adds to our region's economy, supports continued success in other existing business districts in our community, and improves public water access. c) Adding to the supply of housing that our citizens can afford. Within the constraints of our limited budget, there are some things — like foregoing Systems Development Charges (SDCs) — that the City can do to bring this about.
The biggest challenge is balancing development with needs for transportation, parking, green space for all of us during this strong economic boom. Our neighborhoods are filling up, many vacant lots are becoming multi-unit dwellings. While this is great for providing homes that are affordable, we must enforce strict planning and zoning to ensure we preserve the walkable, bikeable, tree-lined streets we all love.
… to thank past councils for their strong work which has returned us to a sustainable financial position. When I came onto Council in 2004, the City was $1 million in deficit; when I left in 2008, we had recovered to a $500,000 surplus. We now have appropriate operating reserves and can move forward together.
Two-fold: a) to chair the council as we conduct business and b) to serve as booster-in-chief to remind us all that we live in a wonderful, unusual place worth protecting.
A vibrant small town in a stunning setting, with a range of employment and housing options for our diverse population.
I value thoughtful, inclusive leadership. I look forward to hearing from citizens and then working with all six councilors to come up with the best solutions for our city. I have practiced this style in my elected positions on City Council, Library Board, and school Local Committees, as well as on the United Way and Education Foundation boards, and as President of Teacup Nordic, a 1,200-member ski club.
To get the most for our citizens' buck, it is imperative that the City work in smooth cooperation with our other local government entities — schools, County, Port, Library, Parks and Rec. My background working in the schools, library, on the Parks and Rec budget committee, and on local nonprofit boards with local officials will be an asset here; having relationships already in place is invaluable when challenging issues arise.
Our community is very fortunate. Leaders from various entities know each other — may very well be neighbors! This small-town dynamic makes cooperation more likely and finger-pointing less frequent. I think the specific Port-City relationship has improved a lot since my days on Council, which serves all of us very well.
The main way to answer the question is that I think this is a time when experience is particularly valuable and important. My four years on City Council and my role as a founding member of the Library District board make me the right choice for Mayor now.