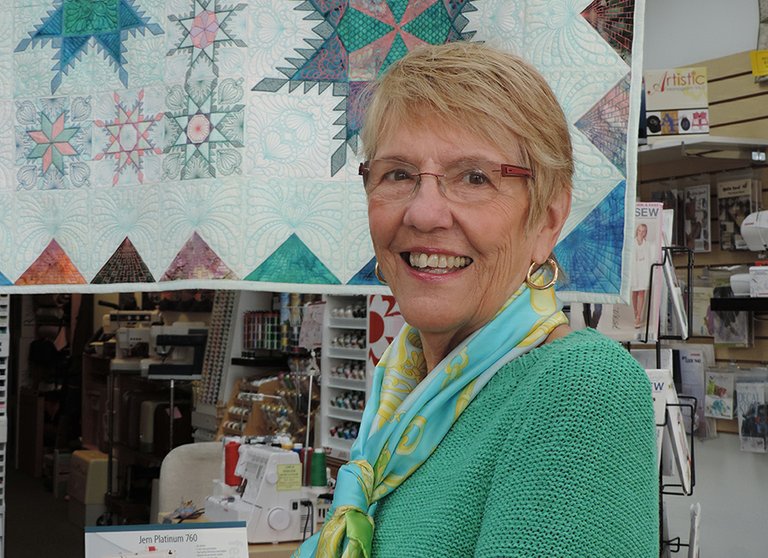 Saturday, October 18, 2014
Exercise, healthy diet, and plenty of sleep are part of the prevention.
Reading, asking, and listening are part of the treatment.
Ask doctors, survivors, and others who know. But don't be afraid to ask.
Ask Jo Herring, who points to the research she did, and the questions she asked, as critical to finding her best response upon being diagnosed for breast cancer 18 years ago,
"You have to be informed to make a decision," said Herring, who moved to Hood River eight years ago to be near her daughter, Susan, and her husband, Mike. In Tulsa, Okla., Herring worked as statewide director of development for Multiple Sclerosis (MS) Society of America.
She loved the work and drew upon that experience when she faced cancer.
Herring, who is in her seventies, also has a son, Andy, who lives in Minneapolis, a daughter Grace, of San Jose, is grandmother to nine, and will become a great-grandmother in December, thanks to granddaughter Lauren. Herring's husband, Jim, passed away seven years ago.
Herring said that she went to see her doctor after doing a self-examination, was diagnosed on a Friday and "and I didn't do anything all weekend" but read about cancer treatment options. She talked to family members including her daughter-in-law, an internist.
"I said, 'What would you do?' and she said, "I can't tell you, you have to make that decision.' And that was excellent advice. Because people don't know what to tell you. You've got to make your own decision.
"They got me into a surgeon right away but I had to do research. The surgeon gave me several books, and I still have them and have loaned them to many people. One of them they're still using," she said: it's Dr. Susan Love's Breast Book (Merloyd Lawrence, fifth edition).
"That helped me figure out what I wanted to do, because of my research," Herring said.
"I talked to my family and people who had experienced it. I wasn't ready to just jump in. But I was thrilled they found it," Herring said. "I just felt it was a blessing to find out. I felt fortunate to have it. Some people didn't understand that, but I felt thrilled that I could do something about it.
"If you are going to have something, and you get to find it, you have to take care of it. I felt so blessed. A lot of people can't afford to go to a doctor," she said.
Her decision was to have a mastectomy. "At the time of my decision, my family and friends were fully supportive. No one tried to talk me out of it," said Herring, adding that the surgery was among several viable options.
"It was the right one, because I had studied, and I felt like it was best for me, and I didn't want to worry about it anymore," she said.
"There are resources out there and if you take the time to try and find them, you'll feel so much better." One resource she did not go to was a support group – "I was only off work seven and a half days, I had all these events planned. I loved my job, and I think it helped to take my mind off things.
"Knowledge is power," she said. "That's a motto they use at the MS Society – and evidently, I learned it too."
Herring said of the most important things women can do is self-exam.
"I think it is extremely important. And get a mammogram." She had "a scare" six years ago, that proved not to be a problem. "The surgeon did tests, and watched it, and reassured me it was nothing. I was thrilled the doctor followed through with it.
"You just got take care of yourself. I eat healthy. I'm active. I try to help other people. And get plenty of rest.
"There is a lot out there for women. We have a lot of resources here, you just have to ask. You have to ask your doctor, and some people hesitate to ask. I think people are just shy about it. It's like just about anything else. We hesitate because we think people won't understand, but they will. Don't be afraid to ask. And keep asking questions," Herring said.
Herring stays active with weekly tennis and swimming sessions, and holds two part-time jobs: at Hood River Sew and Vac on the Heights, and seasonally at Hood River Visitors Center. Herring sings in the choir at Riverside Community Church, and started a children's choir there two years ago. She is also a member of the civic group PEO, a group of women who raise funds for scholarships and to support the two-year Cottey College in Missouri; one of PEO's goals is to expand Cottey to a four-year institution.
Herring was born in Beloit, Kansas, but lived in numerous places growing up as her father was in the wholesale grocery business. "I was always the new kid. That's why I'm so shy," she joked.
"I look at things differently now, having been through the experience of it. I'm not in a hurry any more. I think we rush through things and I think it makes you more aware," Herring said. "I'm just thankful for every day. Every day is a glory day for me."