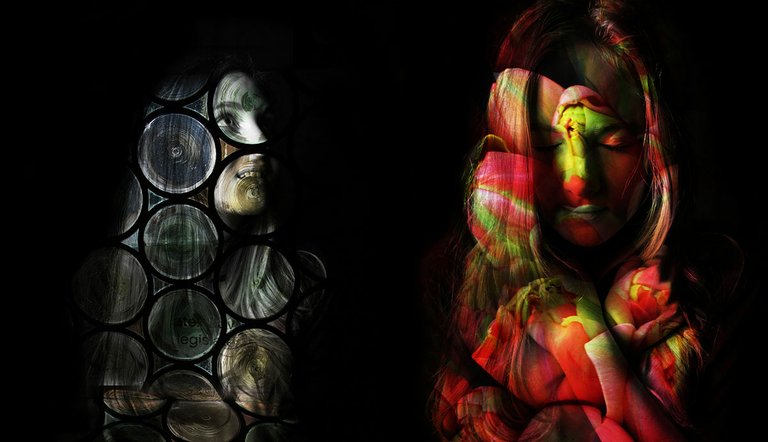 Saturday, October 25, 2014
Alonso Magana, 18, is a freshman at Oregon College of Art and Craft (OCAC) in Portland, majoring in photography. An Odell native, Magana has always been interested in art — he just didn't think he was any good at it.
Maybe that's because, while he liked to draw, art classes weren't available during his years at Mid Valley Elementary and Wy'east Middle School due to budget cuts. He didn't start taking art classes until he reached Hood River Valley High School, but even then, "I wasn't really good at it and my interest started to go down."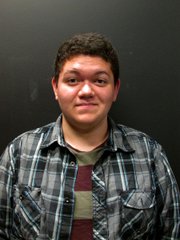 Still, he took one or two art classes throughout his high school career, including drawing, painting and ceramics. But it was in a photography class his junior year that he found his niche — and a mentor in teacher Amirra Malak.
His work, Malak said, "had a conceptual depth beyond his years and he was constantly filling his sketchbook with research, drawings and brainstorms. Alonso is innovative, original and a true artist spirit who experiments with each medium he is using, whether he is working in clay, papier mache, wire, drawing or digital media."
Before taking the photography class, Magana had planned to go into veterinary medicine. He worked at All Animal Care Clinic on Tucker Road as a kennel caretaker, but, in February 2013, he quit to focus on art fulltime.
"It wasn't until my junior year when I took Amirra's photography class (that) I became interested in art again," he said. "Photography was my strong suit."
Magana describes his style as "blurring the lines between reality and fantasy," he said. "That's how I sell my own work."
The idea for fusing natural and man-made elements into his photographs came to him while visiting the coast, thinking about an upcoming "personal theory" assignment.
"I didn't know where to start," he said. "I went to the coast and got the idea for merging natural elements onto people.
"I spent a lot of time on (the project)," he said, adding that the collection was his best work from that year. He entered it in an international competition for digital artists called Adobe Youth Voices, and took second place.
"That's when I started getting into photography and that style of artwork, merging elements," he explained.

He enrolled in the second-year photography class at HRVHS his senior year and, through independent work study, took his idea one step further: Again using people as models, he would "find a natural element with a corresponding manmade element and put them together to create a theme or story," he explained.
He had two more successes to add to his resume by the end of his senior year: He entered and won a poster contest through Hood River County Reads (again "merging these elements onto the model,"), and he sold several pieces at the HRVHS gallery show, held at Dog River at the end of the school year.
And, to top it off, OCAC came to HRVHS to hold a juried show and "the coordinator fell in love with my work," he said, bringing back pieces of Magana's to show at the college.
Through it all, Magana continued to challenge himself as an artist "as is evidenced by the fact that he took AP Studio Art 2D Design twice because he wasn't satisfied with his score," Malak said. "He earned a 4 out of 5, which is considered honors, but he was determined to earn a 5, a perfect score, which he did the second time around."
With all of these achievements, Magana began researching art schools. He dreamed of going to school in California, but it didn't work out — the application fees were too high. That's when Malak recommended two Portland-area art schools: Pacific Northwest College of Art (PNCA) and Oregon College of Art and Craft (OCAC). He applied to both and received "massive scholarships for both." In the end, he chose OCAC "because they gave the biggest scholarships."
The scholarships were offered "based on the quality of his work," Malak said.
As a freshman, Magana is taking "a lot of foundation classes," consisting of the basics of art, including art history. Because his focus is photography, he's also taking a basic photography class, working with film and analog cameras for the first time — he's used to working digitally, so developing his own film is a new skill.
Working in a dark room to develop his prints is "really cool," he said. "I'm wowed when I'm (developing) my own photos — in a way, it's like magic."
As he progresses through the program, he will take more classes concentrated around his major. He's currently trying different photo mediums, and is already planning for life after graduation.
"I've always wanted to be a fashion photographer," he said. "A lot of my work is based on fashion photography as well, so I'll see where it takes me.
"Now, in a way, I look at people as a way to use a model. I use a studio here that they provide and take photos, and make it look like a fashion photo shoot. I want to get into that industry."
Last year, he visited Paris with his French class, and that too has fueled his future plans.
"I just want to go back and see everything again," he said. "It's a goal I'm striving for, to go back." Ultimately, he wants to make a name for himself as a fashion photographer in Europe.
"Alonso has a personality that is larger than life," Malak said, "and I am so excited he is attending Oregon College of Art and Craft where he can truly express himself and shine."
In all, he credits two HRVHS teachers for helping him on his path: Malak and French teacher Jennifer Stevens (who has recently moved to Hawaii).
Amirra "was my main mentor," he said. "She helped guide me and figure out my voice in my artwork. Jennifer… was my French teacher for four years, she was the person who took me to France — she was the coordinator — she saw all my art work and gave me good advice… in a way, she is like a really good friend to me."
Magana's work can be viewed on his Facebook page at fb.com/pages/Alonso-M-Photography. As he progresses through the term, he will update the site.