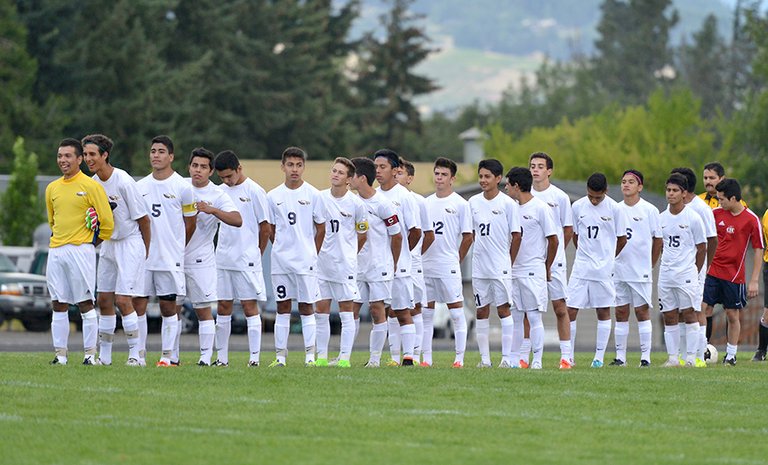 Saturday, September 6, 2014
In one word: Stacked.
On the heels of the most successful season in team history, this year's Hood River Valley High School varsity boys soccer lineup of twelve seniors, six juniors and one sophomore is going to intimidate any team in the state.
Fifth-year head coach Jaime Rivera says that although a repeat trip to the state finals is the light at the end of the tunnel, it's certainly not the only objective he's focusing on as the team begins its early-season schedule.
"We're thinking in two separate realms right now," Rivera said this week after the team's 4-1 season opener win Tuesday against Rex Putnam. "The first is team values. We have team values that we want players to adhere to no matter what — regardless of the score or the outcome. The second are some specific goals we have established. The first is winning the conference championship, the second is making it back to the state finals and improving on how we performed there last year. If we can do that, I'm confident we can take home a state championship."
Last year the Eagles had a breakout season; they went 16-2-1 overall, were undefeated in the Columbia River Conference and became the first boys soccer team in HRV history to make it to the state finals (where the lost 2-0 to Summit).
Not one to be overzealous, Rivera remains modest about his lineup this season, but he can't help but smile when he looks at the depth of talent he has to pull from.
"To be honest, I don't want to name any names," he said. "We have so much talent and are so deep in solid players that I'm not focusing on individual talents. I'm focusing on their effort on the field, their attitudes, their work ethic and what they bring to the team."
Most coaches would be happy to have even half the number of seniors to work with that Rivera does this season, and of the 12 on the roster, all but two bring the invaluable experience of last year's playoff run back to the field.
"That obviously has its benefits," Rivera noted. "But it also presents challenges. We're trying to find our chemistry, and with so many talented players with a variety of playing styles, that is really going to take some direction. One of our primary principals is a team-first attitude, and so far this group of guys is doing an outstanding job of filling their roles."
Rivera said his coaching style is to stress fundamentals during training, and not micromanage during competitions. That will especially be the case this season, he says, when he will rely on experienced players and team leaders to make decisions on the field rather than yelling directions from the sidelines.
Games this week
Two games, two wins for the HRV boys squad as it opened the season with a 4-1 home win Tuesday vs. Rex Putnam and a 4-0 win on the road vs. Tigard. Andres Baeza scored twice to lead the team's offensive charge Tuesday, while Alex Gutierrez and Oscar Munoz had one goal each. Baeza had another goal Thursday, as did Munoz, Gio Magana and Jaime Frias to lead the Eagles to its second win of the season. The team hosts Franklin Sept. 9, 4:30 p.m. at Westside.
"With this group, I want them to have freedom on the field to make decisions for themselves," he said. "We have such a dynamic mix of talents and styles that it's going to be really exciting to watch how things play out on the field."
Among those talents are captains Uriel Torres (senior, defense), Gio Magana (junior, midfield) and Alex Gutierrez (senior, forward). One of the biggest guys on the team, Torrez returns as a first team All CRC defender and an absolute rock in the backfield. He'll be backed by senior defenders Fidel Quintana, Jesus Gordian and Danny Fomero and goalies Marcos Cuevas (starter) and Diego Vaca.
Anchoring the midfield is Magana, who was named 2013 Oregon 5A Player of the Year last November after leading the team with 17 goals and 13 assists. He'll have the support of senior middies Marcos Trejo, Johnny Villafana, Luis Perez, Diego Rueda and Aldo Muro.
Gutierrez, a speedy forward with a marksman shot, will lead the front line of attack alongside fellow seniors Oscar Munoz and Jaime Frias and junior Andres Baeza. The only sophomore on the team, Noe Magana – Gio's younger brother – is also on the roster as a forward.
The Eagles will play eight non-league games through this month before starting their CRC schedule at home Sept. 30 against Pendleton. Between now and then they'll face several top-ten teams, including a shot at revenge against Summit at home Sept. 18 (4:30 p.m. at Westside School).